MAGIC Center co-sponsors Rochester Game Festival
Second annual festival showcases upstate New York video games, developers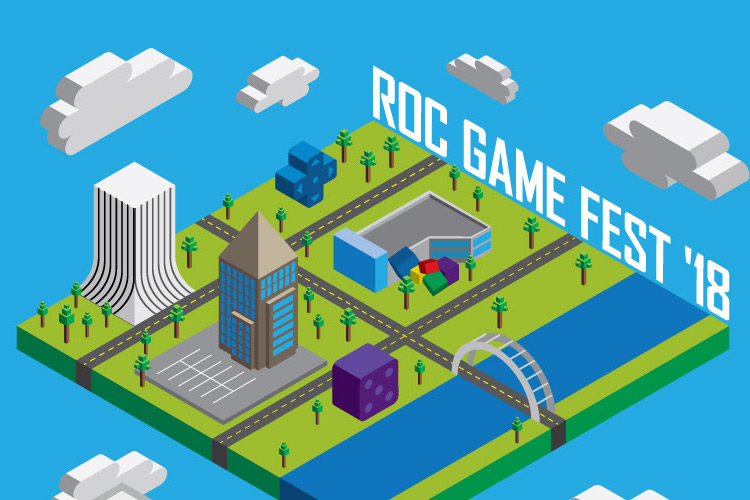 Rochester Institute of Technology's Center for Media, Arts, Games, Interaction and Creativity (MAGIC), Irondequoit Public Library and Roc Game Dev are co-sponsors of the second annual Rochester Game Festival on Saturday, Sept. 15.
Forty tabletop and video game projects created by local college students, faculty and game developers from Rochester, Buffalo and Syracuse will be available to play.
The free, family-friendly event—open to the public—will be held at RIT's Gene Polisseni Center on the Henrietta campus, from noon to 5 p.m. Parking is available in U Lot and S Lot. Food trucks Le Petit Poutine, Wraps On Wheels and Tuscan Wood Fired Pizza will also be on site. All bags will be inspected and metal detection will be used to ensure public safety.
This is the second year the festival is being held and it is one of the only big game development events in Rochester. Last year's festival drew nearly 500 visitors.
Rob Mostyn, Digital Games Hub coordinator for RIT's MAGIC Center and one of the event organizers, was pleasantly overwhelmed by the response of last year's game festival and anticipates an even larger crowd this year.
"Within an hour of last year's festival opening, we knew that we were onto something and would need to find a larger venue moving forward," he said. "This event is the perfect showcase for local game developers to get their games into the hands of the public and to get valuable feedback from players. It's also a great way for the local community to gain exposure to the booming games and digital media industry that is so successful in Rochester and upstate New York. And of course, we love telling people about RIT's nationally ranked game development program and MAGIC Spell Studios, which gives our students the tools they need to publish and distribute their digital media projects."
During the festival, Aidan Markham, a fourth-year game design and development major in RIT's School of Interactive Games and Media, will exhibit the video game Crazy Platez, alongside the student team from Aesthetician Labs. Markham describes Crazy Platez, which won the 2018 New York State Game Dev Challenge, as a high-octane, Rochester-themed game in development that encourages players to race to deliver "plates" to residents and refill tanks before they run out of gas.
"We hope that anyone familiar with Rochester will find something to recognize in Crazy Platez, as we've done our best to put as many local references as possible into the game," said Markham. "Festivals like ROC Game Fest are a valuable opportunity to both show off the creativity in Rochester's games community, and for local developers like us to get feedback from the public, so we can use that to grow and improve."
RIT's MAGIC Center is a university-wide research and development laboratory and a production studio that assists in efforts to bring digital media creations up to marketplace standards and commercialization. Faculty, staff and student researchers, artists and practitioners come together to create, contextualize and apply new knowledge in a multitude of related fields and disciplines as appropriate not only to STEM or the arts and humanities, but their intersection. RIT's MAGIC Spell Studios, which will open a new building in October 2018, focuses on nurturing and growing new companies and publishing and distributing their projects.
RIT is also one of three Digital Gaming Hubs in New York state named by Empire State Development.
According to a statement from Empire State Development, the Digital Gaming Hubs' objective is to increase the economic impact to New York state by fostering innovation and creating collaborative activities that spur new games or companies as well as providing resources and mentoring to encourage students and entrepreneurs to enter the growing gaming industry. In addition, the gaming hubs will assist existing companies with gaming concepts, technologies and trends and host events focused on assisting the gaming community.
More details for the event are available on the Roc Game Fest website.
Topics