Magnanimous GIS grad student wants to give back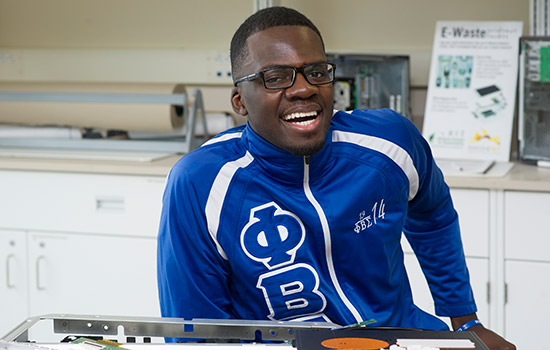 A. Sue Weisler
When you come across Chibueze Onwunaka inside the Golisano Institute for Sustainability (GIS) or elsewhere around the RIT campus, he often can be seen wearing a wide smile, a bright RIT-orange hat and joking gregariously with those around him.
That wasn't always the case for this affable graduate student in sustainable systems, affectionately known as "Chib" to his friends, classmates and professors. Coming with his family to New Jersey from his native Nigeria when he was only 5 years old, Onwunaka encountered intense bullying due to his accent and skin color.
"The taunting, laughter and threats affected me deeply," he recalled. "I constantly had low self-esteem. I was always angry, and I didn't like being around people."
His early life in America was a stark contrast to the supportive and welcoming community he experienced back home. Onwunaka recalled becoming confused about why he was the frequent target of such cruelty.
"In my confusion and sadness, I tried to take my life," he said. "I needed to learn how to understand my self-worth again."
Despite such painful experiences, Onwunaka persevered and overcame such adversity, which today he believes helped him to discover his true path. After taking an AP environmental science class in high school, he became especially interested in wanting to improve the world's environment, making it safer and cleaner for all.
Onwunaka sought an environmental science program that would allow him to help and serve diverse communities of people. "I soon discovered that I was talking about sustainability," he said.
He said the graduate program in sustainable systems at GIS has enabled him to take a "holistic view" of what has become his life's passion—how the environment, the economy and society can thrive when working together.
"The GIS program is full of some of the best professionals that I have ever met," he said. "The professors have created a program that became a family to me. They exemplify true leadership. I love this program with all my being."
The GIS program has motivated and inspired Onwunaka "to get better at all that I do so that I may serve diverse communities throughout the world," he said. He's currently developing an "intelligent waste bin" named "Smartie" that will sort trash and recyclables in one location, and he planned to demonstrate a prototype at Imagine RIT.
Upon graduation in May, he wants to form a start-up company that will develop other innovative technologies that will help achieve a sustainable future for the planet.
Someday Onwunaka also plans to return to Nigeria to foster educational initiatives that will help students there reach their full potential. His GIS professors have no doubt that he will succeed.
"Chib is one of those students that you know will go on to make a difference in the world," said Callie Babbitt, associate professor at GIS. "He brought an unparalleled level of creativity, energy and passion to his courses and research at GIS, and he really understood how to connect fundamental concepts of sustainability with innovative solutions that can bring transformative benefits to society and the environment."
She added, "Chib has a unique ability to combine perspectives from technology, marketing, social science and education and then communicate his ideas effectively to a broad audience, and this combination is an exemplar of what we aspire for in 'T-shaped' sustainability graduates."