Matt Huenerfauth named director of iSchool in GCCIS
Matt Huenerfauth succeeds Stephen Zilora to lead RIT's School of Information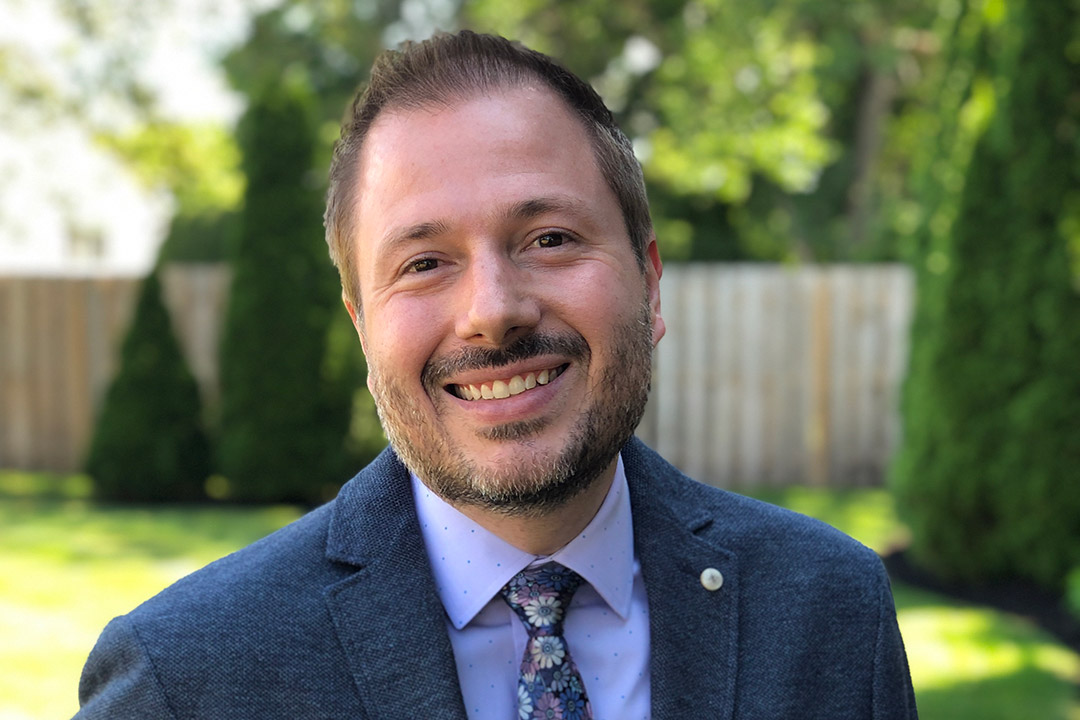 Matt Huenerfauth, a professor and expert in computing accessibility research, has been named director of RIT's iSchool (School of Information). Huenerfauth takes the helm Aug. 1 from Stephen Zilora, who is stepping down after eight years of leadership.
"I'm looking forward to seeing Matt take us to the next level and help build our reputation, not just for curriculum, but also for research," said Zilora. "It's been an exciting period of time and I want to thank our great faculty and staff — we've been able to accomplish quite a bit."
Huenerfauth joined RIT in 2014, after serving as associate dean for the Division of Math and Natural Sciences at City University of New York (CUNY) Queens College. At RIT, he created and is a director of the Center for Accessibility and Inclusion Research (CAIR), where he and a team of student and faculty researchers are working to change the culture of development in an effort to make technology accessible for all.
"I am honored to provide leadership for the iSchool, where we are focusing on how computing meets the real world," said Huenerfauth. "The interplay between people, information and technology gets complicated — and we're preparing students for this reality. My goal as director is to ensure that RIT is at the forefront of this rapidly transforming field, both to create opportunities for our students and to advance knowledge of how computing can help to create a better world."
Throughout his career, Huenerfauth has secured more than $5.1 million in research funding, including a National Science Foundation CAREER Award. His research investigates how artificial-intelligence technology can benefit people who are deaf or hard-of-hearing and people with low written-language literacy. He works with a team of more than 30 research faculty and students that operates bilingually in English and American Sign Language.
Huenerfauth said that accessibility research is just one example of how the iSchool designs and applies computing technologies to address real-world problems.
"As the computing field has seen recent growth and broader impact from advances in artificial intelligence and data science, the iSchool will grow its curricular and research portfolio in these areas, building on our strengths in human-computer interaction, data networking, and data analytics," Huenerfauth said.
Huenerfauth has authored more than 90 peer-reviewed scientific articles, chapters and papers. In 2017, the Association for Computing Machinery recognized him as an ACM Distinguished Member for his contributions to the field of computing. At the ACM SIGACCESS Conference on Computers and Accessibility, the top international scientific venue in the field, Huenerfauth has won the Best Paper Award five times — more than anyone in the conference's history. He has also served as editor-in-chief of the journal ACM Transactions on Accessible Computing (TACCESS).
"We are preparing students for future computing careers, which require more than just programmers," said Huenerfauth. "Professionals are needed who can investigate the needs of real people, manage and structure data to fairly represent the world, connect people and data across devices and networks, visualize patterns to support decisions, and ensure that technologies are evaluated with real users."
In 2018, he was awarded RIT's Trustees Scholarship Award, the university's highest honor for faculty in recognition of research achievements. He is also a founding member of RIT's Center for Human-Aware Artificial Intelligence (CHAI).
Huenerfauth, a Brighton resident, received his Ph.D. in computing and information sciences from the University of Pennsylvania in 2006. He has taught courses on artificial intelligence, human-computer interaction, accessibility, computational linguistics, as well as computing courses for students in non-computing majors.
Zilora will continue teaching and said he looks forward to updating some of the project management and database application courses that he previously co-wrote.
In his time as director, Zilora helped create several student and faculty engagement opportunities with RIT's global campuses and coordinated the offering of four online master's programs. He also oversaw the development of several interdisciplinary degrees and the merger of faculty, staff and programs from two departments.
The iSchool, in RIT's Golisano College of Computing and Information Sciences, offers degrees in information sciences and technologies, human-computer interaction, web and mobile computing, computing and information technologies, and several degree programs in partnership with other RIT colleges and global campuses. In 2020, the school was accepted for membership in the iSchools Organization at the highest tier.