Meet RIT's global librarian Susan Mee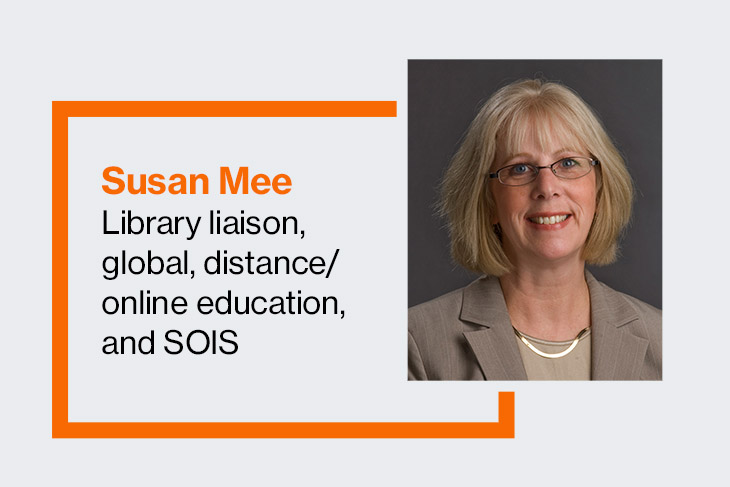 Global librarian Susan "Sue" Mee plays an essential role supporting students on RIT's international campuses in Croatia, Dubai, Kosovo, and China. Her position as library liaison for distance/online education took on a global focus 15 years ago when the university expanded its RIT Global presence.
Mee, who is also the liaison for University Studies/School of Individualized Studies, has forged relationships with her global colleagues and made RIT Libraries accessible to the more than 2,000 undergraduate and graduate students enrolled at RIT's international campuses. Now, Mee is getting ready to hand the position she helped shape to a new global librarian when she retires in June after nearly 42 years of service at RIT. Here, she talks about her experiences as RIT's first global librarian.
What exactly does a global librarian do? 
RIT Wallace Library is the main library, and I am the point of contact for faculty, students, and the library staff at those campuses. RIT Libraries has integrated resources from the Dubai, Kosovo, and Croatia libraries into our library catalog. If a question comes in that is subject specific that I can't answer, then I will refer it to that subject specialist librarian.
Our Dubai campus has a degreed librarian. A faculty member in Croatia oversees their library, and Kosovo has a full-time library manager. The China campus has a large, well-provided for library. The library staff and I chat via Zoom or Skype as questions come up and for projects that we collaborate on. They also come to me for questions about policy changes or trouble gaining access to e-textbooks.
Publishers have complicated rules about international distribution, and I do a lot of troubleshooting for our students to ensure they have the e-textbooks required for their courses. I will often reach out to the U.S. publisher representative or the representative for that geographic region to obtain permission to access for these RIT students. In my mind, it is no different than an individual distance/online student—such as an RIT student serving in the military—seeking access to resources from various regions around the world.
Have you visited RIT's global campuses?
When I first took the position, RIT had only the Dubrovnik campus in Croatia. No librarian had been to that campus until after I started. I've been to both campuses in Croatia and in Kosovo several times, and I've been to Dubai once. I have not been to China.
When I made the first site visit to Kosovo and Croatia, that seemed to be a turning point in further enriching these relationships because I was meeting people in person.
All the classes at RIT global campuses are taught in English. Most of the faculty and students speak additional languages. I provided sessions for faculty and introduced students to using the library resources that were available to them. Many students are surprised to learn that if they can't find what they need at their local campus, they can request books from the Rochester campus library at no cost. And if the resource is not available electronically, we will ship the book to the students' local campus.
What did you learn from the trips?
After those initial visits, the emails and Skype conversations increased. I think it helped improve the comfort level.
When I met with students on the first visit, I discovered that they didn't feel the library on the Henrietta campus was really their library. RIT is across the world for one thing, and there was nothing on our library website that indicated or made them feel that they were a part of it.
When I returned to RIT, we worked to create a presence on the library website for the global campuses. Over time I've developed course information and subject guides that are specific to those individual campuses, with instructions on how to use the library whenever they need it. I think those are small steps in making a person who is located on the other side of the world feel that, 'Yes. I really am entitled to use this library. It's my library. Even though I can't physically walk through the door, these resources are here for me to use.' After those visits, the faculty and students also knew they had a designated librarian, a contact, they could reach out to for their questions.
Feedback from faculty members pointed to improvements in the resources students were using. Instead of relying on Google sources or Wikipedia, the students were feeling more comfortable accessing and using scholarly resources for their research papers.
How do you meet the needs of faculty and students living in different time zones?
Before the pandemic, I would sometimes arrive on campus at 5 or 6 a.m. to deliver an instruction session. In some cases, I will teach a class and students access it from home in the evenings. I also record an instruction for the teachers to show in class, or for the students to watch independently, whatever is most convenient for them. It requires flexibility on both ends.
How has technology changed during your time as the global librarian?
Today, the Internet is more stable. The technology has improved so significantly over the years that I can easily deliver sessions from home now. I have been working from home during the pandemic. Previously, that would not have been an option. I went from using collaboration-grid technology developed at RIT to Adobe Connect, BlueJeans, and now Zoom. Each one is better in quality and easier to use.
Topics