Meet some of RIT's hackers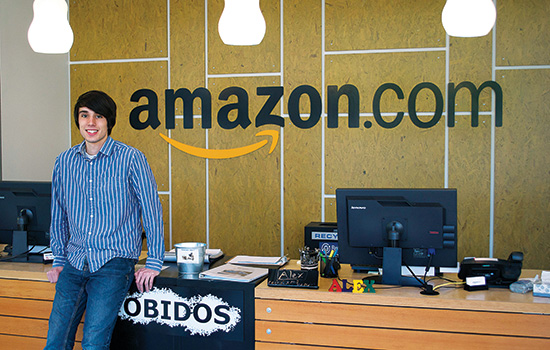 Mike Nolan started going to hackathons on campus his freshman year and has since been to almost 15.
"You'll be in one big room and you're all on your computers together, making jokes, playing pranks and laughing," said Nolan, a third-year new media interactive development student. "It's like any sort of party you'd go to."
Nolan didn't know much programming before starting college. In his second year at RIT, the Fairport, N.Y., native started using the FOSSBox in the Center for Media, Arts, Games, Innovation and Creativity (MAGIC) as a quiet place to do homework. After interacting with other students there, he decided to take a programming class with Remy DeCausemaker '08, '13 (applied arts and sciences, professional studies). "The more I got to know Remy, the more I started becoming involved in these hackathons," said Nolan.
At the 2013 Hack Upstate in Syracuse, N.Y., Nolan worked with DeCausemaker, Hacks/Hackers Rochester, WXXI and Innovation Trail to create Traffairious. The website is a visual way for users to see the proximity of local schools to high traffic roadways.
RHoKTheHood was a project that came out of the Random Hacks of Kindness hackathon held at RIT in December 2013. Nolan worked with student Mihir Singh to create a Web application that allows users to see the violent-crime rate on an interactive map.
Nolan spent the spring semester and summer months working as a software engineering co-op at Amazon in Seattle.
"It's hard to tell what got me this job," he said. "But when talking with the human resources person who pulled my résumé, she said it was due to the projects I put on there. A bunch of those projects were either started or worked on at hackathons."
---
Hackathons opened the door for Jenn Kotler '14 (medical illustration) to travel to events in Boston; Washington, D.C.; and California.
The Merrick, N.Y., native was introduced to hackathons because of her job illustrating and designing educational games with the Free and Open Source Software initiative at RIT's Center for Media, Arts, Games, Innovation and Creativity (MAGIC).
"Because of my work in a lot of the FOSS@MAGIC hackathons, a startup company asked me to come be their designer when they competed in a few hackathons out of town," said Kotler on her trips to LAUNCH Hackathon in San Francisco and Hacking Pediatrics in Boston.
When working with a startup or assisting technical teams at a hackathon, Kotler uses her artistic skills to focus on user interface design, logos or other visual project aspects.
One of the most successful projects Kotler has worked on is SkyTime, an educational game designed to teach young students how to tell time. It began as a class assignment with a team of students, who then used hackathons as a way to continue working on the game. "That's a nice thing about a hackathon," said Kotler. "You can cut off this one weekend and just get a ton of work done. It allowed us to really polish SkyTime and make it a lot better."
The success of SkyTime gave Kotler the opportunity to represent her team at the White House Champions of Change event in July 2013, which highlighted civic hackers and honored the best projects to emerge from the Hack for Change event at RIT that was part of the National Day of Civic Hacking.
Kotler hopes to continue to participate in hackathons throughout her life.
"I think I really gained a working knowledge about what it takes to make a product, specifically digital ones like apps and games," she said. "I definitely think it was hackathons that gave me that knowledge."
---
When Debjit Saha was in his junior year of college in Mumbai, India, he acquired a new hobby—mobile app and website development. Not wanting to switch his major from electronics, he decided to teach himself using online forums and tutorials.
Four years later, he put his skills to the test at the AT&T Rochester Civic App Challenge Kick-off Hackathon in February.
"I had never been to a hackathon back in India," said Saha, a computer science graduate student. "I thought it would be a good idea to go find out what type of projects people work on there."
Saha enlisted Ricky Laishram, a friend from home who is attending Syracuse University. They created RocReport, a mobile platform to report civic issues such as potholes, broken street lamps and snow pile-ups.
"I liked the amount of work you are able to get done in such a short amount of time," Saha said. "You also get to meet new people and interact with technologies you aren't aware of that can help you with your project."
Saha took RocReport to Hack Upstate in Syracuse, N.Y., in April, placed in the "Innovation and Creativity" category at the annual Emerging Talk startup event in Syracuse later that month and presented a final, working version of the app at the Rochester Civic App Challenge finals in May.
RocReport won third place in the new civic app challenge category at the Civic App Challenge, which along with AT&T was supported by Digital Rochester, High Tech Rochester and Hack Upstate.
Saha and Laishram split the $1,000 prize.