Metaproject connects RIT students to industry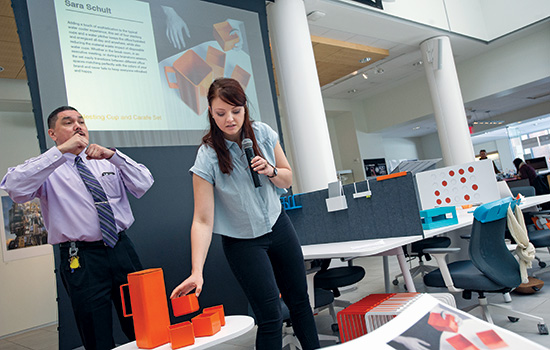 A. Sue Weisler
RIT's Metaproject—marking its seventh iteration this academic year—has regularly demonstrated that education partnered with industry is a successful vehicle for fostering innovative thinking and thoughtful product design.
In keeping with the "Design is One" philosophy espoused by RIT's Vignelli Center for Design Studies, Metaproject aims to encourage students to produce design that is "semantically and syntactically correct, and pragmatically understandable, but also visually powerful, intellectually elegant and timeless," according to Josh Owen, professor and chair of the industrial design program in the School of Design.
This fall and spring semesters, Owen's senior industrial design students are partnering with Umbra, a Toronto-based designer and manufacturer of housewares. Founded in 1979, Umbra now sells more than 2,000 home products through 25,000 retailers in 75 countries.
Previously, the initiative has seen students work in collaboration with photography, glass and new media design as well as a different industry partner each year. Past Metaprojects featured leading companies such as Poppin, The Corning Museum of Glass, Areaware, Herman Miller, and both Kikkerland and Bed Bath & Beyond in 2015.
Students are given a creative brief tasking them to design a product that solves a specific problem or works within a set of parameters set forth by the industry partner. They work toward this goal throughout the academic year.
True to RIT's brand of creating students who are workforce ready, the course offers them a taste of real-world experience and important connections with leading design industry professionals.
Through Metaproject, students make important contacts with some of the most prestigious design-based companies in the world, and they have the opportunity to exhibit their creations each May during the International Contemporary Furniture Fair (ICFF) as part of Design Week in New York City. The Metaproject 06 booth at the 2016 tradeshow was awarded the ICFF Editors' Award for Best School—a first for RIT.
Owen hatched the idea for his design brainchild upon his arrival to the university's campus in 2010. Since then, it has helped launch the careers and design dreams of numerous graduates.
"The challenge for students is to research evolving behaviors in order to identify emergent trends, working hand-in-hand with their industry partner to find, satisfy and push their strategic goals," Owen said.
One of the biggest thrills for Metaproject students is to have their designs go into production—an outcome that Brian Keyes and Audrey Kirk, both 2015 industrial design graduates, achieved with Kikkerland, the Metaproject 05 partner with Bed Bath & Beyond in 2015.
Both Kirk and Keyes were tasked with designing a Kikkerland-brand storage product that would be sold at Bed Bath & Beyond to back-to-school college students. Kirk's denim "Wall Pockets" design sticks onto the wall to hold small items varying from reading glasses to keys and pens. Keyes' "Hanging Facades" closet organizers allow for private, raised storage in a dorm room.
Both of their designs received honorable mentions from a jurist panel and live on today in production.
"My design was introduced at ICFF," said Kirk, a Canadian native now living in Brooklyn, N.Y., and working for Designstyles, a home goods company. "I continue to receive royalties from sold units. They are available on the Kikkerland website and Amazon."
Keyes, who lives in Rochester, attributed his design's journey into production to "an under-exploited niche in the market of college storage and the fact that it could be taken from prototype to full-run production in two months—right in time for the all-important back-to-school season."
"It also was a low-risk investment for Kikkerland with the initial cost to start production close to none," added Keyes, an industrial designer and model shop assistant at KEK Associates Inc. in Henrietta, N.Y., and an adjunct professor in RIT's industrial design program.
Both Kirk and Keyes said Metaproject taught them valuable lessons that remain with them as designers today.
"Metaproject taught me about designing to fit a brand and for the target audience," Kirk said. "This becomes even more important once a designer starts working for a company. I think Kikkerland liked my project because it fit with their existing products being small, quirky and inexpensive. Bed Bath & Beyond liked it because it was functional and suited their target market for back to school."
Keyes concurred with Kirk's observation.
"Metaproject was a succinct lesson in the reality of the industry: tight deadlines, catering to clients, and working within the bounds of production," he said. "It is one of my experiences from RIT that continues to shape my design, my connections and my career."
"Often in design classes, the professor is the client," Keyes added. "The corporate clients that Metaproject connects us with can provide invaluable feedback based more around what will work in the real world than academic performance."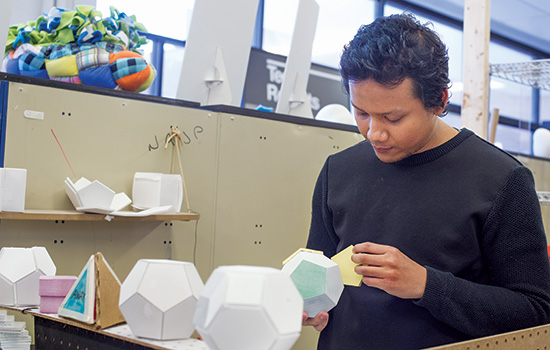 A. Sue Weisler
Topics