Metaproject connects students to industry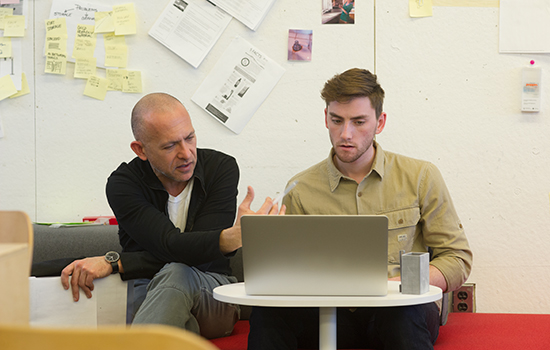 A. Sue Weisler
Francesca Pezze '11 (industrial design) epitomizes what it means to successfully come full circle.
During her senior year in the fall of 2010, a first-time initiative called Metaproject paired student designers with a real-world client in what would soon become a seminal project for RIT's nationally ranked industrial design program.
"I remember it being very nerve-racking to sign up for this 'mystery' class," recalled Pezze, who now lives in Brooklyn, N.Y. "Everything about it was new and there was a lot of anticipation and excitement surrounding it."
In an extremely aggressive design timetable, Pezze and 19 of her classmates were tasked with creating laminate seating prototypes for then-sponsor and furniture manufacturer Wilsonart International.
The final day of class culminated in a juried review of each student's designs—and the announcement of a winner. Pezze's invention, "The Nodule," a bathroom stool with varying height supports and storage compartments, finished among the top projects and has since become part of the RIT Archive Collections at The Wallace Center.
Pezze now serves as a product designer at Poppin, a leading manufacturer of workplace furniture and supplies based in New York City and sponsor of Metaproject 06, the latest in the now renowned annual design studio course offered to seniors in RIT's industrial design program.
"I felt really honored to work with the Metaproject as a representative of Poppin," she said. "Because I was once in the students' shoes, I was able to bring a unique perspective to the judging panel. I will admit it was definitely less stressful for me this time around."
As it nears its seventh iteration this upcoming academic year, RIT's Metaproject has regularly demonstrated that education partnered with industry is a successful vehicle for fostering innovative thinking and thoughtful product design.
Real-world experience
In keeping with the "Design is One" philosophy espoused by RIT's Vignelli Center for Design Studies, Metaproject aims to encourage students to produce design that is "semantically and syntactically correct, and pragmatically understandable, but also visually powerful, intellectually elegant and timeless," according to Josh Owen, professor and chair of the industrial design program in the School of Design.
The initiative has seen industrial design students work in collaboration with photography, glass and new media design as well as a different industry partner each year. Past Metaprojects featured leading companies such as The Corning Museum of Glass, Areaware, Herman Miller, and both Kikkerland and Bed Bath & Beyond in 2015.
Students are given a creative brief tasking them to design a product that solves a specific problem or works within a set of parameters set forth by the industry partner. They work toward this goal throughout the semester.
True to RIT's brand of creating students who are workforce ready, the course offers them a taste of real-world experience, connections with leading design industry professionals, and the possibility of having their design put into production.
Through Metaproject, students make important contacts with some of the most prestigious design-based companies in the world, and they have the opportunity to exhibit their creations each May during the International Contemporary Furniture Fair (ICFF) as part of Design Week in New York City.
Owen hatched the idea for his design brainchild upon his arrival to campus in 2010. Since then, it has helped launch the careers and design dreams of numerous graduates such as Pezze.
"The challenge for students is to research evolving behaviors in order to identify emergent trends, working hand-in-hand with their industry partner to find, satisfy and push their strategic goals," Owen said.
Dialogue directly with industry
Alex Bennett '14 (industrial design) was a member of the first senior class of industrial design students who had watched—and eagerly anticipated—Metaproject from their first days on campus as freshmen.
"I saw all these seniors that I inevitably grew to look up to and idolize furiously sketching and making models for this crazy, corporate-sponsored class," recalled Bennett, a designer for Microsoft in Redmond, Wash., and Seattle resident. "As the years went by, I watched the course evolve and change, with each new sponsor bringing a unique challenge to the table."
Bennett absorbed everything he could about the class along the way. "I remember speaking to every person in each Metaproject about what they were doing and how they were approaching the year's brief," he said. "There was the thrill each year of waiting to see who the new sponsor would be."
Owen has become adroitly clever in keeping the industry partner under wraps before the highly anticipated reveal to students. When his professor finally announced to Bennett and his classmates that Metaproject 04 would pair them with Herman Miller, the Zeeland, Mich.-based Modernist office furniture manufacturer most noted for its Aeron chair, "I felt two very visceral emotions: one of unbound excitement and the other of utter terror with the thought of having to create an object that could live up to the Herman Miller name," Bennett said.
He didn't disappoint. His "Invitation Chair," which allows for the creation of a temporary shared space for collaboration by enabling users to share their seat with a co-worker, was the winning design.
"Metaproject helped me gain a 'real world' understanding of the design industry by putting me in the room with it," Bennett said. "Being able to create a prototype and present it to the designers and executives at Herman Miller and immediately hear their thoughts created this incredible feedback loop that extended beyond the classroom and the university. I was able to have a dialogue directly with industry."
But the most impactful lesson Bennett said he learned, not just from Metaproject 04, but from watching every other course year, is the importance of narrative in design.
"Product design is not just about producing a beautiful form, or solving a difficult problem, it's about encapsulating a 'why,'" he said. "Good design is able to articulate why a product should exist and its impact on the world."
Hitting the production line
One of the biggest thrills for Metaproject students is to have their designs go into production—an outcome that Brian Keyes and Audrey Kirk, both 2015 industrial design graduates, achieved with Kikkerland, the Metaproject 05 partner with Bed Bath & Beyond last year.
Both Kirk and Keyes were tasked with designing a Kikkerland-brand storage product that would be sold at Bed Bath & Beyond to back-to-school college students. Kirk's denim "Wall Pockets" design sticks onto the wall to hold small items varying from reading glasses to keys and pens. Keyes' "Hanging Facades" closet organizers allow for private, raised storage in a dorm room.
Both of their designs received honorable mention and live on today in production.
"My design was introduced at ICFF last year," said Kirk, a Canadian native now living in Brooklyn, N.Y., and working for Designstyles, a home goods company. "I continue to receive royalties from sold units. They are available on the Kikkerland website and Amazon."
Keyes, who lives in Rochester, attributed his design's journey into production to "an under-exploited niche in the market of college storage and the fact that it could be taken from prototype to full-run production in two months—right in time for the all-important back-to-school season."
"It also was a low-risk investment for Kikkerland with the initial cost to start production close to none," added Keyes, an industrial designer and model shop assistant at KEK Associates Inc. in Henrietta, N.Y., and an adjunct professor in RIT's industrial design program.
Both Kirk and Keyes said Metaproject taught them valuable lessons that remain with them today.
"Metaproject taught me about designing to fit a brand and for the target audience," Kirk said. "This becomes even more important once a designer starts working for a company. I think Kikkerland liked my project because it fit with their existing products being small, quirky and inexpensive. Bed Bath & Beyond liked it because it was functional and suited their target market for back to school."
Keyes concurred.
"Metaproject was a succinct lesson in the reality of the industry: tight deadlines, catering to clients, and working within the bounds of production," he said. "It is one of my experiences from RIT that continues to shape my design, my connections and my career. Often in design classes, the professor is the client. The corporate clients that Metaproject connects us with can provide invaluable feedback based more around what will work in the real world than academic performance."
Metaproject at a glance
Metaproject 01 (2010-11) The Wilsonart Challenge. Kicking off the first-of-its-kind design collaborative, 20 industrial design seniors were charged with conceiving seating prototypes celebrating Wilsonart International's laminate surfacing materials. Each student was required to create a design that provided a utilitarian use of seating-object typology. Dan Fritz '11 won first place with his chair, called The Trance, made from 280 individual laminate hexagons welded to 280 steel asterisks. Grace Jeffers, design historian and organizer of the challenge from Wilsonart, said RIT was chosen for its "impeccable reputation."
Metaproject 02 (2011-12) Corning Museum of Glass. Nineteen industrial design seniors and 15 glass students created prototype designs celebrating recycled glass. "No other studio glass or industrial design program in the country, that I am aware of, has so successfully introduced art students working in glass to design," said Tina Oldknow, retired curator of modern glass at the museum. Kikkerland saw Casey Schneider's '12 Watering Rocks—designed to release water slowly into a plant's soil—at the International Contemporary Furniture Fair in 2012 and put them into production.
Metaproject 03 (2012-13) Areaware. Twenty-two students created wooden, universal toys that not only had to fit seamlessly into the product line of the avant-garde accessories manufacturer but explore the meaning and notion of the way toys integrate into contemporary cultures and lifestyles. Each design also was required to explore the properties of wood and its use as a primary material in object construction. Blockitecture by James Paulius '13 subsequently went into mass production and is available at the Museum of Modern Art and other venues from Tokyo to Milan. He has since created a second iteration, Blockitecture Garden City.
Metaproject 04 (2013-14) Herman Miller. Twenty students had to address the challenges associated with interactions in the workplace: face-to-face, digitally mediated, or human-to-tools. The projects considered how furnishings and space can empower and enable interactions that extend beyond a simple point of connection. Alex Bennett's '14 Invitation Chair, which allows users to share a seat, was the winning design. Daniel Rucker, then design and technology strategist at Herman Miller Inc., said "we are deeply thankful for this opportunity to teach and be taught by these gifted young designers."
Metaproject 05 (2014-15) Kikkerland and Bed Bath & Beyond. Twenty students had to address the challenges associated with designing for one of the following types of home and dorm room storage categories: closet, desk, shelving, over the door, under the bed and jewelry applications. Hanging Facades, closet organizers designed by Brian Keyes '15, went into production as well as Audrey Kirk's '15 Wall Pockets—denim pockets that stick onto the wall to hold small items.
Metaproject 06 (2016) Poppin. Twenty-two students were tasked with creating innovative accessories for the company's new line of office furniture that accents, improves or enhances their use. Afifi Ishak's Sticky Note Ball, with 12 pentagonal faces, was one of the desk accessories presented. The Metaproject 06 booth at the International Contemporary Furniture Fair was awarded the ICFF Editors' Award (Best School). "I've been a personal fan of RIT's renowned Metaproject since its inception," said Jeff Miller, vice president of design at Poppin.
To learn more
Go to metaproject.rit.edu.
A. Sue Weisler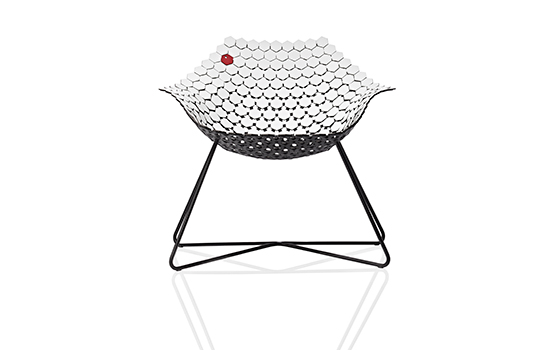 Elizabeth Lamark/RIT Production Services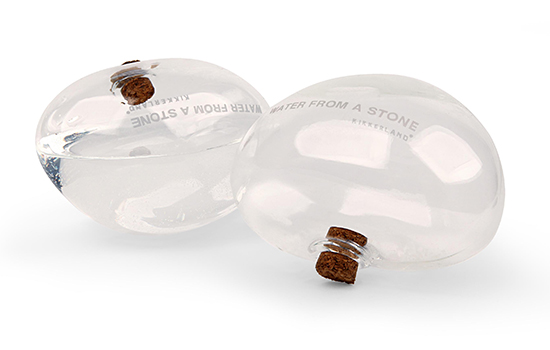 Elizabeth Lamark/RIT Production Services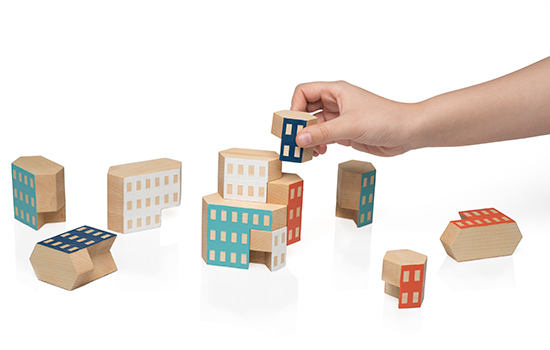 Elizabeth Lamark/RIT Production Services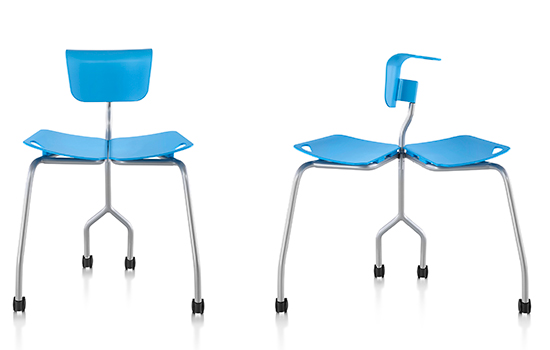 Elizabeth Lamark/RIT Production Services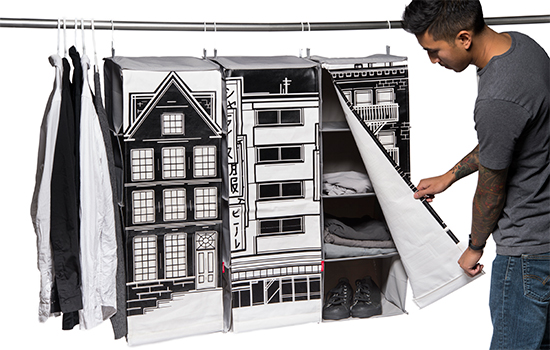 Elizabeth Lamark/RIT Production Services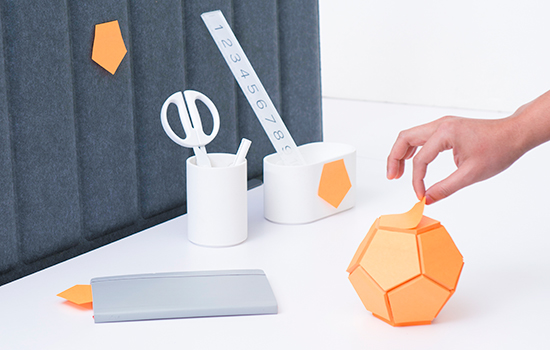 Elizabeth Lamark/RIT Production Services
Topics