Michael Heagy appointed head of RIT's School of Chemistry and Materials Science
Former chair of New Mexico Tech's Department of Chemistry joined RIT July 1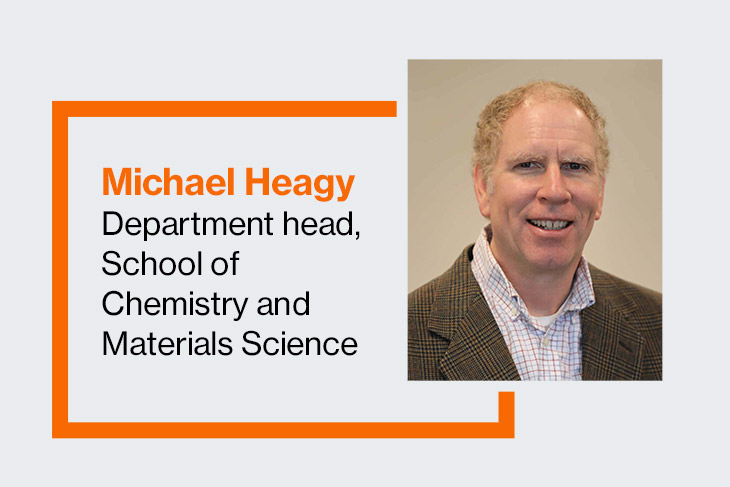 Michael Heagy has been appointed the new head of Rochester Institute of Technology's School of Chemistry and Materials Science. Heagy comes to RIT from the New Mexico Institute of Mining & Technology, where he began his academic career as an assistant professor in 1996 and has served as the chair of the Department of Chemistry since 2016.
While serving as chair at New Mexico Tech, his notable accomplishments included managing a complete department relocation to a new state-of-the-art chemistry building, organizing an external assessment of programs, and establishing a department-specific set of tenure guidelines and expectations. Under his chairmanship, the chemistry department conferred more doctoral students during each of the last two graduation commencements than any other program. In the area of student support and recognition of student achievement, Heagy established three foundations in perpetuity to award students through alumni and emeritus contributions, including the Melvin J. Hatch Chemistry Pentathlon Prize, the Carl J. Popp award, and the Clifford Keizer Summer Research Award foundation.
"We are very pleased to have Dr. Michael Heagy join the School of Chemistry and Materials Science family and our leadership team," said Sophia Maggelakis, dean of the College of Science. "His passion for high quality teaching and experiential learning, research contributions, leadership experience, and character are well aligned with the expectations of this position. He brings positive energy, deep understanding of the challenges of higher education, and vision to move the School of Chemistry and Materials Science to the next level."
Heagy's research interests span a broad range of areas generally centered around physical organic and inorganic chemistry, specifically, dual fluorescent probes for biomolecule detection, and dichroic/panchromatic emission of small molecule dyes. During his time at New Mexico Tech, his research group highlights included development of fluorescent probes for biomarkers such as Cardiac Troponin I, an enzyme considered to be the gold standard for the onset of myocardial infarction. His research interests have also ventured into the synthesis of photocatalysts from hierarchical nanostructures based on earth-abundant, non-toxic semiconductor materials. These materials are designed for the mitigation and conversion of greenhouse gases such as dissolved carbon dioxide or methane to a solar fuel with a high-octane rating such as methanol. He supervised 11 doctoral and 10 master's students while at New Mexico Tech with results including more than 40 publications, six book chapters, and highlight articles.
"On perusal of the RIT website and news updates, it became obvious to me that the university was making significant investments in hiring outstanding academic leaders," said Heagy. "During my interview, I got the sense that the faculty and staff at the School of Chemistry and Materials Science were really quite welcoming and receptive to my perspectives on the department head role and leadership ideas. RIT's current research specializations and progressive degrees such as the Golisano Institute for Sustainability were a strong attraction. Among several thrust areas that I'm looking to forge, I'm excited about accepting the challenge and task of launching a doctoral program for SCMS of equal impact and productivity as the current eight doctoral programs at RIT."
Heagy has received a variety of honors and awards throughout his career, including: NSF-EPSCoR Distinguished Mentor Award, Golden Key Honor Society Distinguished Teacher Award, Distinguished Research Award, ACS Ambassador for Outreach and Service, and Student Appreciation Award. 
Heagy joined RIT July 1 and succeeds Professor Paul Craig, who served as head of the School of Chemistry and Materials Science for two terms. Craig will return to teaching in the fall.