Micro-e founder influences a global industry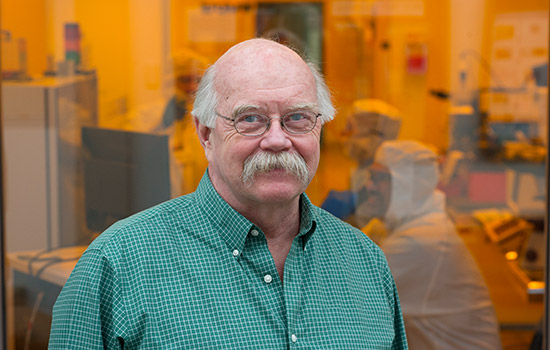 A. Sue Weisler
When Lynn Fuller walked into a recent reception at Global Foundries, a top semiconductor fabrication site in Malta, N.Y., he was welcomed by more than 200 of its employees— all RIT alumni he guided into careers in the competitive semiconductor industry.
As founder of RIT's microelectronic engineering program in 1982, Fuller designed and taught courses, mentored students and new faculty, and crafted a laboratory and clean room experience that gives his students a distinct advantage in learning the intricate process of building semiconductors—the life blood of today's electronic devices.
Fuller received a 2017 Eisenhart Award for Outstanding Teaching.
It was the second teaching excellence award for one of RIT's most distinguished faculty and alumni.
"I always thought that the microelectronic engineering program would be really good for New York state, for the U.S., and I think RIT's program has been a model for other universities," said Fuller, who is also a member of the RIT Sports Hall of Fame and an Innovation Hall of Fame honoree.
"When I first got involved in electronics, it was mostly vacuum tubes. That has changed a lot, and that keeps it interesting but also makes it difficult because you have to keep up with the changing technology."
He added with a laugh, "I often tell my students, 'I know this work is hard, but there's hope, because I finally figured it out!'"
Fuller said he takes pride in knowing that he's had a hand in helping the 1,000 RIT alumni now working in top U.S. and international semiconductor companies.
He said he enjoys working one- on-one in the lab with students and modeled his teaching style after what he saw as a student, improving upon it by incorporating his own research and experiences as an entrepreneur.
Ivan Puchades, now assistant professor of electrical engineering at RIT, is one of several former students who have become faculty in the engineering college.
Puchades first met Fuller when he lived in the U.S. as an exchange student from Spain, and after taking classes at Monroe Community College, transferred into the microelectronics program.
He said Fuller "can read a student. He explains material at their level, looks at the concepts, and asks 'How can I understand them?'
"Then once he does, he explains them in his own words," Puchades added.
"That is what I found fascinating. He teaches it so easily, you can absorb so much of the information."