Microelectronic Engineering Team Trains Industry in Solar-Cell Technology
Outreach programs provide the latest information in semiconductors, photovoltaics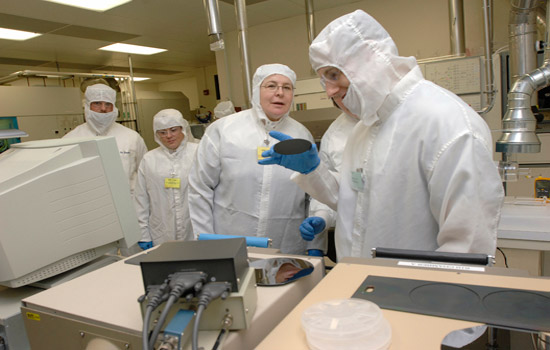 A. Sue Weisler
The United States is in the midst of a push to increase renewable energy sources. Industry professionals are interested in the newest energy technologies such as photovoltaics, solid-state lighting and integrated circuits as they build faster, more reliable electronic equipment and look for new markets for their products.
Rochester Institute of Technology's microelectronic engineering department offers a continuing education program to science and engineering professionals about current trends in these technologies to support research and foster a highly skilled workforce. The program consists of a series of tailored, short-course programs. Each year, the department provides two-to-four of these programs.
In January, Kayex, a Rochester-based company that manufactures silicon-growing furnaces, the equipment used to develop the essential material for integrated circuits, participated in one such program. Santosh Kurinec and Michael Jackson, both professors of microelectronic engineering at RIT, led the two-day course for 11 engineers from Kayex.
The course focused on the basics of silicon solar-cell technology with exposure to advanced concepts on thin film and third generation solar cells. It also included discussions on photovoltaic system testing and evaluation.
"The engineers were also introduced to basic processing steps involved in building solar cells," says Kurinec. The group used the metrology tools in the Semiconductor and Microsystems Fabrication Laboratory located in the Kate Gleason College of Engineering to visualize the process steps and characterize the cells.
This was the second time RIT and Kayex collaborated on the short course, adding wafer-processing defects and solar cell efficiency measurements to this year's offering.
"In the time between the two training sessions, Kayex provided feedback to us concerning topics that were arising from interactions with their customers," says Jackson. "Based on that feedback, Santosh and I proposed revisions to the course content to address these areas."
Drew Knopfel, vice president, engineering division at Kayex adds: "As Kayex continues to improve crystal growing technology, it is imperative to refresh fundamental concepts and brainstorm novel ideas."
Kayex recently joined RIT as members of a National Science Foundation Industry/University Cooperative Research Center known as the Silicon Solar Consortium.
For more information about the industry training courses available, contact Jackson at majemc@rit.edu or Kurinec at skkemc@rit.edu.
##