Mobile Tech Lab brings hands-on STEM education to Rochester high schools
AT&T and RIT's Women in Computing initiative gives high school students an opportunity to experience computer coding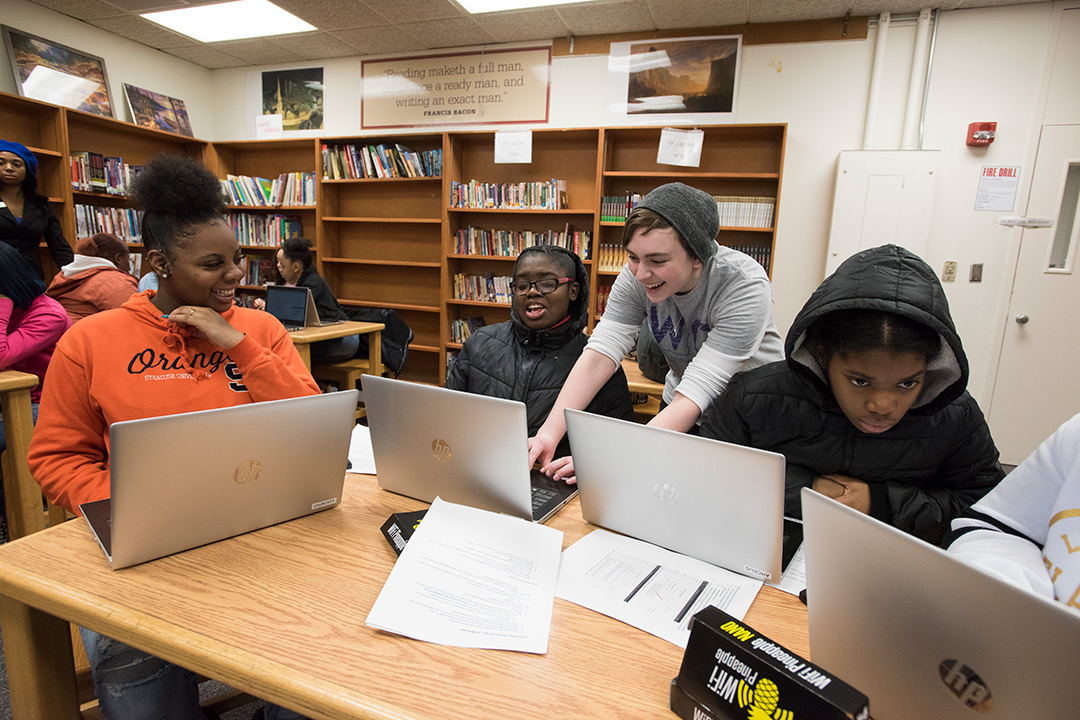 A. Sue Weisler
In hopes of inspiring more area K-12 students to pursue careers in technology, RIT's Women in Computing group is bringing technology workshops to Rochester city schools as part of the new RIT & AT&T Mobile Tech Lab.
The traveling hands-on lab will visit three Rochester schools this winter and spring to teach high school students about programming, project-based learning, hardware and more. The extracurricular lessons will be taught by Rochester Institute of Technology students, while laptops and gear for the lessons will be available because of support from AT&T.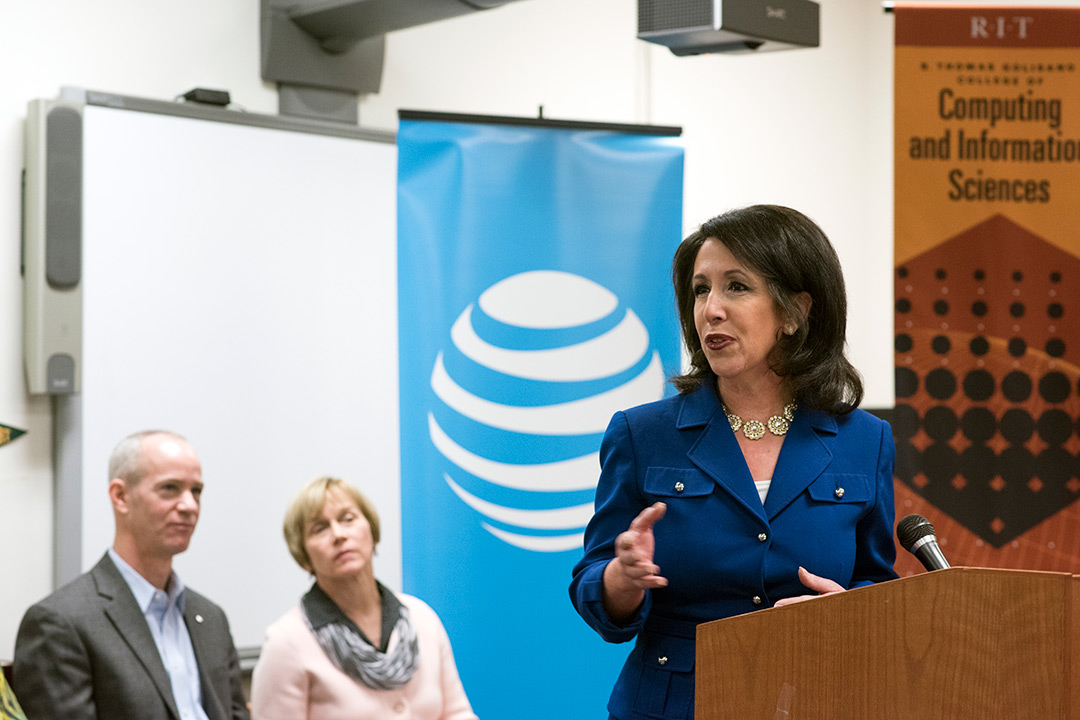 A. Sue Weisler
The RIT & AT&T Mobile Tech Lab was launched Feb. 26 at the Northeast College High School, Douglass Campus, the first school to receive the free multi-week program for its students. Monroe County Executive Cheryl Dinolfo took part in the rollout of the mobile coding lab and joined students trying out some of the workshop technology.
The lab was born out of a common goal of RIT's Women in Computing (WiC) and AT&T to provide more students in-depth STEM and computer coding educational opportunities throughout the region. Members of RIT's WiC developed and will teach the STEM and coding lessons for the lab, which will be offered to the schools at no cost.
"We are very thankful for AT&T's support in helping to make the dream of this outreach lab come alive," said Lana Verschage, director of RIT's WiC. "We are excited to give public high school students an opportunity to experience computing. In an ideal world, every child should be learning some code like a second language."
In addition to Douglass High School, the mobile lab will make its way to Edison Career and Technology High School and James Monroe High School. The mobile tech program will include three distinctive workshops for the students, including:
Hardware and intro to programming—where students learn to code in Python (a very basic coding language), how to code and create emojis, and even how to solder.
Networking—focusing on how computers communicate with each other using the Pineapple WiFi teaching environment. Students will also learn how to create mockup networks and how to keep information safe online.
App Development—students will learn the basics of app making, learning drag and drop programming to build and program games. They will also learn design and creative programming techniques to create a very basic form of a Snapchat-like mobile app.
Shannon McIntosh, an RIT student helping to lead the workshops, said that she doesn't like how other programs for young students typically only focus on programming.
"If someone doesn't like to write code, that doesn't mean that tech isn't for them," said McIntosh, who is a fifth-year software engineering major from Oswego, N.Y. "We want to demonstrate how broad the industry is by showcasing many topics in our classes, including hardware and networking."
Students will engage in activities that introduce them to the basic principles of coding, engineering, project-based learning, manufacturing, production skills, as well as the creative design process and critical thinking skills. The lab will bring laptops, Android phones, soldering kits, Pineapple WiFi's and Circuit Playgrounds (micro-processors) to each of the schools for students to use during the workshops, in order to eliminate any economic barriers.
The RIT & AT&T Mobile Tech Lab aims to help create a future of smart, innovative applicants to fill technology jobs in the region where supply is much smaller than the demand. According to the Bureau of Labor Statistics, it is estimated that by 2020 there will be 2.4 million unfilled STEM jobs in the U.S. More than half of this growth will be made up of computer careers.
"Earlier this month we launched IT Monroe 1.0, a new initiative to help residents earn the skills they need to be successful in growing industries like information technology and computer science. Employers in these fields are hiring for good-paying jobs right here, right now in Monroe County, and it's important that we bridge the tech skills gap to help build our next-generation workforce of the future," said Monroe County Executive Dinolfo. "I'm proud to stand with RIT and AT&T as they launch the Mobile Tech Lab - a perfect complement to IT Monroe 1.0 - which enhances hands-on STEM education experiences in high schools across our community."
AT&T's $20,000 contribution for this digital educational initiative is part of the company's legacy of supporting educational programs focused on STEM disciplines in New York state through AT&T Aspire, the company's signature $450 million philanthropic initiative that drives innovation in education by bringing diverse resources to bear on the issue including funding, technology, employee volunteerism and mentoring. Aspire is one of the nation's largest corporate commitments focused on school success and workforce readiness by creating new learning environments and educational delivery systems to help students succeed and prepare them to take on 21st century careers.
 "AT&T is proud to collaborate with RIT to develop and support this innovative experience for local young minds as it further enhances our commitment to providing resources for STEM-related and coding educational programming throughout Western New York," said Amy Kramer, New York President, AT&T. "Our economy continues to transform at a robust pace – requiring a workforce with a focus on technological education and literacy – and STEM and innovative programs like this one are vital to ensure that the students of today are equipped to compete in the global innovation economy of tomorrow."
AT&T has given more than $103 million to support STEM initiatives. Projects supported by AT&T contributions range from after-school programs and camps for students at risk of dropping out to hands-on technology labs and elite robotics competitions.
"I am excited for the students who will benefit from the RIT & AT&T Mobile Tech Lab," said Rochester Mayor Lovely Warren. "Becoming comfortable with coding, computers and apps has the potential to open doors to future careers – and it is increasingly essential to ensuring our students, including our young women, aren't left behind in this increasingly computer- and technology-driven economy."
WiC, which is part of RIT's Golisano College of Computing and Information Sciences, is dedicated to promoting the success and advancement of women in their academic and professional careers with an ultimate goal of empowering women in computing fields to succeed and thrive in the technology industry.
"I love being a part of the students' journey in their education and being a mentor to these students is gratifying," said Jackie Leung, a first-year software engineering major and coordinator for the workshops, from Reno, Nev. "I also like doing these outreach events to show and encourage younger girls that there are women in the field of computing and that anyone can succeed in the field, no matter their ethnicity or identified gender."
The group was able to connect with Rochester City Schools for this workshop because of GEAR UP and the RIT K-12 University Center. GEAR UP (Gaining Early Awareness and Readiness for Undergraduate Programs) is part of a national grant program to increase the number of low-income students who are prepared to enter and succeed in higher education. RIT's K–12 Division manages a grant for students in the class of 2020 within the City of Rochester, providing or coordinating once-in-a-lifetime experiences, leadership training, personalized mentoring, tutoring and college and financial aid planning.
"RIT K-12 is a bridge between RIT subject matter experts—be they faculty, students or clubs—and the K-12 community," said Donna Burnette, director of RIT's K-12 University Center. "Women in Computing wanted to do this great outreach work to get girls coding and they came to us to help facilitate that. K-12 establishes all the relationships in the schools and figure out the logistics to make the experience easy for everybody and to ensure a positive outcome."
In the future, the WiC group hopes to make the workshop mobile by getting a van that allows it to spread the word beyond the Rochester-region.
Topics