Montez concludes 'stellar graduate career' at RIT
Rudy Montez first to complete Astrophysical Sciences and Technology doctoral program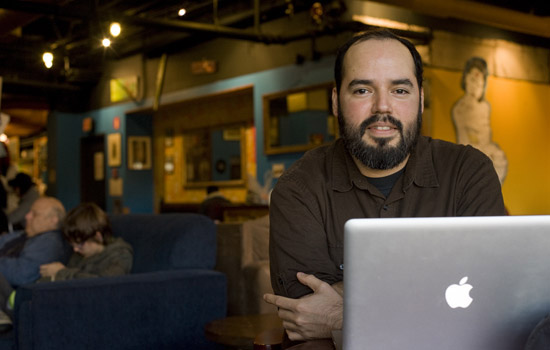 A. Sue Weisler
Rodolfo "Rudy" Montez Jr. was headed for a career in business until an undergraduate astronomy course realigned his career goals like a supernova. Epiphanies on that scale are hard to ignore, and Montez dropped business for science without looking back.
Dying stars—particularly the glowing shells of ejected material, or planetary nebulae, that surround dying low-mass stars—captured Montez's interest. This fall, he defended his dissertation on planetary nebulae and became the first student to earn his doctorate from Rochester Institute of Technology's Astrophysical Sciences and Technology program.
For the past five years, Montez and his thesis advisor Joel Kastner, a world-renowned expert on planetary nebulae, have studied light emitted from dying stars using NASA's Chandra X-ray Observatory and the European Space Agency's XMM-Newton. Montez's thesis traces the X-ray emissions from hot bubbles that form during the creation of planetary nebulae.
"From the new X-ray observations we've made, we could finally pinpoint where the X-rays are coming from," Montez says. "We find several components; the large hot bubbles and more compact, unexpected sources of high-temperature X-rays from the central region. We attribute these high-temperature X-rays to a younger companion of the dying central star, suggesting that these companions were strongly influenced when the primary star formed the planetary nebula."
Montez's research is already attracting notice. The American Astronomical Society awarded his dissertation, "X-rays from Planetary Nebulae: Unveiling Binarity and Wind Collisions," one of the 10 inaugural Rodger Doxsey Travel Prizes. The award honors the late American physicist and astronomer who worked on NASA's Hubble Space Telescope and provides $500 and complementary registration to the society meeting Jan. 9-13 in Seattle.
"I am extremely grateful for the recognition this award brings for my thesis," Montez says. "The importance of this award started to sink in after the news spread and my inbox became flooded with congratulatory e-mails. It is not just a personal recognition but a helpful boost for our budding astrophysics graduate program."
"The Doxsey prize was an appropriate way for Rudy to finish off a stellar graduate career at RIT—pun intended," says Kastner, a professor in RIT's Chester F. Carlson Center for Imaging Science. "It shows the respect his work is winning from the national and international astronomical communities."
Gaining the attention of the American Astronomical Society is a great way to start one's career. In Montez's case, the early recognition could help him land fellowship and funding opportunities while pursuing a field of research that does not involve the current hot topics in astronomy, such as exoplanets and cosmology. The planetary nebulae community is small, Montez says. Most of the research is coming out of Europe and Australia with only a few universities in the United States having tenured faculty members publishing in this area.
"Rochester is kind of like a little Mecca for planetary nebulae research," he says. "Joel Kastner's here and Adam Frank and Eric Blackman at the University of Rochester. Joel is an observationalist and the other two are theorists, so together it's a good mesh."
Montez moved to Rochester after earning bachelor's degrees in physics and astronomy from the University of Texas at Austin. He met Kastner through his professors at the University of Rochester, where he began his graduate work in physics.
RIT's astrophysics program hadn't launched yet, and Kastner needed a graduate student to help him with a project. His observational approach to astronomy influenced Montez and altered the direction of his graduate research.
"It was coincidence, serendipitous," Montez says. "I was extremely fortunate."
He transferred to RIT's imaging science program in 2005 and then into the astrophysical sciences and technology program, which began accepting students in fall 2007.
Now, Montez is preparing for the next phase of his career by applying for postdoctoral fellowships and grants to continue his research. He will stay at RIT for a few more months to work with Kastner on a new Chandra project.
"Today, with an ordinary laptop computer, you can do this research anywhere," he says. "I have projects that are ongoing and I've started contacting people for a project I'm proposing.
"I'd like to determine if the X-ray emissions from dying stars have any impact on other emission outside of X-rays, like the optical emission from the nebular shell," he continues. "Prior to the observations that Joel and I have performed, the effect of the X-ray emission on the nebular emission has not been considered. That is the main direction I'd like to head towards."
##
Topics