More finishing with two degrees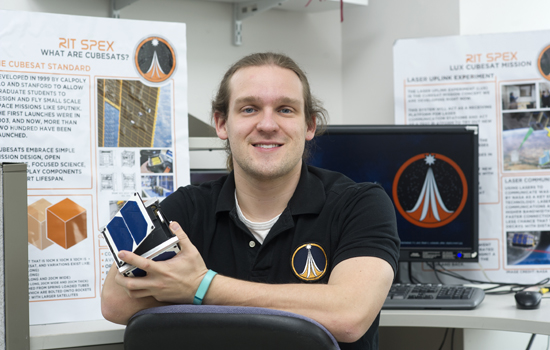 A. Sue Weisler
The sky's the limit for most Rochester Institute of Technology graduates, but not for Anthony Hennig. He's aiming even higher.
"I would love to be an astronaut," he said. "My goal is to support space exploration."
Hennig, of Richmond, Va., has studied five years at RIT and is graduating with dual degrees: a bachelor's in mechanical engineering with an aerospace option, and a master's degree in science, technology and public policy.
He is also the first to serve as delegate to two of RIT's colleges on graduation day: he is the undergraduate delegate for the Kate Gleason College of Engineering and the graduate delegate for the College of Liberal Arts.
"Right now, I'm focused on supporting space exploration as an engineer and policy advocate," he said. "I'm heading down to NASA this summer to work on infusing space policy into the space mission analysis and design process. It would be fun to get into a position not only where I can learn about new technology, but also to get others excited about getting that new technology developed, supported and researched."
He's been accepted in George Washington University's Ph.D. program in systems engineering.
Hennig is one of approximately 220 students this year graduating with dual degrees or majors. It's a trend that RIT administrators—and prospective employers—greatly welcome.
RIT's Strategic Plan 2025 states the university "will select, invest in, and foster interdisciplinary and trans-disciplinary research areas of focus where RIT's assets align with growing opportunities."
They're known as "T-shaped" students because the additional majors or degrees go beyond the basic skills and education required for their degree, giving their studies more depth.
"The notion of T-shaped skill development is catching on nationally, and employers and universities alike are grappling with innovative strategies and best practices and even basic definitions," said Jodi Boita, director of RIT's Assessment, Technology and Communications for Student Affairs. "Graduating with a double major is one strategy to obtain depth in more than one discipline and can be an opportunity to develop boundary-crossing skills. But that will vary student to student and discipline to discipline."
Ja'Nai Gray of Rochester, N.Y., is majoring in criminal justice and sociology, with immersions in health and culture and women and gender studies. A doctorate in law is in her target, focused on law-making or lobbying.
"I was motivated to take a double major because I felt like I wanted to get as much as I could out of my education," Gray said. "I learned that double majoring gave me the opportunity to get two degrees in the same time as one with no additional cost, and double majoring allowed me to have more opportunities as far as networking with more people and more job opportunities."
Gray did research in both fields of her majors and was able to land an internship at the Monroe County Public Defender's Office. She also met with Rochester Police Chief Michael Ciminelli and began a program to help at-risk youth in Rochester.
"Some may think that having two majors will hold you back, but for me, I am graduating early," said Gray, who took six classes each semester. "You have to be proactive, disciplined and motivated in your studies to succeed. I am very happy that I double majored as I am eligible for more opportunities than just in my primary major of criminal justice."
Brianna Larson of Stockton, Mo., majored in international studies and added a political science major in the College of Liberal Arts after taking an American government course. She hopes to work for the government in intelligence or immigration or refugee services.
"I decided to do a double major because both course tracks were really interesting to me and they meshed really well together," she said. "I actually had to talk myself out of trying to pick up a third major in sociology and anthropology—I have a bit of a problem finding subjects I'm not interested in."
Larson said it didn't take any longer to graduate with two majors. "I was actually on track to graduate early, but decided to extend my capstone project so I could do it while not having to worry about a bunch of classes. It's been hard work, but I definitely don't regret making the decision. I like what I've learned in my courses through discovering my own interests and developing them more. I think the whole college experience really helped me grow as a person."
Victoria Scholl, an imaging science major from RIT's College of Science and a motion picture science major from the College of Imaging Arts and Sciences, will be spending a year after graduation in Switzerland as a Fulbright Student. Scholl grew up in Hudson Valley, N.Y., and decided to attend RIT when she learned about its motion picture science program.
"I was interested in filmmaking, math and science as a high school student, and motion picture science allowed me to pursue all of them," she said. "After my first year at RIT, I became aware of the imaging science program and the extensive scientific community that it's tied to here within the Chester F. Carlson Center for Imaging Science. I wanted to focus more on scientific applications of imaging in the realm of remote sensing, so I decided to add imaging science as my second major."
She said having two majors was extremely helpful in landing three summer internships.
"Having experience with and interest in video production and motion picture applications of imaging helped set me apart from other candidates who have had a more traditional scientific background."
Scholl said having two majors gave her access to different people, knowledge and opportunities.
"Taking two majors has made me a very well-rounded student and person," she said. "My skillset spans a valuable technical (programming, math, physics, scientific analysis and writing) and artistic (filmmaking, principles of animation, digital effects and composting) gamut, and I have gotten to work on some pretty interesting and impactful projects."
And a second Fulbright goes to…
Yasmeen Smalley-Norman, who graduated in 2013 with a BFA in photojournalism from CIAS and a BS in biomedical photographic communications, with minors in environmental science and journalism.
Smalley-Norman is the vice president and 3D modeler at The Hydrous, a nonprofit organization dedicated to modeling coral reefs. Originally from Houston and now a resident of Dover, N.H., Smalley-Norman will produce 3D models and photographs to map coral species in the Philippines. Her work will be used to scientifically identify species and update the CoenoMap, a web-accessible map-oriented database of corals in the Philippines.
RIT was named a top producer of Fulbright students among master's institutions for 2015-2016. The university has had six awardees in the past three years. The Fulbright competition is administered at RIT through the RIT Global Office. Similarly, 40 international students from 25 countries attended RIT this year through the Fulbright Foreign Student Program.
A. Sue Weisler