Move over Reuben. Here comes the Munson
Pastrami on grilled pumpernickel hits RIT Dining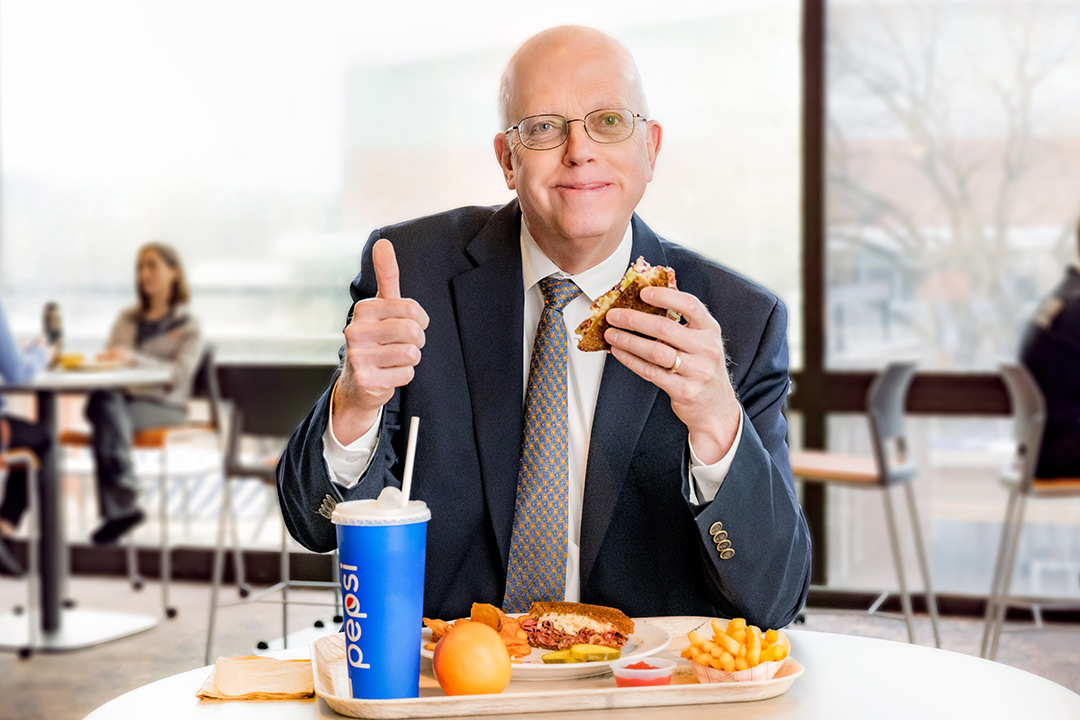 Dining options at Rochester Institute of Technology are growing, with the introduction of a sandwich that has gotten a presidential seal of approval.
Yes, you can still get a burger, Philly cheese steak, or a club sandwich. But starting Monday, you'll also be able to order up a Munson. It will be in a four-week rotation this semester with other specialty sandwiches and available one week per month only at the RITz in the Student Alumni Union.
It is named for RIT President David Munson, who was asked by Student Government what ingredients he would like on a sandwich named after him. His answer: pastrami, Swiss cheese, coleslaw, and Russian dressing on grilled pumpernickel bread.
"This is among the highest honors of my lifetime," Munson said recently as he prepared to take a bite of the first-ever Munson sandwich. "It sounds delicious because these are some of my favorite foods combined together."
Although pumpernickel isn't usually on hand, Chef De Cuisine Eric Mercovich, and Auxiliary Services, is making the Munson a reality.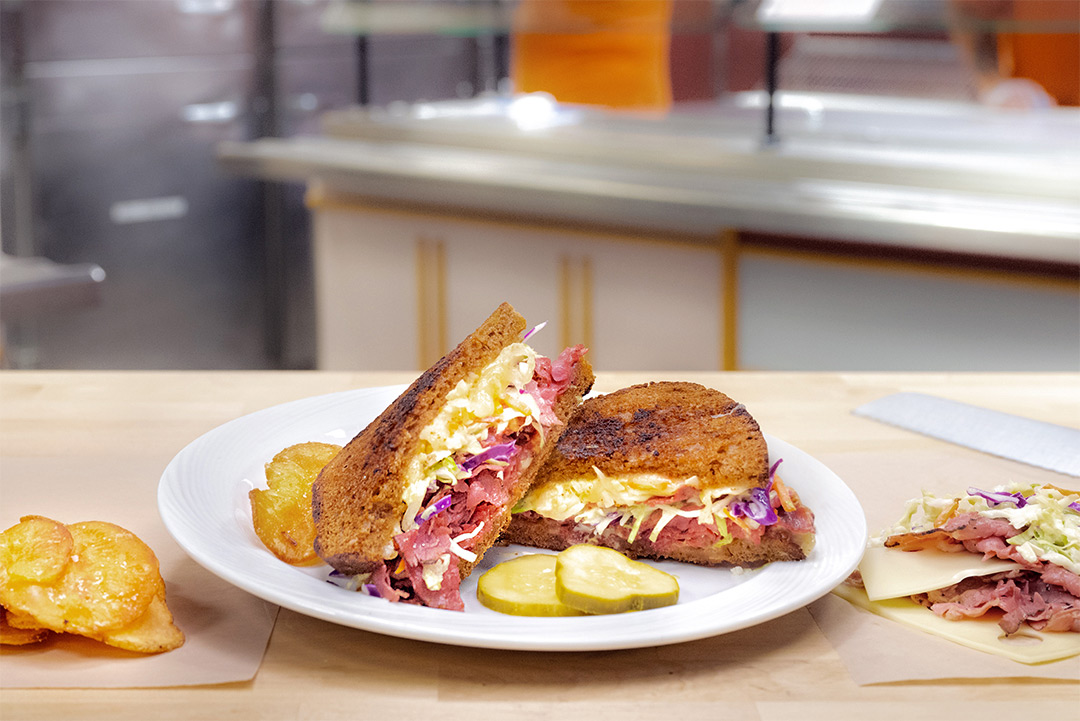 Scott Hamilton
"Sure, we can make it happen," Mercovich said. "It's just another kind of tweak to a hot grilled sandwich. It sounds like a good sandwich. I'm sure it will be well received."
Mercovich measured the ingredients to proportionally fit on the bread. He also determined the nutritional information, calories, and any allergens before the Munson was added to the menu.
The Munson sandwich will cost $8.49. It is being promoted on the RIT Dining website, as well as on a TikTok video, which features Munson sampling a Munson for the first time.
"This is really good," Munson told the chefs during his taste test. "This is really messy too, but that's the way it's supposed to be."
Daniel Talbott, chair of the Housing and Dining Committee in Student Government, said he believes this is the first time RIT has offered a sandwich named for someone. The idea was proposed by Student Government last semester, and Munson wholeheartedly supported the idea.
Talbott, a fourth-year mechanical engineering technology major from Chili, N.Y., said if the Munson sandwich is a hit, "I could see adding some others" named for RIT personalities or students.