Mustafa Abushagur talks about his country's future
Mustafa Abushagur talks about his role in his country's future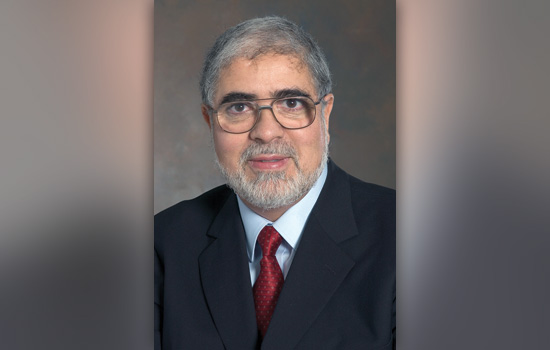 When electrical engineering professor Mustafa Abushagur was back at RIT this spring, he reflected on his past two years, an exciting whirlwind that saw him heading an international university, RIT Dubai, 
as its founding president, then leading his country, Libya, as its very first elected prime minister. 

He remains part of the rebuilding efforts in a country that has overthrown a dictator. He helped launch a new democratic government that is resurrecting its country's 
educational, cultural and civic institutions. 

In a recent National Geographic article about the country's profound changes and how it is reclaiming a rich, cultural heritage, Libya was cast as "a portrait of an unfinished nation," and Abushagur agreed with the sentiment. His past experiences put him in a unique position to help rebuild a nation.

"When the revolution came in 2011, it brought a glimpse of hope that Libya might change at last," says Abushagur, who was born in the capital city of Tripoli. "We were pleased to see our people revolt. They were willing to give the ultimate sacrifice to 
be able to change the regime. The young people, they pushed for change. Thousands of people gave their lives, literally with bare hands, against an arsenal and the dictator's will to kill everybody." 

The eastern part of the country was 
liberated first, and the National Transitional Council was formed. It also marked the 
return of many émigrés like Abushagur who had formed, and remained active with, opposition groups in and out of the country. Many had not been back inside their homeland for what felt like the greater part of their lives.

"When I flew to Benghazi, that was the first time I had been back to Libya in 31 years—and I went back to a liberated 
country," he says. "It was an overwhelming feeling. Of course, I was so happy to see it, but at the same time I was saddened because 
I had seen the 40 years of destruction."

Yet, what he also saw was a country 
that wanted change and people who 
wanted to influence that change, he adds. The transitional government was installed. New political parties were formed where once they were not allowed. Most importantly, elections took place. 

"I stayed independent before the election. Eight of us competed for the position of prime minister. I won the run-off between three of the eight candidates," Abushagur says. "It was the first time ever that the prime minister was elected. But it was still 
a difficult time to form a government, and in the end, the two largest parties decided 
to vote me out after four weeks. 

"I was relieved—because I knew the 
challenges, but at the same time, when 
I spoke prior to the election, I outlined 
so many things to be done, the people 
appreciated that. Many said, 'Today you have lost the vote of congress, but you 
have gained the vote of the people.'"

With that vote of confidence, Abushagur returned to Tripoli in April to put in place a new, grass roots political party and a public-policy advisory board he and 
several colleagues established for the 
new government. 

Although he is on extended leave 
from RIT, Abushagur has not left 
academia entirely. He intends to build 
relationships between Libyan universities and peer universities across the globe, 
including RIT. 

"I believe strongly in having an American university system in the 
country, so it can be RIT Libya, or something similar," he adds. "I never thought that I would be doing what I'm doing. 
I've always wanted to do something 
good, I tried to affect life positively. 
And I think I've done that through 
teaching and other ways. 

"I have an opportunity to bring some 
of the experiences I have learned over 
the years in this country, to help establish 
a nation that our children and grand­children will be proud to be a part of. 
I would like to leave some contribution 
to that, and for RIT, I think this is 
something they can be a part of too."