NASA astrophysicist is RIT's Academic Convocation keynote speaker
Thomas Zurbuchen will speak about innovation, leadership, and how teams in pursuit of excellence can help change the world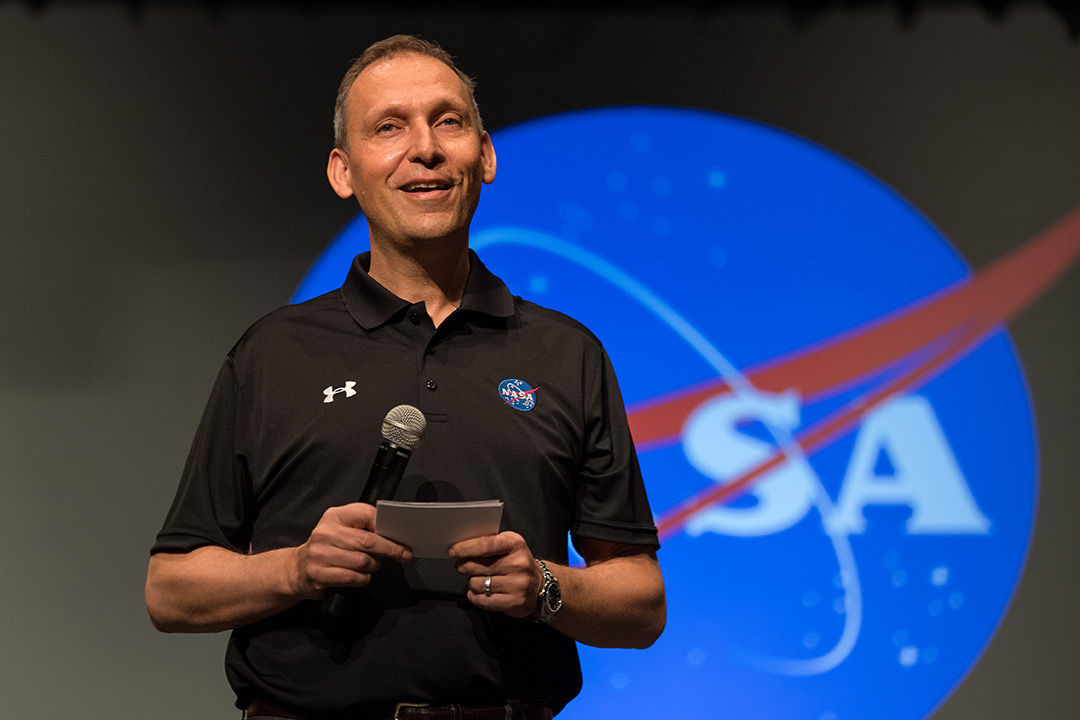 Thomas Zurbuchen, astrophysicist and the longest continually serving associate administrator for the Science Mission Directorate in NASA's history, will be the keynote speaker for Rochester Institute of Technology's Academic Convocation ceremony starting at 10 a.m. on Friday, May 12, in the Gordon Field House and Activities Center.
From 2016 to 2022, Zurbuchen became NASA's longest continually serving science chief in its history. In this role, Zurbuchen was tasked with helping answer some of humanity's biggest questions: Where did we come from? Are we alone? How does the universe work? Based on his decades as a researcher, innovator, and explorer, he is well versed in the practice of asking difficult questions that help seek interconnected answers leading to real-world impacts.
Growing up in Switzerland, Zurbuchen was a keen observer of the natural world from an early age. His curiosity led him to pursue degrees in physics as a first college graduate in his family, and he has served on and led innovative scientific teams that have helped enlarge perspectives on the solar system and the universe. Previous points of focus of his research have been the planet Mercury and the sun. He was also a professor of space science and aerospace engineering at the University of Michigan in Ann Arbor and was the founding director of UM's Center for Entrepreneurship at the College of Engineering. There, he developed and ran several campus-wide innovation initiatives, one of which led to the top-ranked undergraduate entrepreneurship program nationally.
During his career, Zurbuchen has authored or co-authored more than 200 articles in peer reviewed journals focused mostly on solar and heliospheric phenomena. He earned his doctorate and Master of Science degrees in physics from the University of Bern in Switzerland.
Zurbuchen's honors include induction as a member of the International Academy of Astronautics and the Swiss Academy of Science and Engineering. He is a fellow of the American Institute of Aeronautics and Astronautics.
From NASA, Zurbuchen has been recognized with the 2020 Outstanding Leadership Medal for leadership and critical support in leading the Science Mission Directorate, and advancing scientific knowledge, making a profound impact on NASA's mission, programs and projects; the 2021 Presidential Rank Award, the highest annual award for U.S. government career senior executive service members for sustained extraordinary accomplishment; and the 2022 Distinguished Service Medal for extraordinary contributions and outstanding leadership to NASA's mission and the nation's space program.
"I am honored to deliver the keynote address to RIT graduates during this year's Academic Convocation," said Zurbuchen. "RIT is a university known throughout the world for creativity, innovation, and excellence—all hallmarks of what NASA stands for. My hope is to inspire today's graduates to continue working for good and changing the world in their own unique ways."
The NASA science program is responsible for more than 140 missions under development or in operation. Each of these constitutes a partnership of various science and technology disciplines, and with industry and other nations together tasked to advance the frontiers of knowledge and exploration. These missions include the record-setting James Webb Space Telescope, the Perseverance rover on Mars and its flying companion the Ingenuity Helicopter, and dozens of missions observing Earth, and with other government and industry partners, protecting and improving lives on Earth through weather forecasts and supporting disaster relief.
RIT's Academic Convocation runs from 10 a.m. to noon May 12, with individual college commencement ceremonies honoring the graduates running throughout the weekend.