NASA's Charles Bolden Jr. to speak at commencement
Retired Marine Major General and astronaut has headed the agency since 2009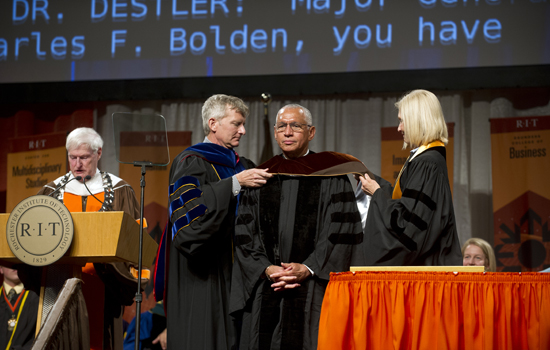 Maj. Gen. Charles Bolden Jr., head of the National Aeronautics and Space Administration, will be the keynote speaker for Rochester Institute of Technology's 130th commencement celebration.
Bolden will speak at the Academic Convocation, set for 10 a.m, May 22, in the Gordon Field House and Activities Center.
RIT President Bill Destler said the university is honored to have Bolden addressing its graduates.
"Decorated Marine, astronaut, innovative administrator—Maj. Gen. Bolden has a list of career accomplishments that our graduates should find inspiring," Destler said. "We look forward to hosting him on campus for our commencement celebration."
Bolden, a native of Columbia, S.C., earned an appointment to the U.S. Navy Academy after graduating high school. He earned a Bachelor of Science degree in electrical science and was commissioned as second lieutenant in the Marine Corps. He went on to become a naval aviator, flying more than 100 combat missions in North and South Vietnam, Laos and Cambodia in the early 1970s.
Bolden earned a Master of Science degree in systems management from the University of Southern California in 1977, and was assigned to Naval Test Pilot School. While working at the Naval Air Test Center's Systems Engineering and Strike Aircraft Test Directorates, he tested a variety of ground attack aircraft until his selection as an astronaut candidate in 1980.
Bolden's NASA astronaut career included technical assignments as the Astronaut Office Safety Officer; Technical Assistant to the Director of Flight Crew Operations; Special Assistant to the Director of the Johnson Space Center in Houston; Chief of the Safety Division at Johnson (where he oversaw efforts to return the shuttle to flight safely after the 1986 Challenger accident); lead astronaut for vehicle test and checkout at the Kennedy Space Center in Florida; and Assistant Deputy Administrator at NASA Headquarters. After his final shuttle flight in 1994, he left NASA and returned to active duty with Marine Corps operating forces as the Deputy Commandant of Midshipmen at the U.S. Naval Academy.
In 1997, Bolden was assigned as the Deputy Commanding General of the 1st Marine Expeditionary Force in the Pacific, serving as Commanding General of the 1st Marine Expeditionary Force Forward in support of Operation Desert Thunder in Kuwait. He was promoted to his final rank of major general in July 1998 and named Deputy Commander of U.S. forces in Japan. He later served as the Commanding General of the 3rd Marine Aircraft Wing at Marine Corps Air Station Miramar in San Diego, Calif., from 2000 to 2002. He retired from the Marine Corps in 2003.
Bolden's many military decorations include the Defense Superior Service Medal and the Distinguished Flying Cross. He was inducted into the U.S. Astronaut Hall of Fame in May 2006.
In 2009, he was nominated by President Obama and confirmed by the U.S. Senate as the 12th Administrator of NASA, where he leads a nationwide team to advance the missions and goals of the U.S. space program. Under Bolden's leadership, NASA accomplished an unprecedented landing on Mars with the Curiosity rover, launch of a spacecraft to Jupiter, enhancing the nation's fleet of Earth-observing satellites, continued progress toward the 2018 launch of the James Webb Space Telescope, the successor to the Hubble Space Telescope, and last December launched and recovered the Orion deep-space crew module, the first human-rated spacecraft to be developed for flight beyond low Earth orbit by any nation in more than 40 years.
At the Academic Convocation, Destler will confer degrees upon some 3,500 undergraduate and graduate students. The event kicks off RIT's two-day commencement celebration. For more information, go to the RIT commencement page on the university's website.
Topics