New Alumni Association President announced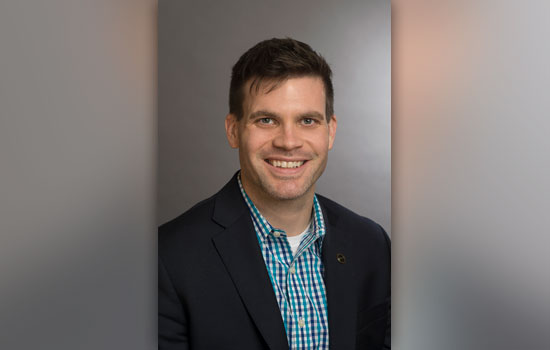 Kevin Sheldon '02 (management information systems) began serving his two-year term as the new Alumni Association President on Jan. 1.
In addition to his career as vice president of operations at CareJourney, Sheldon is passionate about serving the RIT community and its more than 125,000 alumni.
"The Alumni Association works to support the RIT alumni community in any way we can. We are evaluating how we serve alumni in general, how to get them more engaged, and looking at ways that we can continue to get them involved at a deeper level," said Sheldon.
Living far away from the Rochester campus in Leesburg, Va., hasn't kept Sheldon from being involved with the university. He enjoys maintaining his connections with RIT through his involvement with the Alumni Association.
"When I was a student, I was fortunate enough to get involved in the RIT community in a number of ways. I was a representative in Student Government, I had experience in club leadership and I was in an a cappella group," he said. "Through that involvement, I saw what RIT did for its students and alumni and I started to appreciate all the opportunities RIT gave us."
Before being nominated to serve as an Alumni Association Board member in 2009, Sheldon was involved with the Alumni Association in many ways, including serving as a chapter leader.
"Reconnecting with people from RIT can help you network and make new friends, as well as strengthen your relationship with our university that has a growing prestigious reputation," Sheldon said.
While serving as president, Sheldon has three main goals.
First, he wants to continue to strengthen the dialogue between the Alumni Association, the RIT administration and the Board of Trustees. Second, Sheldon wants to work with RIT President David Munson as he re-evaluates the university's strategic plan to ensure that the Alumni Association can support the president's new vision. Third, Sheldon wants to increase alumni involvement with the association.
Sheldon encourages alumni to come back to RIT and to get involved with the Alumni Association.
"If you or someone you know would like to get involved, just reach out to us. There are a number of ways to get involved. You can join the board, become a chapter leader, join the alumni mentorship program or participate in the Global Day of Service," said Sheldon. "I would encourage all alumni to reach out and get involved somehow."