New exhibit explores the design of shopping bags
Bags designed by Andy Warhol, Yoko Ono and Keith Haring are now on display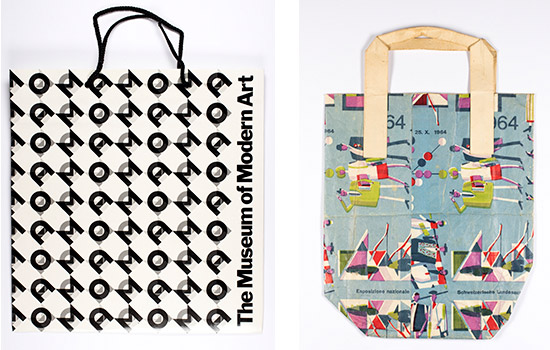 A new exhibition at the Cary Graphic Arts Collection examines the design and visual impact of shopping bags from the 1960s to today. The exhibition, titled "Carry On! Selections from the J. Scott Patnode Shopping Bag Collection," is on display now through Dec. 18.
The 72 exceptional examples of shopping bag design on display come from a collection of nearly 1,200 donated to the Cary Collection in the spring by J. Scott Patnode, retired director and curator of the Gonzaga University Jundt Art Museum. The oldest item is a 1961 Bloomingdale's bag and the most recent additions to the collection are from 2010. Famous designers including Andy Warhol, Yoko Ono and Keith Haring, to name a few, designed some of the bags on display.
"We wanted to start the semester with a fun exhibition that would draw people in to see all that the Cary Graphic Arts Collection has to offer," said Ella von Holtum, the assistant archivist who curated the exhibition. "Because of its combined focus on design and functionality, this is an excellent teaching collection for students across many disciplines at RIT including industrial design, packaging design, printing, hospitality and more. It's a chance for students to look at everyday objects, find deeper meaning and get inspiration."
An opening reception will take place from 6:30 p.m. to 8 p.m. Thursday, Sept. 28, at the Cary Graphic Arts Collection on the second floor of The Wallace Center. During the opening, attendees are invited to letterpress-print their own shopping bags. Refreshments will be served and the event is free and open to the public.