New initiative encourages humanitarian work
Projects underway include building websites for UNICEF and printing prosthetic limbs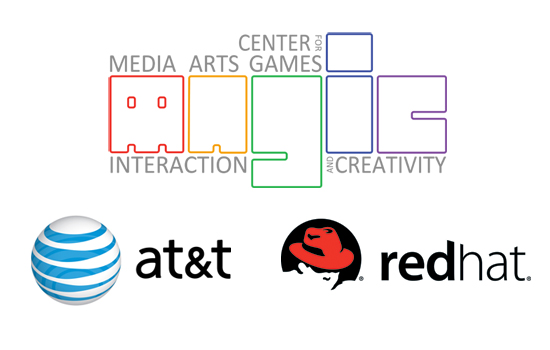 Rochester Institute of Technology students are using their unique expertise in free and open-source software (FOSS) and technologies to benefit humanitarian efforts around the globe. The goal of a groundbreaking FOSS initiative called LibreCorps is to eventually create a cross-country network of tech-savvy, compassionate college students who are using their specialized talents to make a difference.
LibreCorps—launched by RIT's Center for Media, Arts, Games, Interaction and Creativity (MAGIC)—is a clearing house and information resource and connects students looking for full-time paid cooperative-education opportunities and internships with socially conscious organizations. RIT students are currently using FOSS to develop a talent matching website for UNICEF Innovation and work with young high schoolers at the Vertus Charter School in Rochester, N.Y., to build prostheses for e-NABLE, an online network devoted to connecting makers who produce customized 3D-printed prostheses with those in need.
Free and open technology developers and users and can freely use, copy, study and change the software in any way, and the source code and designs are is openly shared so anyone can improve the software's design.
"The RIT Center for MAGIC LibreCorps initiative has proudly formalized what we've been doing for a while in an ad hoc manner," said Stephen Jacobs, associate director of RIT's Center for MAGIC and professor in RIT's School of Interactive Games and Media. "It has been our desire to replicate the successful past co-op experiences of our students with organizations like Sugar Labs and UNICEF Innovation and 'level up' our continued humanitarian efforts. LibreCorps was created to address needs and find solutions for humanitarian organizations around the world."
Brendan Whitfield, a fourth-year new media interactive development student from Rochester, N.Y., and Derek Lescarbeau, a fourth-year game design and development student from Methuen, Mass., are developing an open source website designed to connect qualified candidates with relevant projects within UNICEF Innovation. UNICEF Innovation is an interdisciplinary team of individuals around the world tasked with identifying, prototyping and scaling technologies and practices that strengthen UNICEF's humanitarian and development programs for children worldwide. According to the students, the website will help the organization recruit qualified applicants to support their innovation projects around the world. Once operational, the site will give UNICEF a convenient platform to post jobs and manage applicant pools for specific skill sets such as design and development.
Mari Nakano, Visual Strategy Lead for the UNICEF Innovation Unit said, "In order to properly create and scale-up innovations at UNICEF, we need to provide our colleagues with a competitive pool of talented makers—developers, designers, technologists, scientists and other types of strategists and creatives who understand the work we do as well as the rapidity at which we iterate and develop ideas. As we scale-up innovations, we also have to consider how we scale-up supporting the development of those innovations with a skilled and diverse set of staff, consultants, volunteers and fellows."
"This is essentially a matchmaking site for students and professionals looking for UNICEF projects," said Lescarbeau. "Our work will have real-world impact. If this project is successful, it will be easier for people to locate and support UNICEF projects, hopefully expediting the process. This could lead to more people around the world helping UNICEF achieve their humanitarian goals."
Whitfield further explained that the UNICEF site is based off another open-source project called Midas, currently in development by the U.S. Government's 18F team in the General Services Administration. Using their web programming expertise, the students are modifying Midas to meet UNICEF's needs.
Added Lescarbeau, "The experience I'm gathering here during this project, while not related to game design specifically, is useful for me to improve my skills as a programmer. It also allows me to experience the interactions between designers and developers and is teaching me how to handle requirements received from a customer about a project. The professional experience of interacting with UNICEF regarding their needs is great for my future regardless of what I end up doing."
Elizabeth Jackson, a third-year mechanical engineering student from Pittsburgh, is leading a program for ninth-grade students at Rochester's Vertus Charter School—an inner-city school for boys who have limited access to 21st-century technology—to assemble 3D prosthetic limbs for e-NABLE.
"The young students are learning 3D modeling and printing, along with valuable career skills," said Jackson. "Besides providing prosthetic hands for those in need, students are also learning engineering and workplace skills—and discovering their own potential."
Working with young people on a complex engineering project like prosthetic limb assembly has also tested Jackson's abilities.
"The students have been so great," added Jackson. "They are very mature young professionals. It has been challenging for me, though, because I've never taught a class before or even made lesson plans. This is a brand new program, at a school that has only been open for a year, so we are all learning as we go."
RIT's work in humanitarian free/open-source software development began in 2008 with the release of the One Laptop Per Child XO Laptop and the Sugar Learning Platform, followed by the formation of a faculty users group and a western New York users group a year later. In 2009, RIT offered its first honors seminar in open-source software development, and the following year, RIT formalized a course and a cadre of student developers doing open development in hackathons, in independent study courses and co-op experiences.
"This ecosystem of opportunities for student engagement has spawned multiple presentations at top organizations, student participation in more than 60 hackathons and the launch of the first academic minor in free and open-course software and free culture in the United States," explained Jacobs.
Jacobs also said that student work has been recognized and utilized in many other noteworthy arenas including at the White House as part of Champions of Change, at NASA, and throughout New York state with the creation of a mobile-based version of the Hurricane Sandy website.
Red Hat and AT&T have both partnered with RIT's Center for MAGIC and LibreCorps to fund the first three LibreCorps co-ops.
"Red Hat is proud to continue to support free and open-source initiatives at RIT's Center for MAGIC," said Tom Callaway, University Outreach Team Leader for Red Hat. "LibreCorps is an important step in helping students to see how they can make the world a better place by solving humanitarian problems with the aid of technology."
"AT&T is proud to partner with RIT to help support a LibreCorps co-op student to bring the e-NABLE technology to the Vertus Charter School to demonstrate how technology can be used to create life-changing solutions for those that live with disabilities," said Marissa Shorenstein, New York state president, AT&T. "Our involvement in this collaboration also enhances our commitment to providing resources for STEM-related educational programing in the region that will result in the success of our future workforce. Our economy continues to transform at a robust pace—requiring a workforce with a focus on technological education and literacy—and STEM programs like this one are vital to ensure that the students of today are able to compete in the global economy of tomorrow."
Jacobs is looking forward to a robust future for the LibreCorps initiative.
"It's our hope—over the next few years—to grow LibreCorps beyond RIT to universities around the globe," he said. "The poignancy of developing the technical talents of our amazing students, paired with igniting a fire for humanitarianism, cannot be understated and is one of the most important tasks we have as educators. RIT, along with our corporate partners who help make this program a reality, is proud to provide our students with the tools they need to be successful and compassionate global citizens."