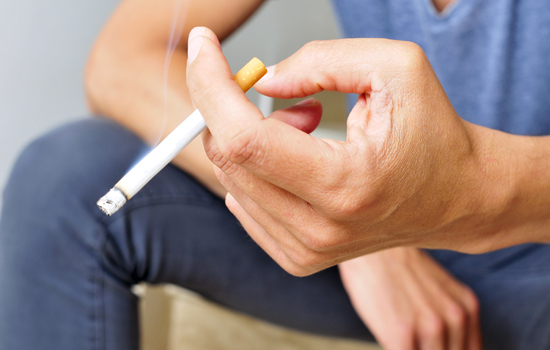 Up until now, when graduate student Hari Krishna wanted to smoke, he took a break right outside Kate Gleason College of Engineering. Soon he'll have to find his way to a new place — one of a handful of designated smoking-allowed locations on campus.
RIT is putting a new tobacco-use policy in force, the result of nearly two years of public and private debate that ended with approval by Academic Senate, Staff Council and Student Government. The new policy, which takes effect Aug. 17, brings the university in line with more than 1,500 colleges and universities in the United States that are tobacco-restricted or have banned tobacco use on campus entirely.
According to Donna Rubin, assistant vice president for student wellness at RIT, the change is the result of discussion and compromise and was triggered by concerns about harming the campus environment, the health and safety of tobacco users and those impacted by second-hand smoke.
Rubin said she understands that it may be difficult for some tobacco users to adjust to the new policy, but she hopes the majority of smokers and non-smokers will view it as a positive change in RIT's campus culture.
"Restricted tobacco use on campus is a national movement," said Rubin. "Tobacco litter is the No. 1 source of littering in the world today, so we owe it to our planet to be responsible citizens. There is also a worldwide movement to improve health and wellness, not only for ourselves, but for those around us. Studies have proven that tobacco use can be deadly, but the impact of second-hand smoke is also a major health concern today. The campus tobacco restrictions are about creating an environment of respect for our students, co-workers and visitors—and I think this is a cause we can all stand behind."
An original proposition passed by Academic Senate and Staff Council called for RIT to become completely tobacco free. But staunch opposition from Student Government prevented that policy from passing, and ultimately, the decision was made that RIT be a tobacco-restricted campus.
"In my opinion, students are the main party that will be affected by any policy that restricts tobacco use, and it's important that our voices and concerns are considered," said Nicole Howley, a science, technology and public policy graduate student from Phoenix and a member of the Tobacco Policy Task Force. "There are many students who live on campus, including international students, who do not have access to cars and would be unable to leave campus to smoke."
Howley, formerly Student Government's women's senator, also said that she has known many student tobacco users at RIT who were "amazing leaders and who have made large contributions to the campus community. I didn't want to see a campus where these students were not welcome simply because of an addictive habit."
The current policy on tobacco use on campus has been in place since 1984, with minor modifications in 2003 and 2010. In 2012, RIT's Institute Council requested a task force of students, faculty and staff to review and update the policy. "We all know of the changes related to tobacco use in public since 1984, most notably the amendment to the New York State Clean Indoor Air Act in 2003, which prohibits smoking in virtually all workplaces, including restaurants and bars," said Rubin. "The time came for RIT policymakers to take a closer look at how state and federal tobacco laws impact our campus environment and those living and working in it."
Lauren Shields, chair of RIT's Staff Council, said an overwhelming majority of staff are non-smokers. She said most are pleased with the new policy that restricts tobacco use to the designated locations.
"I have heard from many staff members about health concerns such as asthma and other respiratory ailments that can be exacerbated by contact with cigarette smoke," Shields said. "Hopefully the new policy will alleviate some of these concerns by eliminating smoking in doorways and near air intake vents. Ultimately, I hope the efforts will lead us toward being a more healthy campus."
Michael Stojkovic, associate director for wellness, works closely with employees through the Better Me program and encourages tobacco users to work toward taking "fresh air breaks" instead of "smoke breaks" to help ease the transition.
Rubin said the policy will be re-evaluated over the next several years, with the ultimate goal of becoming a completely tobacco-free campus.
"This new policy will without a doubt enhance the culture of RIT," said Rubin. "The American College Health Association endorses tobacco-free campuses and it is our hope that one day RIT will make the move to becoming completely tobacco free. Until then, we will take the necessary steps to help people adjust to the new policy and be patient and understanding. This is truly a community effort."
Krishna, an RIT graduate student researcher from Madurai, India, said he will comply with the new policy and perhaps even use it to encourage himself to kick the habit.
"I do see this new policy as a good thing, although it may take some time for smokers to adjust," he said. "I'm a smoker, but I've been trying to quit for a long time. When I'm conducting my research, it will take a lot of time and effort to go to one of these designated smoking areas, especially for an already bad habit. It almost has a de-motivational effect. My two choices? Walk to one of the areas or kick the butt."
Web extra
To review the new smoking policy, refer to RIT's Institute Policies and Procedures Manual or go to rit.edu/YA4Kd.
What's new?
Beginning Aug. 17, a new policy takes effect that restricts tobacco use to these six locations, identified with signs and equipped with benches, litter receptacles, and nighttime lighting:
Eastside of LBJ Hall
Outside Nathaniel Rochester Hall
Northeast of entrance to Gene Polisseni Center
East side of S Lot
East of Greek housing
South of Golisano Hall
Tobacco use is prohibited inside academic buildings, offices, dining facilities, vending areas, loading docks, vestibules and RIT housing. Students in on-campus residence halls must use one of the six locations, but students in apartments can use tobacco 25 feet from their residence. Smoking is permitted in private vehicles. The policy includes cigarettes, cigars, pipes, hookah, e-cigarettes and smokeless tobacco.
RIT offers smoking cessation programs for students and employees
RIT employs health fitness specialists who are also certified smoking cessation facilitators. One-on-one meetings with these specialists can help smokers develop plans to quit, including picking a quit date; deciding what method will be used, such as nicotine replacement therapy, prescription medication or going "cold turkey"; building a support system; and preparing for the quit day. Support is also available after they quit, including participation in online discussion forums. Stress management techniques, healthy eating options and exercise programs are offered.

Students hoping to quit should contact RIT's Student Health Center at 475-2255 or go to rit.edu/studenthealth. Students may also connect with Karen Pelc, alcohol and drug counselor in Student Wellness Services, at 475-3963 for resources and support to quit.

Faculty and staff looking for information on kicking the habit should go to rit.edu/bQc9n.
RIT becomes a tobacco-restricted campus
1984—RIT's current tobacco use policy is implemented.
October 2012—Institute Council creates faculty, staff and student task force to re-examine existing policy.
November 2012—Task force conducts research on tobacco-free college campuses and enlists expertise of consultant Ty Patterson, executive director for the National Center for Tobacco Policy.
December 2012—Task force recommends RIT become a tobacco-free campus.
2013—Research on tobacco-free campuses is presented to governance groups, including Academic Senate, Staff Council and Student Government. Feedback is gathered through a series of open forums.
May 2014—Staff Council and Academic Senate unanimously approve RIT becoming tobacco-free. Overwhelmingly rejected by Student Government.
September 2014—RIT President Destler addresses student concerns and endorses a compromise proposal to allow RIT to become a tobacco-restricted campus.
January 2015—Facilities Management Services and RIT Housing department identify key areas for designated tobacco use.
April 2015—New tobacco-restricted policy is approved and announced.
August 2015—New tobacco-restricted policy goes into effect.