New TigerSafe app offers additional features
Former TigerSafe app should be replaced with the updated app beginning today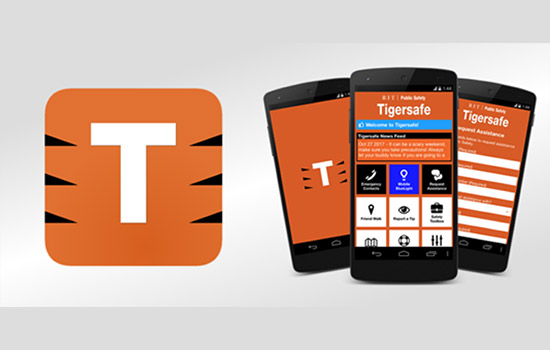 Rochester Institute of Technology's Public Safety today has launched a new and improved RIT TigerSafe app, accessible on all smartphone devices on Apple iOS and Android platforms.
The new app, which is free, also has new features and resources for students.
All users need to uninstall the current version of TigerSafe and download the new version: https://apparmor.com/clients/rit.edu/. The original version of the app is no longer supported.
Thousands of people in the RIT community have utilized the app in the past four years.
"We've definitely had emergency situations where students have used the app," said Tony Yazback, manager of investigations for RIT's Public Safety. "It has also been used countless times in service calls, for people who need help in jumpstarting their cars or noise complaints."
Yazback said the new app is more user-friendly. "It's more robust," he said. "I think the users will like the functionality of it."
The new app will enable students to receive push notifications in the event of an emergency on campus and provide information from Public Safety in the event of a crisis.
All of the previous functions of the TigerSafe app will still be available from the newer version for students, faculty and staff. They include:
Public Safety requests, including emergencies, acting as a mobile blue light or tip reporting.
Requesting a jumpstart for your car.
Real-time communication with emergency dispatch. A text option is available also.
Friend walk, where your friends can watch as you walk to your destination.
Interactive campus mapping.
Yazback said users will also be able to receive a news feed from Public Safety's Twitter account.
For more information, visit the TigerSafe or RIT Public Safety Facebook pages.
Topics