'Next Big Idea' winner a real wake-up call
RIT/NTID students win $5,000 in 'The Next Big Idea' innovation competition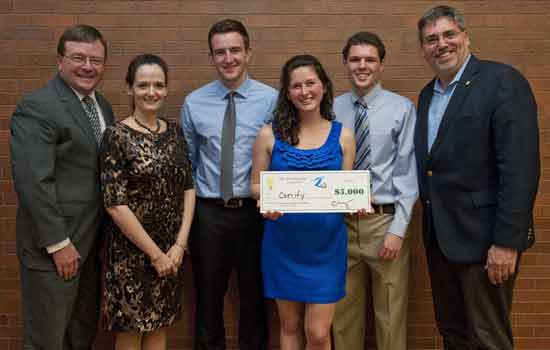 Mark Benjamin, RIT/NTID
Three students from Rochester Institute of Technology's National Technical Institute for the Deaf say their days of oversleeping may soon be a thing of the past after winning this year's "Next Big Idea" competition to better the lives of deaf and hard-of-hearing individuals.
Cenify, formed by Patrick Seypura, a management major from South Windsor, Conn., and Alec Satterly, a management information systems major from Oreland, Pa., said they began two years ago with an idea to create something that would eliminate the need to set a vibrating alarm clock each night—a task familiar to many deaf and hard-of-hearing people.
They were joined by Sophie Phillips, a medical illustration major from Sleepy Hollow, N.Y., who designed a proposal for a prototype, and took first place and $5,000 in the contest, sponsored by ZVRS, a Florida-based video relay company.
"This is a huge hassle. We have to change this," Seypura said as he lifted a bulky vibrating alarm clock entangled in wires.
Their concept would allow alarms to be programmed days in advance from a smartphone, even at different times for each day through Bluetooth technology. It may also be set to vibrate when important calls from identified phone numbers are received, or act as a fire alarm rather than a strobe light, used by most deaf individuals. They said 11 million deaf and hard-of-hearing people live in the United States and could use such an alarm.
Cenify was one of six final teams in the competition, held Thursday night. The finalists were selected from 19 entries. Judges scored the teams on originality, presentation, the idea's relevance to the deaf and hard-of-hearing community, and the feasibility to commercialize the product.
Other top teams:
2nd place and $3,000: Code-Zero: David Goldstein, a criminal justice major from Brighton, N.Y., and Shawn Ribaudo, a new media interactive design major from Wichita, Kan., for "AUTOtune," a device that would listen for and diagnose car problems before they worsen. Often motorists who are deaf don't know their brakes may make a noise or a fan belt may be splitting until something breaks, costing more for repairs.
3rd place and $2,000: Deafvengers: Christopher Fenn, an industrial engineering major from Pittsburgh, and Jonathan Pons, a biomedical science major from Ballwin, Mo., for "Silent 911," an app that would enable contact with fire, police or emergency dispatchers with the touch of a button on a smartphone. The message for help would be received instantly along with pre-programmed personal information.
The other finalists brought ideas on how to raise awareness of the importance of hearing screenings for newborns; a device that would personalize television captioning; and a vest that would vibrate to alert the wearer of something approaching from behind.
"We had a tough collaboration," said Chris Wagner, senior vice president for Business Operations and Marketing for ZVRS, who served as one of the judges. "We had six excellent teams. For the other three teams, please, don't give up your dreams. Pursue your ideas."
This was the third year ZVRS has sponsored "The Next Big Idea" at RIT/NTID, and Wagner said he looks forward to returning next year for another season of innovative ideas.
"We're excited to support your conceptual ideas, but it's really all about learning and the students," Wagner said.
NTID President Gerry Buckley thanked ZVRS for supporting RIT/NTID students, not just in this competition, but also after graduation. "They believe in our students. They have hired 60 alumni," he said.