May 12, 2017
by Marcia Morphy
Nine-credit course pushes critical thinking
Students take critical approach to 'The Meaning of Things-in Three Objects'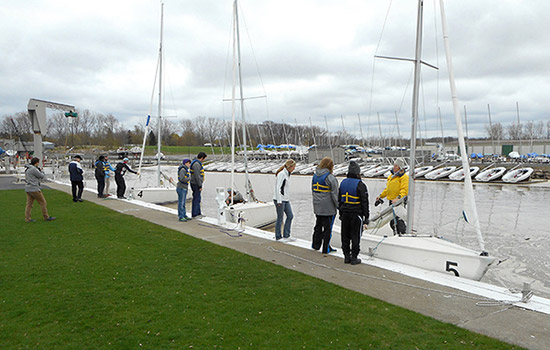 Take three objects—the sail, the harmonica and the game—and create a nine-credit immersion general education course that would be the first of its kind at Rochester Institute of Technology.
"The Meaning of Things—in Three Objects" made its signature debut this spring and the curriculum offers a truly interdisciplinary experience that develops strong critical thinking skills by spanning traditional academic boundaries. The pragmatic purpose from a student perspective is to fulfill the nine-credit general education immersion requirement, which all students must complete, in one truly immersive single-semester course, as opposed to the usual three separate courses stretching over multiple semesters.
And according to the dozen students who decided to take the pass/fail risk of three courses in one, the overall consensus was: "Nothing like this is taught at any other university; we are making history."
The course encourages critical thinking/entrepreneurship—where students study three objects (the sail, the harmonica and the game) and reflect on their design, history, social and cultural past. Key learning outcomes included applying the objects on broader social and historical contexts, examining their consequences and impact on human experience and assessing design problems they pose and solve.
The Meaning of Things was taught by three primary faculty: Thomas Hanney, senior lecturer in the School of Individualized Study and local musician who plays the harmonica; Al Biles, professor in RIT's School of Interactive Media and the Center for Media, Arts, Games, Interaction and Creativity (MAGIC) and notable jazz/trumpet musician; and Mike Johansson, senior lecturer in the College of Liberal Arts and avid historian and enthusiast of sailing vessels.
"Two years ago, Provost Jeremy Haefner offered a grant proposal for an innovative, interdisciplinary curriculum," said Hanney. "Meaning of Things came about from a book in The British Museum, A History of the World in 100 Objects, which got us started on the concept of three objects. The course was unanimously approved and it took a year to put it all together."
Here's what some of the students had to say about taking the course:
Christopher Flemming, second-year industrial design student from Boston: "It's definitely a different structure, not dedicated to one subject; they present facts but you decide which facts you want to look at and make your own decisions."
James Kemper, third-year advertising and public relations student from Yokosuka, Japan: "I thought it would be an easy class, an easy A, but found out differently. These three objects may not have something in common but they've all affected history in more ways than one. Whenever I look at something now, I think of who, what, when, where, how, but in a way deeper level than before."
Jennifer Kane, fifth-year mechanical engineering student from Coudersport, Pa.: "We have to recreate almost what the class was about for our final project—to come up with our own object. I'm working on the flag and what it means to different countries, culturally, politically, historically—and in the future."
Samuel Falconer, fifth-year software engineering student from Newmarket, N.H.: "It's definitely the most interdisciplinary class I've ever taken—and that's the general consensus. You hear a lot of lip service to multi-interdisciplinary studies at RIT, and this was a class where it was achieved. We can say we did it first."
According to the faculty instructors, all three are present at every class. They also participate in group activities for the students that included "sailing" small boats across RIT's Clark Gym, playing harmonicas at Park Point's Lovin' Cup, a tour of the electronic game collection at The Strong/National Museum of Play, a board game night and sailing along the Genesee River with the Rochester Yacht Club.
"We look in depth at each of these objects through different lenses, spending time in fields such as history, culture, economics, political science, public policy, technology, math, art and literature, music and performance," said Biles. "The principle outcome is enhancing critical thinking skills and encouraging students to analyze and critique ideas and make connections across disciplines. By making knowledge useful and applicable to their daily life, they can understand content on a deeper, more lasting level."
Faculty from across RIT who were involved in the development and support of the Meaning of Things—in Three Objects were: Professor David Neumann, College of Liberal Arts; Professor Mark Indelicato, College of Applied Science and Technology; Assistant Professor Mindy Magyar, College of Imaging Arts and Sciences; and Professor Babak Elahi, College of Liberal Arts.
"I've been truly amazed at how I've seen the students' thinking going from 'that's interesting' to, 'but if that is the case, then…' and 'but why can't this be used for?'" said Johansson. "In other words, they have started to appreciate the world around them is the way it is because of a lot of inter-connectedness through time, and this opens their eyes to future possibilities, future ways to critically examine why things are and what they can be. The course in my book has been a huge success."