NTID appoints Todd Pagano associate dean
Laboratory Science Technology program director and former U.S. Professor of the Year will help advance innovative teaching and student engagement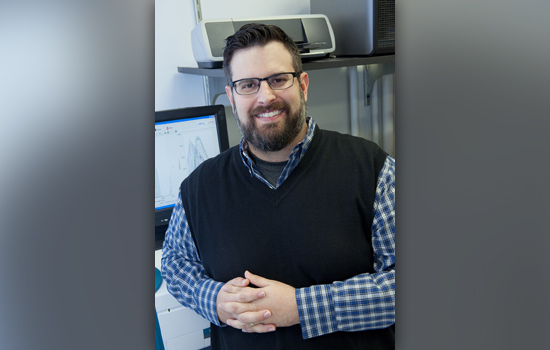 Todd Pagano of Henrietta, N.Y., has been appointed associate dean for Teaching and Scholarship Excellence at Rochester Institute of Technology's National Technical Institute for the Deaf. Pagano is also an associate professor and director of NTID's Laboratory Science Technology.
In his new position, Pagano will provide general leadership to the NTID community in support of innovative teaching and scholarship initiatives that bolster the inclusion and engagement of NTID students. He will also coordinate and promote strategic undergraduate research initiatives at NTID.
Pagano plans to establish and coordinate a Student Research Scholars program for NTID students and faculty to receive support and recognition for their collaborative research. Through the position, he also will establish a program to facilitate the professional development of veteran and tenured faculty members who wish to initiate or accelerate a scholarship agenda that would strengthen portfolios in preparation for promotion in rank or augment scholarship efforts in annual appraisals. He also will be available to support tenure-track faculty members in STEM fields with their teaching and scholarship initiatives.
In addition to continuing his own student-centered research agenda, Pagano will pursue the establishment of strategic national and campus-wide collaborations that support and advance NTID and its students.
According to Pagano, the tasks of this new position directly address several key efforts outlined in NTID's Strategic Decisions 2020 and RIT's Strategic Plan 2025 as they relate to establishing a "student-centered research university," while remaining an institute dedicated to the outstanding teaching and support of students.
"I am thrilled that Todd has agreed to take on this leadership position," said Gerry Buckley, NTID president and RIT vice president and dean. "His knowledge, energy and passion for teaching and research make him the perfect choice to make this new strategic area successful."
He will work directly with NTID faculty and students and in consultation with NTID's president, associate vice president for academic affairs, associate dean for academic administration, and the associate dean for research.
A native of Victor, N.Y., Pagano earned a bachelor's degree in chemistry from The State University of New York College at Oswego and a Ph.D. in chemistry from Tufts University. In 2012, he was named U.S. Professor of the Year by the Council for Advancement and Support of Education and the Carnegie Foundation for the Advancement of Teaching. He is the first RIT faculty member to earn the award.