One house, one street, one neighborhood
RIT students help build a sustainable home in one struggling community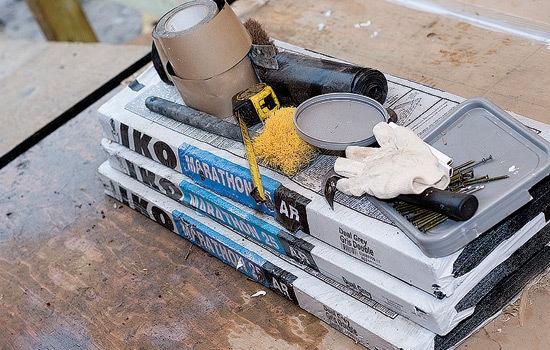 For many college students, the ideal Spring Break vacation consists of nothing more than a sandy beach, a bottle of sunscreen and some frosty refreshments to quench one's thirst. But for one group of dedicated students, time off from school presents a valuable opportunity to spend even more time constructing homes for needy families.

"This year, we will be working on a house in Sea Island, South Carolina," says third-year RIT business student Kaity Werner, who along with 20 volunteers from RIT's Habitat for Humanity student chapter, RIT's Leadership Institute and the Community Service Center, will sacrifice six days with her own family in order to build a home for a family she has never met. But, according to Werner, a veteran of the student group, nothing can replace the "purely satisfying and tingly feeling" of seeing a family in crisis walk through the doors of a home they can finally claim as their own. "It's kind of like the applause at the end of a good movie. That's what we all feel."

Before the group travels south during break week, they have a few other projects in the pipeline that require their attention. First and foremost on their agenda is the completion of the first RIT-sponsored Habitat home located at 167 Whitney St. in Rochester. The idea for the RIT-funded house started with President Bill Destler who issued the challenge to the members of the student club. 

"We were overwhelmed at first," says Werner. "In order for this project to become a reality, we needed to commit to raising $75,000 for construction start-up costs and for purchasing building supplies. We started organizing fundraisers and working with Rochester's Flower City Habitat for Humanity organization to get some direction. We were pleasantly surprised that the university put so much faith in a group of students."

And, in true RIT fashion, the idea for the house blossomed into something even more amazing. The student builders formed an alliance with RIT's Engineers for a Sustainable World organization to brainstorm creative ways to make the house energy efficient and environmentally friendly on a budget.

Sustainable elements of the home include an efficient ventilation delivery system to prevent heat loss; a 95 percent energy-efficient furnace; an air-lock entry redesign system; tankless hot water heater; soy-based foam insulation; new pipe insulation; use of natural lighting and a roof designed to provide adequate summer shade; and solar panels. The walls of the home were raised in November and the home is now in the final stages of completion.

The remaining funding to complete the house comes directly from the homeowner, grants, gifts in kind, and RIT departmental and alumni support. And, it's not unusual for corporations to donate items to help defray some of the construction cost. Donors to the sustainable house include Frederico Construction and Demolition, LeChase Construction, Leo J. Roth Corp., William B. Morse Lumber Co., The Pike Co., VP Supply Corp. and Weckesser Brick Co. Inc. 

According to Werner and her fellow volunteers, the sense of accomplishment is second to none. A few years ago, the group framed a house in Alabama in only six days.

"We work as a team, and I can't believe that I know how to build a home," she says. "Many people think that you need to have some kind of prior experience in homebuilding or construction to join this club. But, you don't. There are business students, like myself, artists who love the creativity of homebuilding and engineers who crave getting their hands dirty. Thanks to volunteering with Habitat, I have experience with pipefitting, insulation, electrical and circuitry work and roofing. How many college students can say that? If you can pick up a hammer, you can help make someone's dream of home ownership come true."

The 40 student volunteers work nearly every weekend—rain or shine, hot or cold—on homes primarily in Livingston and Monroe counties. 

Katherine and Amanda Ancona are RIT students who have been volunteering for two years.

"My favorite part about helping out with Habitat is being able to give someone less fortunate an opportunity to improve their life," says Amanda. "I love giving back to the community, and it feels good to know that I am doing my part in making a difference."

Adds Katherine: "Working with Habitat has shown me that a small amount of people can make a big impact on the world. Through our teamwork—and with the help of experienced construction workers—we were able to help families in need. Working together accomplishes a goal much faster, and more efficiently."

Many outings involve working directly with the homeowners who the students call "remarkable and inspirational."

April Randall will soon reside in the sustainable house on Whitney Street with her family. 

"Soon that house will be a home—my home," says Randall. "Through the good work of RIT and Flower City Habitat for Humanity, this statement in our community says being a trendsetter can and does change outlooks on people's lives and in our community. We are honored and blessed to be working with two valuable organizations and I thank them for their compassion toward my family and myself, and their understanding in revitalizing our city."

In the JOSANA neighborhood, located west of PAETEC Park and north of Interstate 490, 99 percent of properties were built before 1950 and 20 percent of children under age six tested at or above the highest levels of lead-paint poisoning. In addition, code violation calls to Rochester's Housing Council are the highest per capita in this area.

"Our sustainable house is in the heart of Rochester's crescent of poverty, and that neighborhood is struggling to survive," adds Werner. "RIT has strong roots in the heart of this city and it's good for us to go back to where we started; to lift them up however we can. This group of students is helping to bring the community back to where it once was." 

For more information on RIT's Habitat for Humanity student club, visit www.rit.edu/~w-habit.
Photo by A. Sue Weisler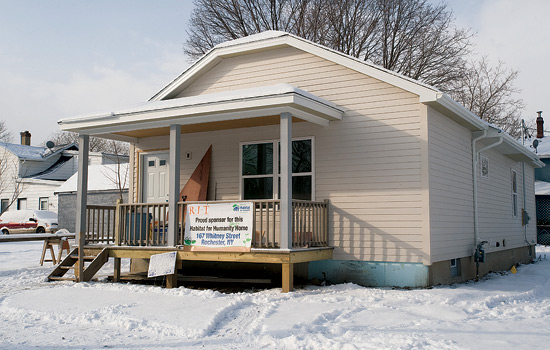 Photo by A. Sue Weisler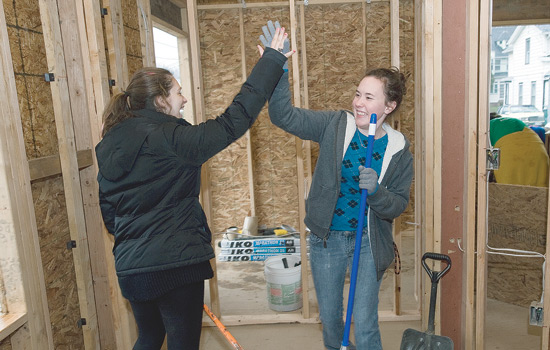 Photo by A. Sue Weisler