Passport to Dubai for honors students
Spring break in the United Arab Emirates mixes business and cultural opportunities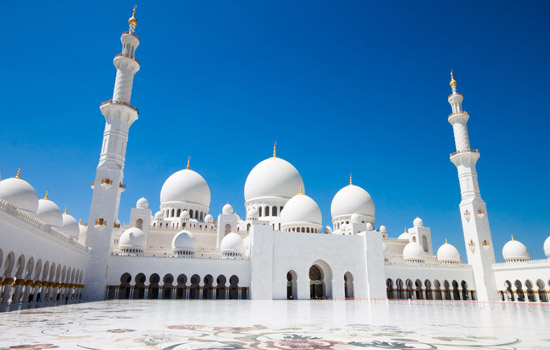 'George' Huaijin Chen
Dubai has burst on the global scene in the past three decades as a bustling metropolis in the Persian Gulf.
And first impressions count: "The people are very polite and hospitable to their guests." "The Sheikh Zayed Grand Mosque, the eighth largest mosque in the world, is nothing short of magnificent." "Dubai is a marketer's dream: There is advertising everywhere."
It was a mixture of business and pleasure as 14 honors students from the E. Philip Saunders College of Business at Rochester Institute of Technology went to Dubai during spring break. And daily reports by Geoffrey Blosat, a second-year student majoring in international business, and Kristen Erickson, a senior in new media marketing, were featured the week of March 5 in an online blog at Rochester's Democrat and Chronicle.
Blosat, a native of Buffalo, says the experience, especially touring the trading floor of the Dubai Financial Market, was enlightening. "Their market is young and growing and it makes progress by the day," he says. "We also saw that the RIT Dubai campus is a great option for Rochester students to get an international education. I would love to study there."
Tom Traub, international adjunct professor in the Saunders College, says it was a great experience to accompany the students as a chaperone during this educational and cultural trip to the United Arab Emirates. "The business presentations and tours of the companies were priceless! In addition, the cultural excursions and talks by the guides were so interesting and filled with facts, the students had sensory overload at times."
Graham Forsey, a Saunders College accounting major who receives access services from RIT's National Technical Institute for the Deaf, was accompanied by two RIT sign-language interpreters who traveled with him from Rochester. Dubai, he says, is a long stretch from his home in Newfoundland, Canada.
"It is sunny all the time; there's no need to check the weather every morning when deciding what to wear," Forsey says. "I am also very impressed with how Dubai managed itself to be a huge city in so short a period of time. I loved how we visited a wide range of companies, public utilities like Dubai Aluminum and Dubai Energy and Water Authority, to services like KPMG, to tangible products like Hircon, an apartment corporation, to meeting people like Dr. Mohammed Nurul Alam, an expert on Islamic finance."
From a female perspective, Erickson said she learned a great deal from Josephine Ford, managing director for business development for General Electric's global growth and operations team. "She provided insights on women in business and helped us understand that attitudes toward women in the Middle East are changing," said Erickson in her blog. "While women in business here is not as common as in the U.S., it's becoming more accepted and expected."
But it was all business for Erickson when she spent one afternoon shopping at Dubai's famous "Souks," the outdoor street markets where local merchants sell their wares. "I found some beautiful Middle Eastern scarves and came home with too many of them," she laughs, "but I did learn how to barter to get the best price."
Topics