Ph.D. student wins Provost's Outstanding Graduate Teaching Award
Bridget Torsey hopes to make mathematics accessible for everyone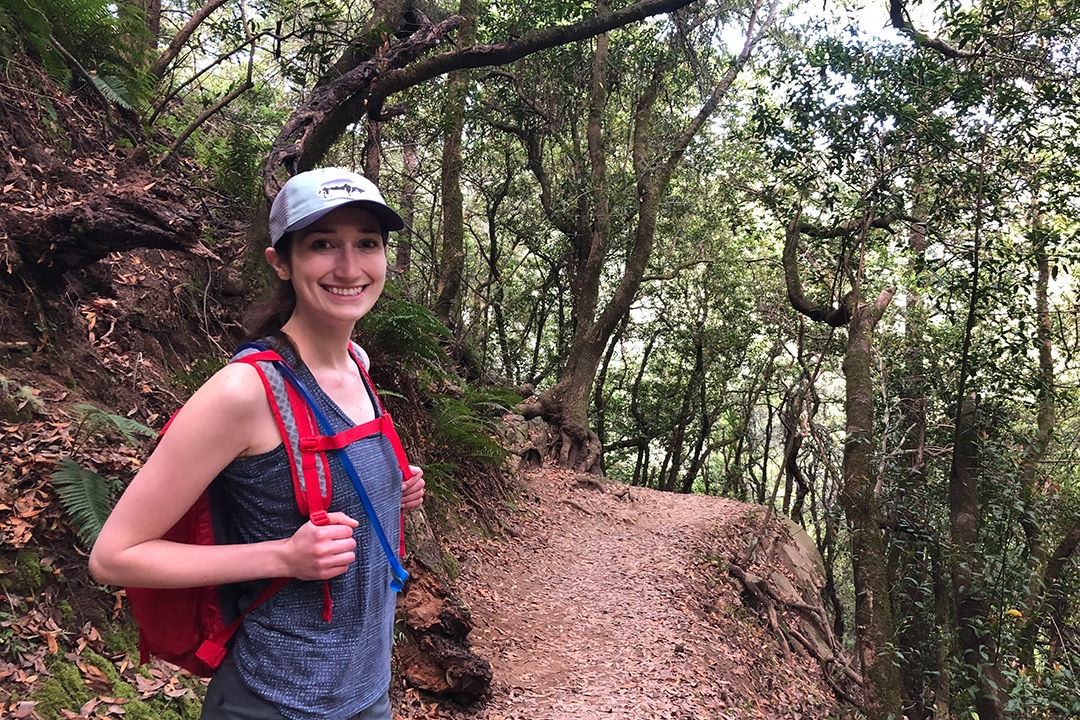 Bridget Torsey, a Ph.D. student in RIT's mathematical modeling program from Buffalo, N.Y., has received the Provost's Outstanding Graduate Teaching Award. Along with taking rigorous courses, Torsey has been teaching at RIT for eight semesters and working part-time as an engineer at Ortho Clinical Diagnostics in Rochester. Torsey was part of the first cohort of Ph.D. students who led their own sections of calculus workshops at RIT. Later, she was one of the first Ph.D. students to run a recitation for a large-section math course at RIT. In these roles, Torsey has received glowing evaluations from the undergraduates she has taught.
Why do you love teaching and interacting with students?
I have always had a passion for mathematics and I've always wanted to share that love with the people around me. It saddens me to see the negative stigma around this subject that exists in our society. It almost feels like a self-fulfilling prophecy — when you're surrounded by people constantly telling you how hard something is, you're definitely going to feel that lingering in the back of your mind. This is a hurdle toward making any progress. People are being left behind in many STEM fields, for instance, because they often don't have the required math background for these courses of study.
My goal is to create a positive, comfortable, patient environment because I think everyone can succeed at math. It does not have to be this big scary beast. All you need is access to the material, the right attitude, and the right environment. I think we, especially young people, need to overcome this in our society in order to move forward. I tutored elementary, middle school, and high school students when I was earning my bachelor's degree, and I saw firsthand what fear toward this subject did. Once my students sat with me and saw the material, that fear started to dissipate. My passion for teaching comes from a place of wanting to mitigate that negative stigma which would allow more students to be open to exploring mathematics and succeeding, as it opens the door to many other opportunities.
What is something you were surprised to learn during your teaching experience?
I am currently teaching recitations for Discrete Mathematics for Computing. In the past, I've also taught Differential Equations recitations and conducted workshops on Calculus I and Calculus II. I always had the opinion that students would not be apprehensive about attending office hours and getting help, but even in my eighth semester of teaching, I still find the need to persuade them to attend office hours. That is definitely something I'm trying to figure out especially with the transition to online coursework. When we were meeting in person, pre-COVID, I had high attendance at my office hours. I always make an effort to make sure my students know they can come to me with any of their doubts regarding the subject. I encourage them to ask questions. Once I find a way to make sure all my students attend office hours with questions, that's when I will know that I've made a difference.
What does winning the Provost's Outstanding Graduate Teaching Award mean to you?
I have learned so much from teaching. I have seen my own growth as an educator, taking evaluations and feedback into consideration. I get immense joy reading positive evaluations, but I have also learned to reflect on the ones that aren't so great. Sometimes, students just want their experiences in the classroom to be different, and I completely respect that. The constructive feedback really helps to make the course better for future students.
That said, this award means a tremendous amount to me as I strive to give my students the best possible environment for learning. Winning this award also makes me feel like I have been able to give back to RIT. This award certainly instills what teaching means to me. It's a reassurance that the teaching I do has an impact and I couldn't be more thankful for that. I always want to have teaching as a part of the role I am pursuing. No one should ever keep their knowledge to themselves, especially if you have a gift that allows you to explain the material well. The best way to learn is to teach.
How do you maintain high standards while balancing multiple tasks associated with learning and teaching?
I have definitely lost a lot of free time on weekends, but it has been completely worth it. I have made progress in everything I am working on. I am someone who likes to keep busy, so I really don't mind having my hands in all of the "cookie jars." I have my own coursework, I teach, and I also work part-time at Ortho Clinical Diagnostics. I can see how each of these intersect with one another. It all boils down to time management and being organized. I make a lot of lists, and check off tasks as the week goes on. When I first started balancing all of these tasks, it was extremely difficult and I didn't think I'd be able to go through with it. It's been three years now and I've gotten into the rhythm of being busy, staying productive, and getting all of my boxes checked for the week. These opportunities were too good for me to pass up, so I found a way to make them work for me.
What does the future hold for you?
I plan to work to get across the importance of women in STEM. Hopefully, I am graduating next year and I plan to continue working at Ortho Clinical Diagnostics. I love working there and feel like I can have a role where I can exercise my teaching skills in mathematics and spread my knowledge on mathematical modeling, all while solving real-world problems. It's really cool to see that my work in mathematics affects real people and their medical diagnoses.