President Destler receives rousing welcome on Day 1 at RIT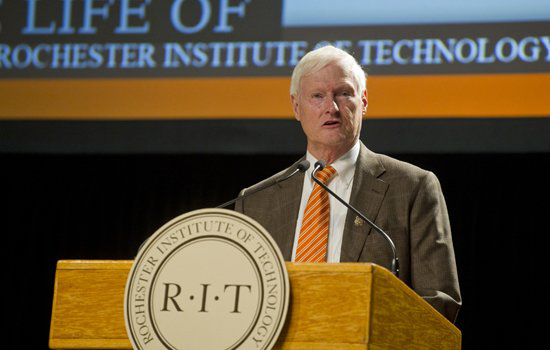 A. Sue Weisler
Rochester Institute of Technology President Bill Destler didn't arrive quietly on his first day as the university's new leader, and RIT Student Government helped to make sure of that.
Student leaders joined hundreds of other orange-and-brown clad members of the RIT community, including faculty and staff, to offer a rowdy greeting as Destler stepped on campus July 2. A welcome banner, balloons and RIT mascot RITchie the Tiger enhanced the colorful nature of the festive reception.
"We want to celebrate our institution's future and show Dr. Destler that he is now, and always will be, a part of the RIT family," says Ed Wolf, president of RIT Student Government, which organized the event.
Destler's first official day as president provided some opportunity for orientation, including a tour of RIT's Center for Integrated Manufacturing Studies. He also took questions from the local media, who were curious to sample his early perspective on the university's future.
Before becoming RIT's ninth president, Destler spent more than 30 years at the University of Maryland, where he rose from the ranks of research associate and assistant professor of electrical engineering to senior vice president and provost, a position he has held since 2001.