Professor dt ogilvie Named Dean of RIT's E. Philip Saunders College of Business
Rutgers Business School educator assumes role on Aug. 1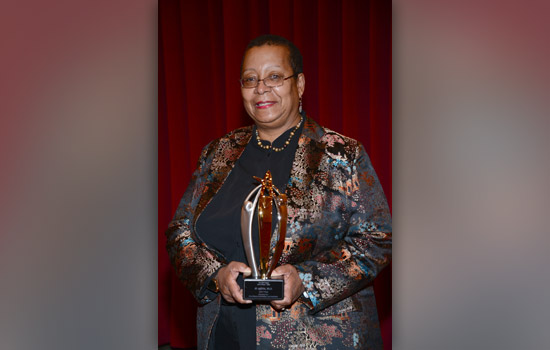 Rochester Institute of Technology announces the appointment of dt ogilvie as dean of the E. Philip Saunders College of Business, effective Aug. 1.
She joins RIT from Rutgers, The State University of New Jersey, Rutgers Business School at Newark-New Brunswick, where ogilvie serves as a professor of business strategy and urban entrepreneurship. She is the founding director of the Center for Urban Entrepreneurship & Economic Development and founding director of the Scholars Training and Enrichment Program at Rutgers.
"The Saunders College is starting a new chapter, and I am pleased that Dr. ogilvie has joined the RIT community to help lead and guide the business school to its next level of greatness," RIT Provost Jeremy Haefner says. "She brings with her an extensive international academic reputation in strategic management, collaborative economic development and entrepreneurship. In addition, she has a deep and rich corporate experience, having worked with the Southland Corp. as the strategic planning manager."
Ogilvie earned her Ph.D. in strategic management from the University of Texas at Austin and also holds an executive MBA degree from Southern Methodist University. Her research is in the areas of creativity, design thinking, ingenuity, strategic decision-making, women's leadership and entrepreneurship and economic development.
Five of her research papers have won awards, and ogilvie also co-edited, with Jeanne Liedtka and Roger Martin, the 2007 best-selling special issue of the Journal of Business Strategy on design and business. She has taught courses in China, Singapore and France, inaugurated the popular annual course Doing Business in China, and has taught Doing Business courses in Southeast Asia, Argentina, Chile and Costa Rica.
"I am so excited to be joining the RIT community as dean of the E. Philip Saunders College of Business," ogilvie says. "This is a fine institution with great students, faculty and staff. I look forward to working with everyone to help Saunders enrich the educational experience of all of our students and reach its full potential and rightful reputation in the academic business community."
According to E. Philip Saunders: "It's exciting to have a person with such a great background joining the RIT team. Coming from Rutgers is also a plus."
In 2006, Saunders made a $13 million gift to the university to boost the visionary plans of RIT's business college that now bears his name. In 2010, he enhanced his support with an additional $5 million and a challenge to all Saunders College alumni and friends to raise $15 million to support future endeavors. The business college works in partnership with RIT's Albert J. Simone Center for Innovation and Entrepreneurship to integrate business education with RIT's internationally recognized technical and creative programs.
Ogilvie takes over the helm from Ashok Rao, who joined RIT as dean of the Saunders College in 2007 and will retire effective the end of the academic year. During his tenure, Rao has made significant strides in raising the visibility of entrepreneurship and business: first-year retention grew from 77 percent to 94 percent, diversity of faculty and students increased and faculty research has more than doubled.
In selecting candidates for the new dean position, an international search was aided by the search firm Isaacson and Miller—under the helm of RIT co-chairs Richard De Martino, associate professor of management in the Saunders College and director of the Simone Center for Innovation and Entrepreneurship, and Sophia Maggelakis, dean of the College of Science.
"We are delighted to have ogilvie accept this position at RIT," Haefner says. "She brings to the Saunders College of Business a deep commitment for international education, community engagement and collaboration—with an adept understanding of how to bring people together from all areas to get input and participation."
Topics