Professor passes fundraising goal for video game
Students and faculty to develop Chain Gang Chase game with RIT's MAGIC Center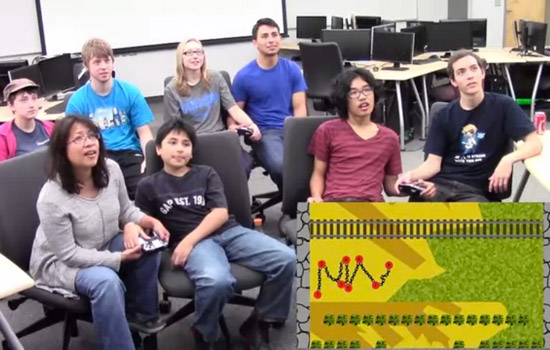 While many video gamers are saving money to buy the new Xbox One and PS4, others on Kickstarter are choosing to invest in a video game being created at Rochester Institute of Technology.
Chain Gang Chase, a 2 to 8 player cooperative video game for the Ouya and desktop computer, passed its funding goal, earning $11,662 during a 30-day Kickstarter campaign ending Nov. 17. While the game is currently a prototype, the Kickstarter funding will allow students and faculty to continue developing and eventually publish the game through RIT's new Center for Media Arts Games Interaction and Creativity (MAGIC).
Chain Gang Chase is the brainchild of Joe Pietruch '08, '10, a lecturer in the School of Interactive Games and Media in RIT's B. Thomas Golisano College for Computing and Information Sciences.
"I am so thankful to all the backers who see potential in the game and helped make this Kickstarter so successful," says Pietruch. "The game was even featured in Mashable's "7 Kickstarter Video Games We Can't Wait to Play."
In the game, two players share control of a single controller, allowing for interesting and sometimes challenging cooperative play. Each player is one member of a chain gang that escapes and runs in search of a timely train to cut their chains. On the way to the tracks, they must work together to avoid trees, evade detection and capture, solve puzzles and just not get stuck. Once there, it's a race to break the chains over the tracks while not getting so close as to be hit by the train.
Rewards for backers of the fundraiser included a copy of the game, a T-shirt and the chance to be immortalized in the game as playable characters or even the end-level boss. When donations reached the 75 percent milestone, Pietruch even agreed to shave his head (video available). By reaching the $10,000 goal, the team will be able to hire two student developers full-time for the spring semester.