Professor revives Galapagos Islands expedition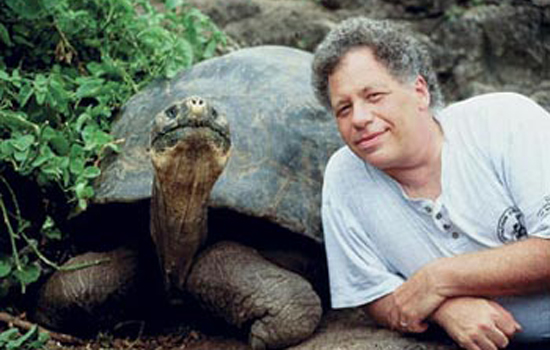 Provided by Robert H. Rothman
A small group from RIT left today for the Galapagos Islands. Eighteen students, faculty and staff, including two supporting sign language interpreters, will study variations in the island ecology made famous by Charles Darwin.
Robert Rothman, professor in RIT's Thomas H. Gosnell School of Life Sciences, arranged the 12-day trip that revives an RIT tradition he started after visiting the islands in 1989 on a Rochester Museum and Science Center tour. Since then, Rothman has returned to the islands with RIT students and members and friends of the RIT community.
This year marks Rothman's 23rd visit to the Pacific archipelago, a former pirates' hideout located 600 miles off the coast of Ecuador. His trips share an appreciation for the wildlife and geology that informed Darwin's theory of natural selection. The process, also called "survival of the fittest," leads to adaptation and evolutionary change. Organisms with the most favorable traits for survival in a particular environment reproduce and pass their genes to subsequent generations.
Rothman's initiative anticipated RIT's current emphasis on foreign experiences for students.
"As far as I can tell, this trip was an early pioneering effort in developing a study abroad program at RIT," Rothman said.
This trip, timed for the end of spring semester, culminates Rothman's course, entitled Galapagos: Evolution and Ecology. His lectures began with Darwin and the voyage of the Beagle, and the role the Galapagos played in Darwin's thinking about evolution.
"In class we cover everything we're going to see in the Galapagos," Rothman said. "We consider the geology and formation of the islands, the land and sea birds, and the reptiles. We go over the history and human impact, and then we go see everything that we have been discussing all semester."
Solan Sooriakumar, an environmental science major from Brighton, has dreamed of going to the Galapagos Islands since learning about Darwin when he was 9 years old. He jumped at the first chance he had to go on the trip.
Sooriakumar plans to pursue an MS in integrative animal physiology and a Ph.D. in vertebrate paleontology. He looks forward to his time in the Galapagos as a pivotal experience in his education.
"Having the chance to go to such a geologically and naturally complex region as the Galapagos will give me one of the greatest insights into a major part of our planet's natural history," Sooriakumar said. "I will get up close and personal with several unique and endemic species of wildlife, which is a once-in-a-life-time opportunity I cannot miss."
Brenna De Angelis, a biology major from Spencerport, volunteers at the Seneca Park Zoo and wants to pursue a career in zoological conservation.
"I'm really interested in seeing the waterfowl in the Galapagos, such as the blue-footed booby and the Galapagos penguin," De Angelis said. "I love working with the penguins at our zoo and the potential to swim with wild penguins on the trip is exciting."
Yet, this is no vacation. Rothman expects his students to pay attention and to notice subtleties in the animals and environment. He will test their knowledge with "an open-island exam."
"What I really want them to do is to focus on things that they otherwise might not look at," Rothman said. "For instance, there are lots of sea lions in the Galapagos and they're 'cute.' Students get all goofy over the sea lions. And Darwin's finches are very drab. You really have to look at them carefully to see what is interesting about them."
The RIT community can follow the trip online through social media. Mark Gillespie, marketing and communications manager in the College of Science, will blog from the Galapagos Islands at ritgalapagos.tumblr.com and post pictures and comments on Facebook at RIT College Of Science, and on Twitter at @RITCOS.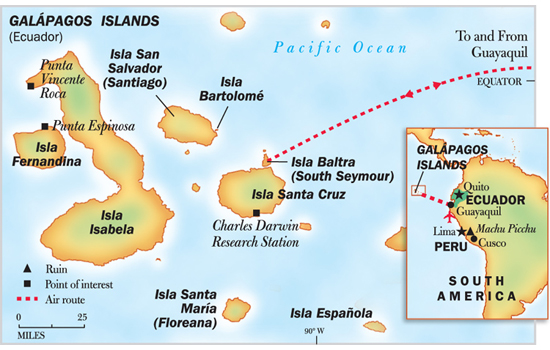 nationalgeographicexpeditions.com