Professor wins award from entertainment industry
David Long honored by SMPTE for educational programs utilizing film technologies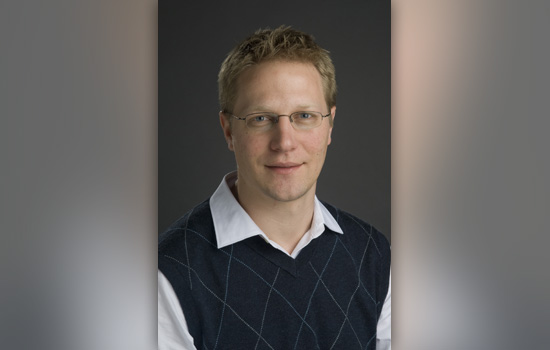 Supplied image
A worldwide leader in motion-imaging standards and education for the communications, media, entertainment and technology industries has recognized an RIT professor for his outstanding contributions in new or unique educational programs utilizing technologies of film.
David Long, an associate professor who serves as chair of the School of Film and Animation's (SOFA) Bachelor of Science in motion picture science program, has received the Kodak Educational Award from the Society of Motion Picture and Television Engineers (SMPTE). Long was honored last week at the SMPTE 2015 Awards Ceremony highlighting leaders, innovators and thought leaders behind the advance of the motion picture and television industries. The event was held at the Loews Hollywood Hotel in Los Angeles on Oct. 29.
The Kodak Educational Award honors an individual who advances the educational process at any level through innovative and inspirational methods. Long received the 2015 award for development of the SOFA program in the College of Imaging Arts and Sciences. The program combines a core curriculum in practical filmmaking with one in engineering and image science, training students in the art and science of feature film, television and animation production.
Long is responsible for research, curriculum development, teaching and administration of the program—the only one of its kind in the United States—and has been the driving force behind its success since its inception in 2006-2007. Currently, more than 95 percent of the RIT program's graduates work in the film or imaging science industries.
"This award is affirmation that we are doing things right with the motion picture science program," Long said. "With each new alum entering the industry, our reputation grows and RIT becomes better known for contributing to cinema technology."
"While I am honored to be recognized by the motion picture community," Long added, "these opportunities only come from the success our students are achieving out there every day. I really owe this to them carrying the message of our good work out to the world."
A former imaging scientist at Eastman Kodak Company, Long was part of a group of engineers and scientists there who developed the Vision2 color negative films that in 2008 received the Scientific-Technical Academy Award from the Academy of Motion Picture Arts and Sciences—better known as the Oscars.
The Oscar and Emmy Award-winning Society of Motion Picture and Television Engineers is an internationally recognized and accredited organization that advances moving-imagery education and engineering across the communications, technology, media and entertainment industries. It boasts more than 6,000 members throughout the world. Information on SMPTE is available at www.smpte.org/join.