Professor wins Inspiring Women in STEM Award
Lea Vacca Michel recognized with national honor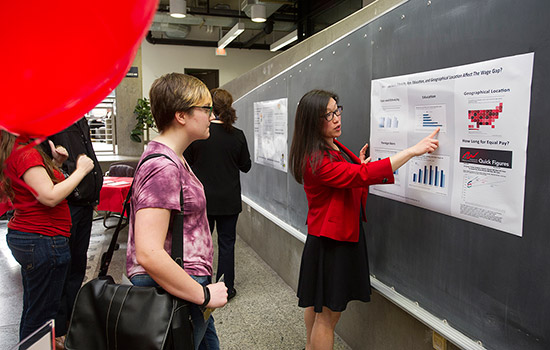 A. Sue Weisler
Rochester Institute of Technology professor Lea Vacca Michel was chosen as a recipient of the INSIGHT Into Diversity 2015 Inspiring Women in STEM Award.
The national award honors 100 women in STEM professions who inspire and encourage young women to consider careers in science, technology, engineering and mathematics through mentoring and teaching, research and programs. The honorees will be recognized in the September STEM issue of INSIGHT Into Diversity magazine.
Michel, associate professor of chemistry in RIT's School of Chemistry and Materials Science and Engineering, is chair of the Women in Science program in the College of Science. She is also an active member in RIT's Center for Advancing Science/Mathematics Teaching, Learning and Evaluation and SMASH, the Summer Math Applications in Science with Hands-on Experience for Girls camp.
Michel takes seriously her responsibility as a STEM professional to encourage girls to pursue education and careers in these disciplines.
"One of those responsibilities is to educate girls on the many diverse careers that are available to STEM majors," Michel said. "You often hear girls say that they want to pursue careers that 'help people,' but they don't usually equate STEM careers with helping others, besides the obvious ones (doctors and veterinarians). We need to show the next generation that, with a background in STEM, they can help people and have a huge impact on the world."
Michel has mentored 35 RIT undergraduate and master's students, many of whom are pursuing medical and graduate degrees at leading institutions, such as Yale University, University of Toronto, Cornell University and Duke University. She encourages her students to present their research at local and national conferences and has co-authored peer-review publications with 13 of them.
Michel's lab is an inclusive and respectful environment in which student researchers learn to be scientists.
"Dr. Michel promotes diversity and pluralism within her research group, considers it in her teaching and scholarship, and supports it through collaboration," said Geraldine Cochran, associate director of RIT's Multicultural Center for Academic Success. "Her research group has included 25 female students (75 percent), four AALANA (African American, Latina/o American, Native American) students, several first-generation college students, two McNair Scholars, one Louis Stokes Alliance for Minority Participation Scholar and six deaf or hard-of-hearing students, including one legally blind student. Building that kind of research environment takes hard work and a true commitment to diversity."
Michel teaches her students perseverance and determination—something her own mentors taught her—and that a career in research and academics is compatible with having a family, if that's their goal.
"My mother, who is also a professor, went back to school when I was in second grade," she said. "She inspired me to pursue my passion, to work hard and not to settle for anything less than what I really want."
INSIGHT Into Diversity is the oldest and largest diversity magazine and website in higher education. For nearly 40 years, INSIGHT Into Diversity has connected potential employees with institutions and businesses choosing to embrace a workforce more reflective of our local and national communities.