Program helps Native American scholars thrive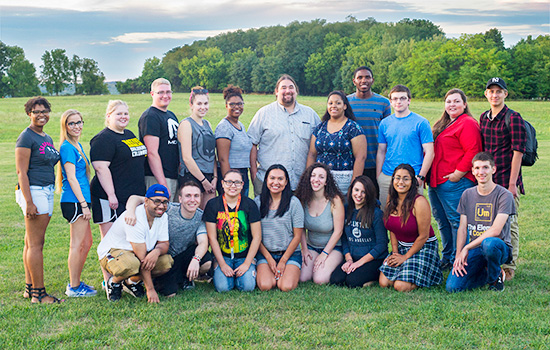 A. Sue Weisler
Native Americans make up only 1 percent of college students in the U.S. and are often the first in their families to go to college. Naomi Lee was in that 1 percent.
Accepted at several universities, Lee chose RIT for its academics and proximity to family on Cattaraugus Indian Reservation near Buffalo, N.Y. She excelled in science as an undergraduate and continued in graduate school at the University of Rochester as a biomedical research assistant. Today, Lee '05 (biochemistry) is a post-doctoral researcher of molecular genetics and microbiology at the University of New Mexico.
It took some time for her to accept that her identity as a Native American was equally bound to her identity as a scientist and leader.
"When I started studying science in college, I didn't consider myself a 'Native woman in STEM.' I didn't think I was smart enough, or good enough or even Native enough, since I am only half," said Lee (Seneca Nation).
She came to RIT just before the university formally launched its Future Stewards Program, an academic and cultural program for Native American students. But when she met Jason Younker (Coquille) and Paul Shipman (Cherokee), RIT faculty and Future Stewards Program founders, as they informally gathered Native students together, she became part of a community of Native scholars on campus where one had not existed before.
Going into its 10th year, the Future Stewards Program is the reason why RIT is recognized as one of the top schools in the country for Native American students. Through the program, Native scholars are recruited to RIT, supported while on campus and encouraged to be active in the future of their tribal communities.
Lee would go on to help found RIT's Native American Student Association and forge connections to the American Indian Science and Engineering Society, a national organization focused on increasing representation of American Indians and other indigenous people in STEM careers. She is also an Army National Guard captain training future officers.
"As I got older, even once I began considering myself a Native woman, I thought of my identities as separate. I finally consider myself a Native female scientist. To me that means having the cultural knowledge and scientific training to help my people," she said. "Once I understood who I am and what I am capable of doing, my career trajectory completely changed for the better."
Starting the program
When Younker and Shipman started the program in 2007, they drew upon their knowledge of American Indian communities and their own experiences in college.
What they also recommended, and what became Future Stewards' distinguishing feature, was a commitment to reach out to tribal leaders before recruiting students, recognizing individual nations and aligning college degrees with specific needs of tribal communities.
"There are Native American programs all over the country, but none going to the lengths the Future Stewards Program had in deciding that the university president would approach tribes as governments," said Younker, who was an associate professor of anthropology in the College of Liberal Arts until 2014. "That's the big thing. That's what helped solidify our place in the world because no other institution focused on the respect of tribal sovereignty first."
Awareness of tribal nations—especially the importance of family, influence of tribal elders, connection to the past and responsibilities for the future—is essential, said Younker, currently assistant vice president and adviser to the president of the University of Oregon for tribal relations. Approaching tribal leaders for support meant they could be influential in recruiting prospective students.
Younker and Shipman assembled a team that included Nicole Scott (Navajo), now program co-director; Nizhoni Chow-Garcia (Navajo), former research associate; and Jeffrey Burnette (Onondaga), co-director and department of sociology and anthropology faculty member.
The first RIT group in 2007-08 consisted of 32 students. Some had not met on campus until Younker and Shipman reached out to them.
The program grew in status quickly. In 2010, RIT received national recognition from Winds of Change magazine as one of the top schools in the U.S. for Native American students. The ranking looked at admissions selectivity, retention and graduation rates and connections to regional American Indian communities.
RIT continued to receive that recognition in the years that followed, including this fall. In addition, students led efforts to become more visible on campus, especially within Student Government and by starting campus chapters of national Native American associations.
Today, more than 180 students have participated.
The Future Stewards Program also focuses on increasing the number of Native American students in science, technology, engineering and mathematics (STEM) programs. They earn just under 1 percent of STEM degrees, according to the National Science Foundation. Engineers, environmental scientists, doctors and others with expertise in technical careers are key to sustaining tribes' economic health without losing sight of culture.
STEM support came from RIT faculty-scientists Jane Doctor (Tonowanda Seneca), who supported students from the National Technical Institute for the Deaf, and Roger Dube (Mohawk), who helped lead research studies and mentored students looking to attain graduate degrees.
Robbie Jimerson (Seneca), a computer science doctoral student in RIT's B. Thomas Golisano College of Computing and Information Sciences, is using his education to preserve the Seneca language. As part of the Seneca Language Revitalization Project, a collaboration between the Seneca Nation of Indians and the Future Stewards Program, he built a web-based dictionary and reference guide for future generations to learn and speak the Seneca language.
A resident of the Cattaraugus Indian Reservation, Jimerson also serves as a board member of Seneca Holdings, a financial management corporation. The role, as part of the economic leadership of the tribe, aligns with his work to preserve the traditions of his nation. It is a great responsibility, he said, but one that is both expected and welcomed.
The next generation
Future Stewards was able to address many of the barriers American Indian students have in completing college, including overcoming loneliness and lack of community, limited financial support and viewing college as intimidating, despite being well-qualified academically.
Program co-directors Scott and Burnette start getting prospective students comfortable with a college setting early by hosting middle-school and high-school-age students from regional tribes at RIT throughout the year.
Brendan John came to RIT for one of those tours in 2010 when he was in high school. He saw two things—a place to learn more about computers and a community of other Native students.
"I saw I wasn't going to be the only Native student here. It's pretty hard with RIT being such a large school, it could be intimidating," said John (Seneca). Attending high school on the Cattaraugus Indian Reservation, his graduating class numbered 100. "There are single classes at RIT with more people than that."
A year later as a student at RIT, he joined the Future Stewards Program, held several leadership positions and was mentored as an undergraduate by Dube, research professor in the Chester F. Carlson Center for Imaging Science.
"I started research really early, just after my second year," John said of his work in eye-tracking for image analysis. "I would not have known about these things or been encouraged to pursue them if not for Roger."
Currently John is on co-op at Intel in Portland, Ore., and will graduate in May with a BS/MS degree in computational mathematics/computer science.
He hopes to get his Ph.D. in computer science and one day become a professor. He would like to build a similar program wherever he teaches.
"It's that final part of the circle," said John. "You start at the beginning as a student, become a more senior student, then finally graduate and move on to the next stage of your life."
Sharing their culture
The Future Stewards Program not only educates participants about their cultures but, with help from RIT's Office for Diversity and Inclusion, includes programming to educate the entire university. During Native American Heritage Month in November, for example, the campus celebrates the richness of Native communities through speakers, artists and dance.
At the Imagine RIT: Innovation and Creativity Festival, students and tribal representatives share arts, perform dances and music and provide participants the chance to learn more about regional tribes.
Career and culture are intertwined for Alicia Lazore '15 (environmental management, health and safety). She came to RIT to study environmental science after participating in a field work exploration program in high school.
As an undergraduate at RIT, she ventured to Costa Rica to help conduct water quality studies through the Native American Pacific Islander Research Experience, but also volunteered on environmental projects at Ganondagan State Historic Site.
The volunteer work turned into a full-time job. After graduation, Lazore became a guide at the site and works with new Future Stewards students, helping with the program's annual Longhouse Overnight and Day of Service in the fall, sharing stories of the site and the influence of the Haudenosaunee. It was a way for her to have a career and make way for the next generation.
"I had no idea I'd be doing this. It was not the path I envisioned, but I always wanted to have closer ties with my culture, and this job does exactly that," said Lazore (St. Regis Mohawk), who grew up in Syracuse, N.Y. "They saw something in me. The whole experience at RIT and in the Future Stewards Program helped me become a better communicator. It helped me prove that I was capable of a lot more than what I had thought."
Leader influences RIT's connections to Native American community
What many at RIT know of the Haudenosaunee (hoe-dee-no-SHOW-nee) and Ganondagan State Historic Site is because of Peter Jemison, the acclaimed artist and educator, a member of the Heron clan and a Faithkeeper for the Seneca Nation.
During the 2007-08 academic year, Jemison became RIT's first Native American Minett Professor and taught a course about New York Native Americans, highlighting one of the most influential of those communities, the Haudenosaunee, known also as the Iroquois Confederacy. Consisting of the Seneca, Mohawk, Onondaga, Oneida, Cayuga and Tuscarora—its democratic principles are the basis for the U.S. Constitution. Its recognition of women as leaders also inspired suffragette principles adopted by Susan B. Anthony.
Jemison has shared the history of Ganondagan, a major 17th century Seneca town in Victor, N.Y., where he is manager of the national site; performed with the Allegany River Dancers at Imagine RIT: Innovation and Creativity Festival; and worked with RIT's School of Film and Animation, Friends of Ganondagan and Garth Fagan Dance to create a film featuring Haudenosaunee actors depicting the Iroquois creation story. His artwork can be found in museums around the country, including the Seneca Art & Culture Center on the Ganondagan site.
Jemison will continue his influence as RIT's first Special Adviser to the President on Native American Issues and Partnership with Tribal Organizations, to help encourage more partnerships between the Native American community and RIT, and to help make higher education more attractive to Native American scholars.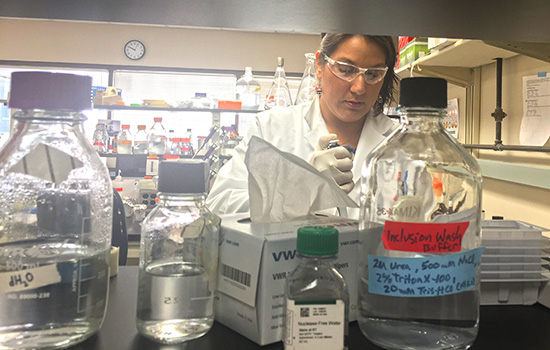 Topics