Project SEED cultivates young scientists
Program paired local high school students with RIT professor-mentors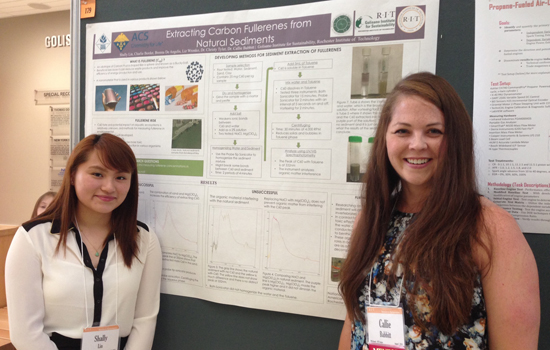 Strong bonds can form between high school students and established scientists during the American Chemical Society Project SEED Program.
RIT professor Lea Vacca Michel is the Project SEED coordinator and liaison between the national society, RIT professors and high school students—a role she has served for four years. The Rochester section of the American Chemical Society supports the summer research program for economically disadvantaged high school students entering their junior or senior years. Students gain hands-on experience through the 10-week chemistry internships at local universities, colleges or industry and earn $2,500 stipends.
"We have many students in Rochester who don't have the opportunity to learn about what being a scientist is really like," said Michel, associate professor in RIT's School of Chemistry and Materials Science and chair of Women in Science. "This opportunity allows them to gain firsthand experience in a lab and to learn about cutting-edge science. Most importantly, the SEED mentors provide valuable one-on-one mentoring to help guide the students and encourage them to pursue higher education."
This year's SEED mentors included RIT associate professors Callie Babbitt and Gabrielle Gaustad, in the Golisano Institute for Sustainability; Christy Tyler, in the Thomas H. Gosnell School of Life Sciences; and assistant professor John-David Rocha, in the School of Chemistry and Materials Science. They were paired with Shally Lin, a senior at Pittsford-Mendon High School; James Weathers, a senior at the Leadership Academy for Young Men; and Austin Hammond, a junior at School of the Arts.
Lin worked with Babbitt and Tyler this summer to develop methods for extracting and analyzing carbon nanomaterials from freshwater sediments as part of a National Science Foundation grant aimed at understanding environmental impacts of nanotechnology.
"I originally got involved with the SEED program in an effort to make our research more relevant to the community and attract and recruit students to STEM education and careers," said Babbitt, a first-time SEED mentor. "But by the end of the summer I realized how much the experience also benefited our research efforts. Shally made significant contributions to our experimental work and provided a fresh perspective on how to communicate the findings to a broader audience."
The mentorship component of Project SEED went beyond direct research. The SEED mentors gave their students training and mentorship on lab safety, effective communication, SAT and ACT test taking skills, and college and scholarship applications, Babbitt added.
For information about becoming a SEED mentor, contact Lea Vacca Michel at lvmsch@rit.edu.
Topics