The reality of working in a fantasy world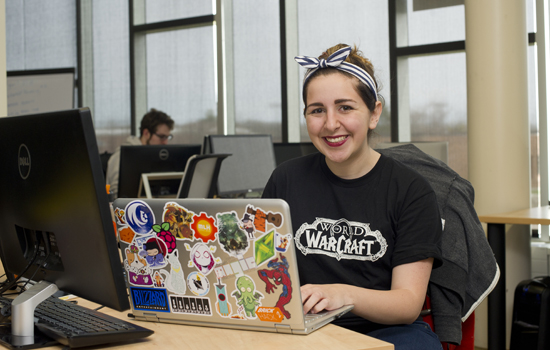 A. Sue Weisler
Since she was 11 years old, Jackie Wiley has dreamed of recreating the dramatic fantasy realms in her family's favorite video game, World of Warcraft.
Wiley's dream becomes a reality when she begins her full-time job with Blizzard Entertainment, the monster game development and publishing company behind World of Warcraft, Hearthstone: Heroes of Warcraft, and the Warcraft, StarCraft and Diablo franchises.
Wiley, a native of Flanders, N.J., graduates from RIT in May with her bachelor's degree in game design and development. In June, she will head to Blizzard headquarters in Irvine, Calif., and embark upon her professional career as an associate game designer responsible for the storytelling and world design within World of Warcraft.
"I've always been really creative and I love fantasy world-building in video games," said Wiley. "The possibilities in these worlds are endless. There is so much that can happen that drives the stories within the games."
Wiley secured an internship with Blizzard last summer thanks in part to her visit to the Game Developer's Conference in San Francisco, Calif., a showcase of the industry's groundbreaking gaming products and a forum for students looking to secure co-ops or permanent positions with leading developers. Each year, RIT's Center for Media, Arts, Games, Interaction and Creativity (MAGIC) arranges for students to attend.
"I still can't believe that I got an internship at Blizzard," she said. "It has always been a dream for me and I know there are thousands of applicants each year."
Wiley is also proud to be a woman making waves in the male-dominated gaming industry.
"The number of females in this industry is growing," she explained. "It's crucial that today's games are designed and developed with a female perspective, and it's important that the young women coming up behind me understand that we can have successful careers in this field."
Wiley is already making inroads to help make her next dream come true.
"Each year, Blizzard puts on this amazing conference called BlizzCon. It's regarded as an industry must-see event featuring the world's most innovative game makers. I want to be on the stage, showing off what's next in store straight from the minds of the talented folks I work with. It's very team based. The designers at Blizzard are all doing it together. Nothing we make would be as good as it is without constant feedback and teamwork."