Resident of Santa Cruz, Bolivia, Finds a World of Research Opportunities
Mohammed Mostajo Radji studies biotechnology at Rochester Institute of Technology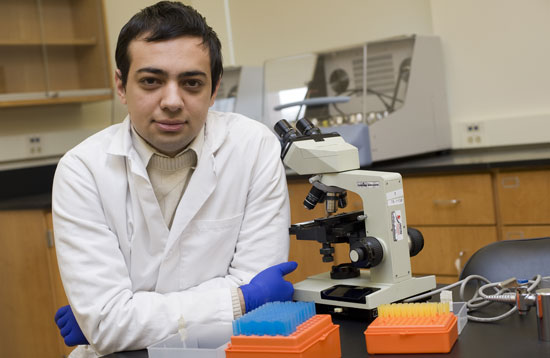 A. Sue Weisler
You might find Mohammed Mostajo Radji working in the molecular biology lab at Rochester Institute of Technology, tutoring students taking Introduction to Biology or relaxing in Kate Gleason Hall, where he is a resident advisor. Busy, active and engaging, the third-year biotechnology major is an undergraduate with a growing reputation and a promising future in the biosciences.
In January, the Biophysical Journal published an abstract highlighting research conducted by Mostajo Radji through the RIT-UR Summer Undergraduate Research Exchange Program. Lead author and RIT alumnus Ryan Loy '05 (biotechnology), a doctoral candidate at University of Rochester, presented a poster about their research on genetic muscular disorders Feb. 24 at the annual meeting of the Biophysical Society in San Francisco.
Although Mostajo Radji couldn't attend the meeting last month, California beckons to him, nonetheless. The University of California, San Diego, recently offered Mostajo Radji a research position with its department of pharmacology for eight weeks this summer. The prestigious and competitive program accepted only five students this year.
"Being part of the pharmacology department at UCSD is a great honor," says Mostajo Radji. "My desire to pursue research at this institution started when I learned that my idol—J. Craig Venter (a pioneer in genomic research)—is an alumnus from this department. I am very excited and anxious, as I am waiting to hear in which lab I will be placed this summer. This is definitely a great opportunity for my career; not many undergraduate students have the chance of being part of a department that has won more than one Nobel Prize."
Gary Skuse, interim head of the School of Biological and Medical Sciences, isn't surprised that Mostajo Radji was among the handful of students picked to attend the program. "Mohammed Mostajo Radji is on his way to joining that select group of RIT alumni who makes us especially proud," he says.
Mostajo Radji is also part of RIT's Research Scholars Program. He works closely with Dina Newman, assistant professor of biological sciences, studying the Pyrroline 5-Carboxylate Sythetase gene and its relationship in genetic-related hearing loss.
"I first heard from Mo before he even arrived at RIT as a freshman, asking if I had any space in my laboratory," Newman says. "As a rule, I do not accept freshmen in my lab, so I refused him, but he was not deterred from asking several more times. Last year, he took my Cell Biology class. Although it was a large lecture course (170 students), I got to know Mo a little there because he would often stop by after class to ask an interesting question. As an 'A' student he also stood out from the crowd."
Mostajo Radji's early intellectual accomplishments have landed him national recognition in his native Bolivia. In November, the Beni Department, where Mostajo Radji grew up, honored him with a merit award for his academic success in the biological sciences and as an ambassador to the world.
In 2006, Mostajo Radji had won a scholarship from the U.S. Department of State to represent Bolivia in the Youth Science Leadership Institute. This science honors program, co-sponsored by the National Youth Science Foundation, recognizes outstanding students from different countries. In subsequent years, Mostajo Radji returned to the program to work as the Natural Sciences Coordinator for the National Youth Science Camp and the West Virginia Governor's School for Mathematics and Sciences.
In conjunction with the intellectual merit award, Mostajo Radji was featured in the January issue of Notas Actuales, published by the U.S. embassy in Bolivia. The magazine is widely distributed to U.S. embassies and offices in the department of state.
##
About RIT: Rochester Institute of Technology is internationally recognized for academic leadership in computing, engineering, imaging technology, and fine and applied arts, in addition to unparalleled support services for students with hearing loss. Nearly 16,800 full- and part-time students are enrolled in more than 200 career-oriented and professional programs at RIT, and its cooperative education program is one of the oldest and largest in the nation.
For two decades, U.S. News & World Report has ranked RIT among the nation's leading comprehensive universities. RIT is featured in The Princeton Review's 2010 edition of The Best 371 Colleges and in Barron's Best Buys in Education. The Chronicle of Higher Education recognizes RIT as a "Great College to Work For."