Richard and Virginia Eisenhart Provost's Award for Excellence in Teaching: David Halbstein
Professor brings passion to teach from the Big Apple to RIT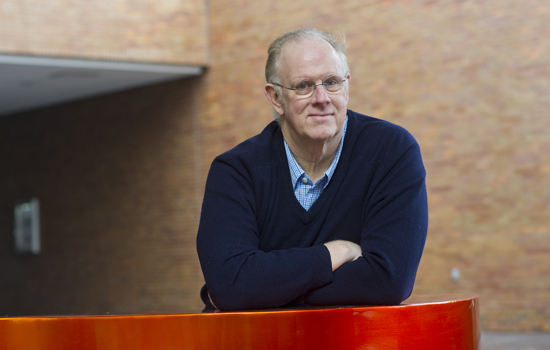 A. Sue Weisler
David Halbstein hails from the land of the Jersey Shore and Bruce Springsteen. Yet when he stepped onto the RIT campus for a job interview five years ago, he said he felt a connection like never before.
"I was working in New York City at the time, but when I came to the campus I knew this is where I wanted to be," said Freehold, N.J., native Halbstein, an assistant professor in the School of Design and this year's recipient of the Richard and Virginia Eisenhart Provost's Award for Excellence in Teaching, given to a faculty member with less than three years experience. "I felt at home."
Before his arrival on campus, the College of Imaging Arts and Sciences professor worked and taught in metropolitan New York for 15 years. His production credits include a wide variety of broadcast, commercial and film projects in and around New York City.
But he always felt a calling to the classroom and teaching. Halbstein spearheaded and ran the inaugural Autodesk Corporate Training Center in New York City, and prior to RIT taught 3D digital graphics at the School of Visual Arts and New York University down in the Big Apple.
Now, as an assistant professor of 3D digital design, Halbstein cautions his students that his class — and the design industry itself — weeds out those without the fervor to succeed in a demanding field.
"When I first walk into the classroom, I tell my students that in this particular discipline you need a passion and a lot of talent to pull all things together and do well," Halbstein said.
That philosophy hearkens back to his days as a student at William Patterson University, when "I knew what I wanted to get out of school and it had little to do with what the professor expected of me," he said.
As a professor, he stresses to students to stay motivated and focused to succeed in the rapidly changing field of 3D design.
"There is always going to be new software and methodologies in this discipline," Halbstein said. "But it isn't about the software. Design and images matter, along with texture and color. I tell my students that they need to learn how to think conceptually and apply that to an ever-changing world."