RIT 3-D planeterrainium to be featured at national conference
RIT faculty and staff to present and attend the second USA Science and Engineering Festival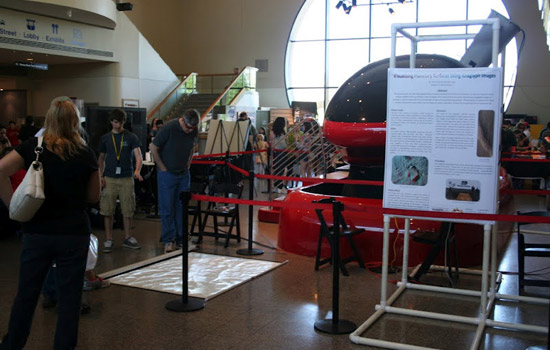 What began as an undergraduate project last spring with Brandon Cole, Chris Carey—both software engineering majors—and Jake Noel-Storr, assistant research professor and director of the Insight Lab in the Chester F. Carlson Center for Imaging Science, evolved into a presentation at the second national USA Science and Engineering Festival April 28–29 in Washington, D.C., sponsored by Lockheed Martin.
The presentation will consist of a portable planeterrainium system that projects 3-D images—featuring surfaces of planets and moons—on the floor in front of the viewer's feet. The projection system has been upgraded multiple times to become more interactive and user-friendly by interacting with the Google Earth platform for the ability to "fly" over the surface of different planets.
The project is a collaboration among five undergraduate students from RIT, Noel-Storr and high school students from Rush-Henrietta High School. The high school participants have been assisting the project with help from an education supplement to a NASA grant awarded to the RIT Center for Detectors. Their role is to develop images for the product and test the interactivity.
"Our goal is to have a low-cost portable device that is easy for large groups of people to use," says Noel-Storr. "The 3-D planeterrainium projection system is a step in that direction and the Science and Engineering Festival allows us to work with large groups of people."
The RIT and Rochester communities will be able to experience the 3-D planeterrainum at Imagine RIT: Innovation and Creativity Festival on May 5 in the Gordon Field House and Activities Center.