RIT acquires advanced packaging equipment from SPS - The Whole Package and Lantech
High tech stretch wrapper increases research, training, and development capacity for students and corporations through RIT Dynamic Lab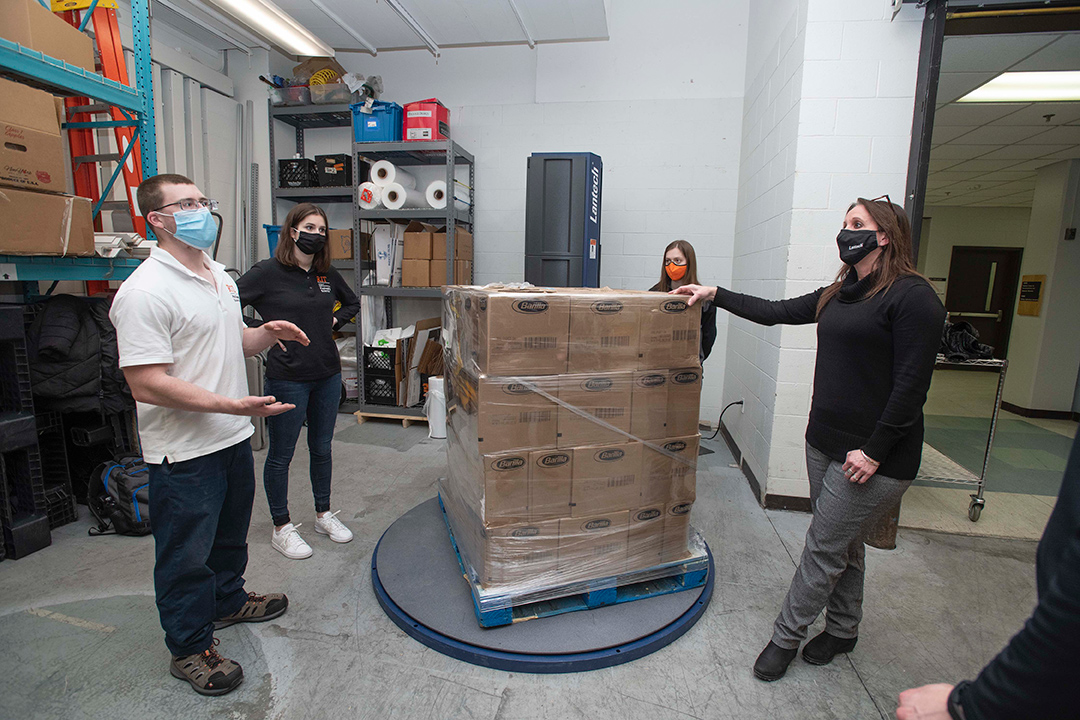 RIT's packaging science program recently received an equipment donation for its Packaging Dynamics Laboratory that will increase its academic and professional training options in safe-guarding shipped products.
SPS - The Whole Package and Lantech donated a QL 400 Stretch Wrapper machine that will provide the university's students and faculty with state-of-the-art equipment to develop packaging solutions and provide regional companies with a local resource for testing packaging options.
"Our work with students and with companies is in exploring new materials as well as improving the overall distribution process so it is not just economical but sustainable. This new equipment will help our students and corporate partners connect materials optimization with performance and environmental impact," said Kyle Dunno, assistant professor in RIT's packaging science department.
The new equipment contributes to the overall growth and evolution of both the packaging science academic program and its training and research offerings. Both SPS and Lantech are long time partners of RIT Packaging Science and provide expertise in the areas of packaging materials, equipment, customer support, and solutions.
"In today's industry, packaging needs to be minimal. People want to spend less on film and outer packaging, so shipping has become harder now than it was 10 or 20 years ago," said Sharon Nikolaus, Lantech's regional sales manager, who was on hand to demonstrate how the new equipment can be used. "When shipping products, the question is how do I get a product to an end user in the same condition as when I first shipped it? That 'as is' condition is very critical."
Stretch wrappers are used to securely bind materials and products on shipping pallets for delivery. Autowrapping applications allow for varied stacking and labeling and the "smart" system can assure the proper containment strength for safe-guarding products. Different film materials today are biodegradable and can be recycled.
"There has always been such an emphasis on shipping. Now there is shift to emphasis on the waste stream, how much product is being thrown in the wastewater, in dumps, in landfills? Companies are becoming more in tune with that," Nikolaus explained.
RIT's Packaging Science's Dynamics Lab is a multi-purpose setting used for teaching and research. It is also a training and testing facility open to regional corporations seeking information about flexible packaging solutions and specific parameters to improve supply chain processes.
Designated one of the new economy majors, RIT's packaging science program features broad applications in the areas of sustainable designs and materials, e-commerce solutions and newer, specialized areas of packaging for medical devices, vaccines and meal-kits, for example.
Topics