The RIT Advantage: Greatness Through Difference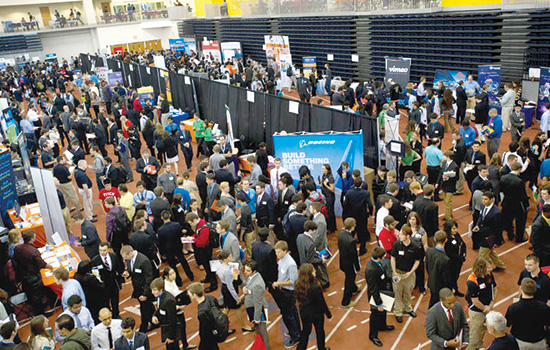 A. Sue Weisler
Editor's Note: The editors of The University Magazine recently interviewed President Bill Destler about RIT's new strategic plan, "Greatness Through Difference." The plan, which was scheduled for approval by the Board of Trustees in November, will guide the university through 2025. The full plan can be viewed at rit.edu/president.
Coming this spring: We will publish a comprehensive report on the strategic plan, illustrating examples of the RIT advantage into the next decade.
Where is RIT today in the spectrum of great global universities?
RIT is a unique, very good, comprehensive university with a growing national and international reputation. We have several distinctive programs: our co-op program, the National Technical Institute for the Deaf, imaging science, the School for American Crafts, industrial design, photography, film and animation, sustainable manufacturing and computational astrophysics, to name a few. It should be noted that none of these is in a traditional academic discipline. This year, we also produced 29 Ph.D. degree recipients—a record high—and thus eventually we will be moving into the prestigious "national research university" category.
Describe RIT's new vision to our stakeholders.
RIT will become an internationally distinguished university by exploiting its differences and better meeting the needs of a rapidly shrinking world. Or, more succinctly: RIT will achieve greatness through difference.
Explain what you mean by "greatness through difference."
RIT is an internationally significant career-focused university with unique character and programs. We belong in the category of the world's great universities, not because we seek to replicate the great universities of the 20th century, but because we are already practicing what the future universities must provide.
What defines an internationally significant university? What do you think the public is looking for?
The public is looking for institutions that are responding to their concerns about traditional higher education. These concerns include:
Affordability and the return on investment of an RIT degree. The RIT advantage: 96 percent of our students are employed or accepted into graduate school within six months after graduation.
Career-focused curriculum. RIT advantage: We offer education in fields with high employer demand and integrate design, management, and critical and innovative thinking into them. An RIT education includes considerable time learning outside the classroom ranging from a paid co-op position to designing new products and businesses in the Simone Center for Student Innovation and Entrepreneurship to participating on interdisciplinary research teams.
Accessibility and diversity. RIT advantage: We have a history of serving low-income students. We also serve 1,200 deaf and hard-of-hearing students.
A focus on STEM (science, technology, engineering, math) that is integrated with design, business, social sciences and humanities. RIT advantage: Among private universities, RIT graduates the second highest number of STEM undergraduate students in the U.S.
Robust, well-funded and interdisciplinary research that contributes to the advancement of human knowledge. RIT advantage: We have seven interdisciplinary Ph.D. programs: engineering, imaging science, microsystems engineering, sustainability, computing, astrophysics and color science.
Global reach. RIT advantage: We have four international campuses, nearly 2,000 international students from 100 nations in Rochester, and multiple opportunities for student and faculty exchanges.
What are the key themes and tangible goals you want to see accomplished in the plan?
During the strategic conversations of the past year involving all stakeholders, five intersecting spheres of effort have surfaced.
1. Career education and student success.
RIT will educate students at the intersections of technology and the arts, imagination and application, and rigor and curiosity, all designed to meet the demands of future careers in the ever-expanding global economy.
One hundred percent of RIT undergraduate students will have experiential learning relevant to their degree program and designed to provide skills and competencies of growing importance to employers.
Students and their advisers will develop multi-dimensional plans to ensure on-time graduation.
2. The student-centered research university:
RIT's research enterprise will be a national model of inter- and trans-disciplinary and inter-generational collaboration based upon the principle that diverse teams formed from members of diverse experience levels and diverse disciplines drive good questions, good processes and good solutions.
RIT will enlarge its graduate portfolio through adding professional and research-focused programs in STEM fields, the humanities, social sciences and arts.
3. The power of difference and inclusion:
RIT will be the most globally engaged private university in the U.S. as measured by the breadth and size of its international, student and alumni populations served both in the U.S. and abroad.
RIT will eliminate the achievement gap between minority and majority students.
RIT will be the largest producer of female and minority STEM graduates among all private universities in the nation.
4. Affordability, value and return on investment:
RIT will be the university with the best placement rate and return on investment of all private universities in the nation.
RIT will become the university that best utilizes educational technology to reduce costs, improve access and achieve learning outcomes.
5. Organizational agility:
RIT will develop a university culture that is less risk-averse and less bureaucratic. It will streamline compliance measures and empower local decision-making.
RIT will diminish the negative effects of academic and administrative silos.
RIT's curricular, administrative and organizational structures will serve, not impede, discovery and collaboration among students, faculty and staff.
How do we turn all this into reality?
RIT has all the ingredients to realize the goals we have set. While the future holds surprises for us, we are confident that the route mapped within this strategic plan will allow us to emerge as a world-class university.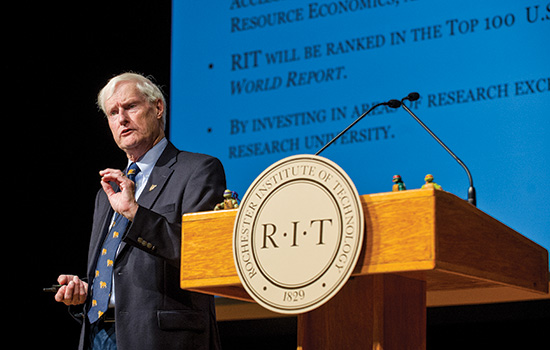 A. Sue Weisler