RIT alumnus plays lacrosse, pursues MS in health and well-being management
Face-off specialist Jimmy Spillane '20 to play final season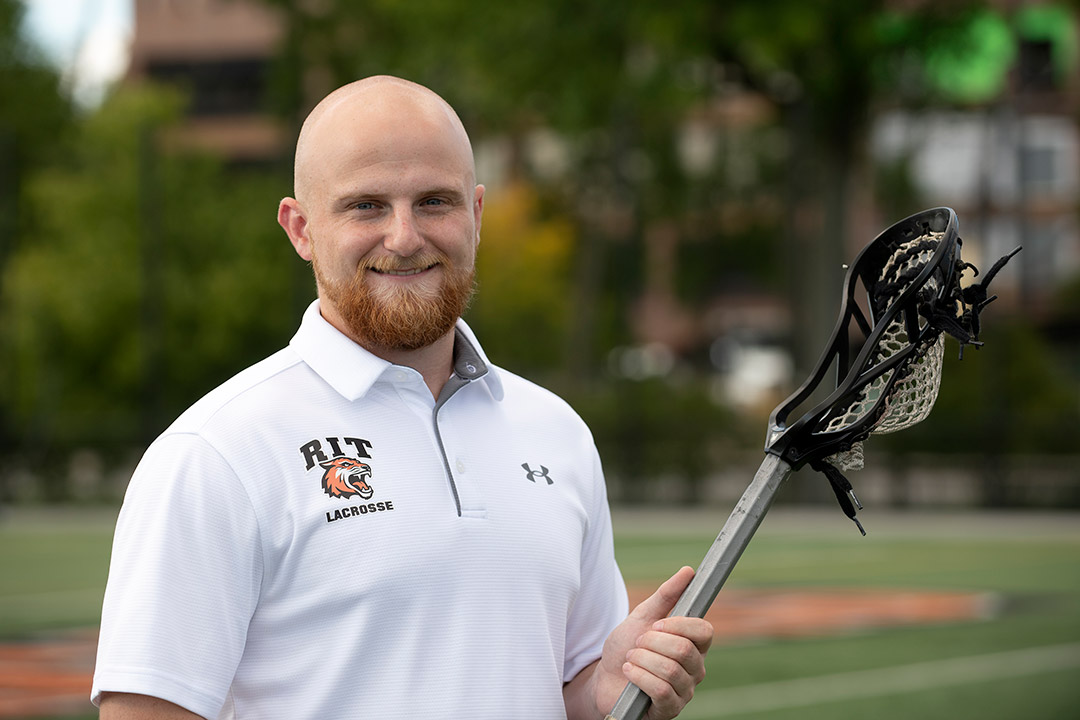 The COVID-19 impact on collegiate sports changed the storyline for many student-athletes, including RIT alumnus Jimmy Spillane '20 (biomedical sciences), who has found his way back onto the lacrosse field for the 2021-2022 season.
Spillane is seeking closure on his collegiate lacrosse career while earning a master's degree in health and well-being management offered through RIT's Wegmans School of Health and Nutrition, and taking advantage of the RIT Master Plan tuition scholarship for recent RIT alumni.
His path back to the RIT lacrosse team took unexpected turns. When COVID-19 shut down New York in spring 2020, Spillane watched his lacrosse career slip away. Then, an unprecedented waiver issued by the NCAA Division III Presidents Council in October 2020 extended student-athletes' eligibility to play their lost competitive season.
By then, Tufts University had accepted Spillane into its doctorate in physical therapy program for January, and he had to make a decision: go to graduate school or use his NCAA eligibility wavier and hope for a spring season.
He picked graduate school and began Tufts' hybrid program from Rochester. Meanwhile, the NCAA approved the spring season, and RIT men's lacrosse had a stellar year. RIT beat Tufts in the semifinal and defeated Salisbury to clinch the 2021 NCAA Division III Lacrosse National Championship. RIT men's lacrosse program history.
Spillane, a face-off specialist, saw RIT's two prior attempts at the national championship, and this time he was standing nearby as a graduate assistant coach on Head Coach Jake Coon's staff. An opportunity arose to work with face-off players, and Coon gave Spillane the responsibility.
"We were No. 1 or 2 in the country when our season got shut down in 2020, and there was a good chance that we would have been in that same exact game a year earlier," Spillane said. "I'm just thankful that I got to still be a part of it."
For Spillane, the win absorbed every ounce of bittersweet irony. "I think it was just as good of a feeling being on the sidelines coaching as playing, because I know that if I wasn't there then throughout the playoff, that position could have gone a lot differently."
Spillane's life has revolved around lacrosse since he started playing at age 7 or 8. In his senior year in high school, in River Vale, N.J., he was selected for all-state team, named Jacobson League Player of the Year, and recruited to play for RIT. Spillane went on to start as RIT's first-year face-off specialist in the 2016-2017 national championship game.
"Even coming out of high school, I had so much respect for Coach Coon because the recruiting game is very competitive, to say the least, and he was the only coach I think who had to see me one time to ask me to take a spot on the team," Spillane said. "He clearly trusted me and saw something in me that a lot of other coaches didn't, and I have always appreciated that and carried it with me."
Midfielders like Spillane play a strategic role in determining possession of the ball. During the last decade, the face-off position has become a focal point in the sport and an area of specialized coaching, he said. "It really makes lacrosse a unique sport because, theoretically, you can go the entire game without the other team touching the ball."
For this reason, the stressful and physically taxing face-off position invites injury, and Spillane spent much of sophomore and junior years on the sidelines and in physical therapy.
His injuries had a twofold effect on him: they sparked his interest in the physical therapy profession, and they shifted his mind set. "I learned to just accept whatever comes my way and be positive regardless of the results, and to look for the optimistic side of things."
After two surgeries on his hips and lengthy rehabilitation, Spillane was healthy and primed for his senior year in 2019-2020. The wait was anticlimactic, and he remembers playing five or six games before the pandemic shut down the season.
"Jimmy has had a tough career path here at RIT, but has continually showed his loyalty, commitment, and love of the program in many ways," Coon said. "Dealing with some injuries and then COVID would have many moving on, but I believe Jimmy feels he has something to prove and wants to help our program however possible."
During his year as a graduate assistant coach, Spillane put thoughts of his eligibility waiver at the back of his mind. By the end of the season, his itch to play had returned.
"We are very appreciate of his help on the staff last year, and even more excited to get him back in uniform this season," Coon said. "Jimmy deserves to finish playing the game he loves with this team and on his terms. We are excited to see what he can do."
Spillane's professors at Tufts, many of whom are former NCAA athletes or parents of athletes, understood his predicament. "They understood the athlete mentality of wanting to go out on my own terms, and they were helpful facilitating a leave of absence from the program for a year," he said.
In order to use his eligibility waiver, Spillane needed to enroll as a full-time student and found the well-being management program the perfect fit. The year-long curriculum focuses on exercise physiology, psychology courses, and nutrition courses, and will complement his physical therapy training.
The MS in health and well-being was specifically designed for people like Spillane, who are taking time to prepare for their next step, noted Barbara Lohse, professor and head of the Wegmans School of Health and Nutrition.
"This is an especially good program for students planning to apply to medical, dental, physical therapy, or other post-graduate health programs and who are looking for a pertinent, useful educational experience in their 'gap' year," Lohse said.
Spillane counts this year at RIT as a win-win: It lends closure to his lacrosse career and strengthens his knowledge base for his intended career.
"Physical therapy is about healing the patient, but it's also about being able to offer them advice in nutrition and being able to offer them lifestyle changes, which is really an important part of the health and well-being management master's program," Spillane said. "It's how can we help people become healthier and facilitate a better lifestyle for them."