RIT among hosts of NASA Space Apps Challenge
Two-day challenge, powered by AT&T, is designed to create solutions to real-world problems, on Earth and in space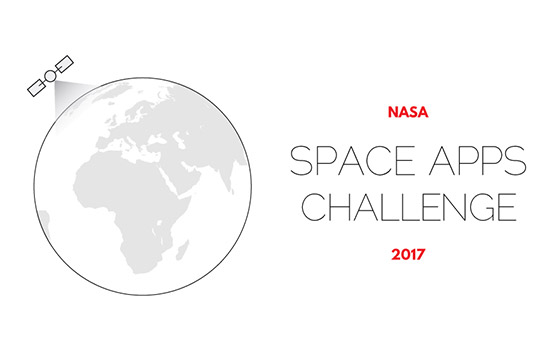 This weekend, Rochester Institute of Technology will serve as a host site for the 2017 NASA International Space Apps Challenge, a unique two-day hackathon, powered by AT&T.
RIT is one of 200 host sites from around the world for the event taking place from 9 a.m. Saturday, April 29, through 5:30 p.m. Sunday, April 30. The global challenge is designed to engage thousands of problem-solvers in working with NASA to create solutions to international and interdisciplinary problems using open-source data.
The event—free and open to the public—will take place at RIT's Center for Media, Arts, Games, Interaction and Creativity in Student Innovation Hall.
Coders, makers, designers, students, engineers and artists will be among the global participants in the event, which is one of the world's largest international annual hackathons. This year, challenges are spread across five different themes: Ideate and Create!, Our Ecological Neighborhood, Warning! Danger Ahead, Planetary Blues, and The Earth and Us. Within these themes, the challenges range from easy to advanced. For example, hackers can choose to develop a tool that allows users to virtually experience riding on any one of NASA's current Earth observing satellites, pick a migratory species and build a tool that shows the distribution of their habitats, design a mobile game that helps document the Arctic environment by crowdsourcing photos and information, or create a way to help people understand energy output from a solar panel and a tool to plan energy consumption based on expected energy output from solar technologies.
"RIT is proud to, once again, host the Rochester location for the 2017 NASA International Space Apps Challenge, and we thank our partners AT&T and Red Hat for helping to make this possible," said Dan Schneiderman, FOSS@MAGIC Research Associate and Community Liaison. "We are also pleased to work with NASA, an organization that promotes and supports STEAM (science, technology, engineering, arts and mathematics) education—which aligns completely with RIT's mission."
Awards will be presented at 5:30 p.m. April 30. Two projects will advance to the international round.
"AT&T is proud to be collaborating with RIT and NASA to provide technologists, designers and developers on campus and across the region an opportunity to showcase the remarkable talent in this community in one of the world's largest and most renowned app challenges," said Marissa Shorenstein, New York president, AT&T. "AT&T's support for this event grows out of the company's ongoing commitment to foster and promote local innovation throughout New York by providing opportunities for new technologies to be developed that could positively impact the world, enhance communities and strengthen the innovation economy."
For more information about the event, go to NASA's Space Apps Challenge 2017 webspage.
Topics