RIT among top colleges for indigenous students
RIT named a leader in STEM higher education for Native Americans, Alaska Natives and Native Hawaiians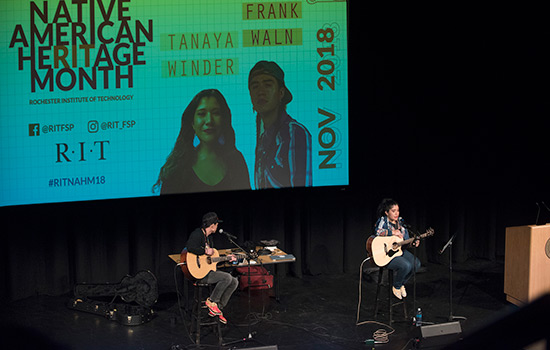 A. Sue Weisler
Rochester Institute of Technology is among the Top 200 Colleges for Indigenous Students, according to Winds of Change magazine. This marks the ninth time RIT has appeared on the list.
The annual list published by American Indian Science and Engineering Society (AISES) identified the top colleges and universities in the U.S. "where indigenous students are going to school in significant numbers and where the community, Native programs, and support are strong enough for these students to enjoy college and stay on to graduation." The magazine recognized RIT in part for its programs for indigenous students including the Native American Future Stewards Program, the Native American Student Association and RIT's student chapter of AISES. RIT is one of 10 universities from New York state to appear on the list.
"We work hard to create an environment at RIT where indigenous students can thrive and our consistent placement on this list shows that those efforts continue to pay off," said Nicole Scott, director of the Native American Future Stewards Program. "We're proud to offer strong academic and cultural programs that resonate with indigenous students."
RIT's campus is located within the original borders of the Haudenosaunee Confederacy, and the university has focused on partnering with local Native American governments and communities. In November, RIT President David Munson attended his first meeting with RIT's Native American Advisory Council. The council was created to help the university build lasting and productive partnerships with tribal governments based on mutual respect and reciprocity. The discussion between RIT administrators, tribal and education leaders, and the Native American Future Stewards Program director focused on the recruitment and the retention of Native scholars at RIT.
Recently, RIT researchers began a new project to help ensure the endangered language of the Seneca Indian Nation will be preserved. Using deep learning, a form of artificial intelligence, RIT researchers are building an automatic speech recognition application to document and transcribe the traditional language of the Seneca people. The work is also intended to be a technological resource to preserve other rare or vanishing languages.
In November, RIT celebrated Native American Heritage Month (NAHM) with a series of events to celebrate Native American culture and history. The events culminated in a keynote performance by Native musicians Frank Waln and Tanaya Winder.
To view the full Top 200 Colleges for Native American Students list, go to www.aises.org/news/woc.
For more information about RIT's Native American Future Stewards Program, go to www.rit.edu/diversity/futurestewards.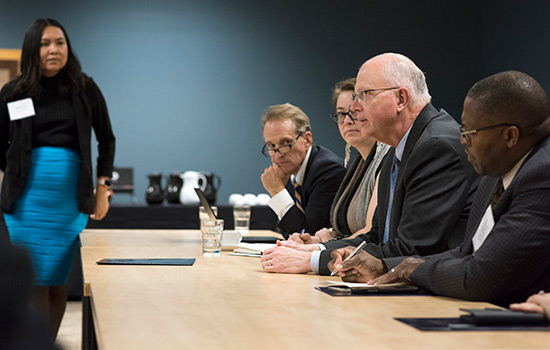 A. Sue Weisler
Topics