RIT and the American Society for Quality Sign Educational Partnership
New programming, training and marketing opportunities to be part of agreement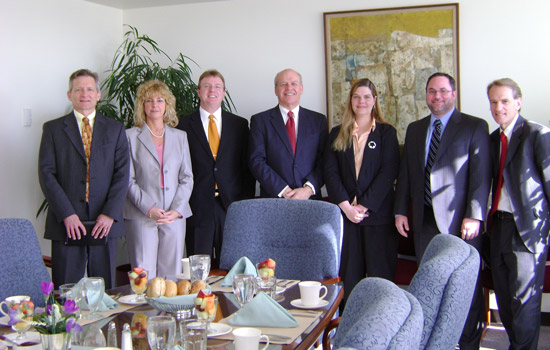 M. Cometa
Rochester Institute of Technology welcomed leaders from the American Society for Quality and signed a partnership agreement that will enhance best quality practices in education, manufacturing, healthcare and service industries. The organizations signed a working agreement on April 17 to jointly develop and market a series of quality programs that will be launching this fall.
The American Society for Quality is a global professional membership organization that offers expertise and training to quality practitioners. For more than 20 years, the society has been the sole administrator of the prestigious Malcolm Baldrige National Quality Award, recognizing companies that have achieved distinction for outstanding business performance through quality initiatives.
"RIT's academic leadership and the quality expertise of ASQ's certified members make for a fitting partnership," says Paul Borawski, American Society for Quality executive director and chief strategic officer. "This new program offers a natural way for us to join together to advance professional education and provide valuable career opportunities for our members."
The Center for Multidisciplinary Studies, a part of RIT's College of Applied Science and Technology, has a long-standing relationship with the Society. The agreement provides expertise in best practices, training and research opportunities for both organizations.
"We are proud to continue our long history of partnership with the ASQ by creating a new and innovative quality-related degree program. The RIT/ASQ partnership is another exciting opportunity for both organizations," says Fred Walker, dean of RIT's College of Applied Science and Technology. "The program brings together the power of ASQ certifications with the global recognition of RIT's quality engineering and quality management programs, to create exceptional educational opportunities for ASQ certified professionals. We look forward to collaborating with ASQ to extend these opportunities to ASQ partner companies and members around the world."
##
Note: Rochester Institute of Technology is internationally recognized for academic leadership in computing, engineering, imaging technology, and fine and applied arts, in addition to unparalleled support services for students with hearing loss. Nearly 16,500 full- and part-time students are enrolled in more than 200 career-oriented and professional programs at RIT, and its cooperative education program is one of the oldest and largest in the nation.
For two decades, U.S. News & World Report has ranked RIT among the nation's leading comprehensive universities. RIT is featured in The Princeton Review's 2009 edition of The Best 368 Colleges and in Barron's Best Buys in Education. The Chronicle of Higher Education recognizes RIT as a "Great College to Work For."
##
Notes:
Photo available by contacting macuns@rit.edu
More information about the American Society for Quality can be found at: www.asq.org