RIT announces 2018-2019 theatrical season
RIT's NTID and College of Liberal Arts combine efforts for four productions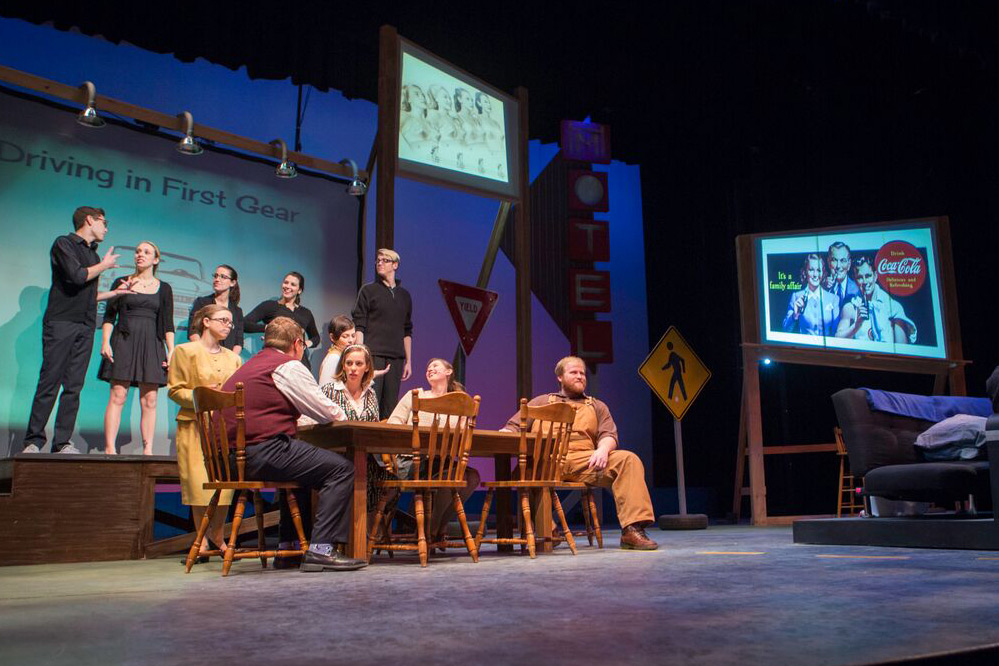 Four performances on diverse topics such as a cabaret in Nazi Germany, the bitterness resulting from racial discrimination in baseball, a dance production using sign language and poetry to address children's challenges and equality, and the earth's post-apocalyptic future are part of a new collaborative season by Rochester Institute of Technology's College of Liberal Arts Theater Arts Program and RIT's National Technical Institute for the Deaf performing arts program.
The productions present a wide array of cultural, political and social issues. Three will be presented on the Robert F. Panara Theatre stage and one production will be performed in the new MAGIC Spell Studios, set to open later this year.
The season includes:
Cabaret, Nov. 30–Dec. 2, Panara Theatre. The musical about a secret club in Nazi Germany opened on Broadway in 1966 and won eight Tony Awards.
Leaves of the Poetry Tree, Feb. 21–24, 2019, Panara Theatre. A family-friendly dance production uses inspiration found in children's stories and poetry books using music, American Sign Language and poetry to express themes. Directed by Nicole Cruz, NTID technical teaching assistant, the production addresses issues and challenges such as bullying, fear, death, racial differences, gender identity, dreams and equality.
Fences, April 11–14, in Panara Theatre. Written by August Wilson, this Pulitzer Prize-winning drama, directed by NTID faculty member Luane Davis-Haggerty, features a former star of the Negro baseball leagues who works as a garbage man in 1957 Pittsburgh. Excluded as a black man from the major leagues during his prime, his bitterness takes its toll on his relationships with his wife and son, who now wants his own chance to play ball.
AI-Pollo, April 19–20 and 25–28 in MAGIC Spell Studios. This is the world premiere of an original play by David Munnell, senior lecturer and theatre program director for COLA's Department of Performing Arts and Visual Culture, and directed by Virginia Monte, artistic director of the WallByrd Theatre Company. This science-fiction spin on Oedipus Rex offers an immersive high-tech theater experience employing augmented and mixed reality. The play depicts a post-apocalyptic future, with climate change, political unrest, war and starvation. For generations, the world's elite and descendants of Silicon Valley entrepreneurs have managed to survive in scattered Biodomes. In these protected environments, all life support systems and human needs are met and controlled by an artificial intelligence entity called AI-Pollo.
Although not part of the COLA-NTID collaborative season, there are several other productions, performances and concerts planned throughout the year.
Munnell said NTID and COLA have been working for many years with NTID supporting COLA productions at the Panara Theatre, but this is the first time several productions throughout the school year have been planned for collaboration.
"The productions will give students not only the opportunity to participate in a musical, but they will work in a deaf and hearing cast and crew that promotes diversity, inclusion and respect for different cultures and perspectives," he said. "The dance and drama productions will give students the opportunity to flex their muscles in these areas, and the AI-Pollo production will challenge student innovation in 3D projections, augmented reality, electro-mechanical special effects and digital design and fabrication."
The collaboration also encourages multidisciplinary work. AI-Pollo will have students and faculty working together from RIT's School of Interactive Games and Media, Kate Gleason College of Engineering, COLA and College of Art and Design.
Aaron Kelstone, principal lecturer and development officer for NTID Performing Arts, said the collaboration enables the theater programs in COLA and NTID to consolidate resources including staffing, production and faculty and begin strategic planning that will strengthen the overall theater programming within RIT to benefit students. That involves areas of curriculum, staffing and production resources.
"The collaboration process involving a diverse student population, with cultural and social experiences that vary, offers everyone a chance to come to a better understanding of different perspectives that thrive within the RIT campus," Kelstone said.
Andy Head, visiting assistant professor in the COLA's Theatre Arts Program and NTID's Performing Arts Program, is directing Cabaret and said both theater programs have different strengths.
"A joint season allows us to benefit from those strengths when they are brought together," he said. "Theater is inherently a collaborative art form — many, many people come together to bring a show to life on the stage. A full joint session expands that collaboration to a whole collection of productions and encourages both programs to work hard to continue to support each other."
Head said all four productions plan to be fully accessible for deaf and hard-of-hearing audiences, whether using captions, American Sign Language in the performance, interpreters or a combination.
Tickets for each show are $5 for RIT students, seniors over 60 and children under 12; $10 for RIT faculty, staff and alumni; and $12 for the public through www.rittickets.com, by phone at 585-475-4121 or at the door two hours prior to curtain time. Tickets are also availabl at the Gene Polisseni Center box office, open 10 a.m.–6 p.m. Monday through Friday.
Cabaret and AI-Pollo may not be appropriate for children under 12.
For more information, visit the RIT Theatre Arts program website.