RIT announces patents donation, creation of Dr. Russell and Melissa Bessette Award for Doctoral Student Excellence
$3 million bequest will annually benefit graduate student at any college throughout university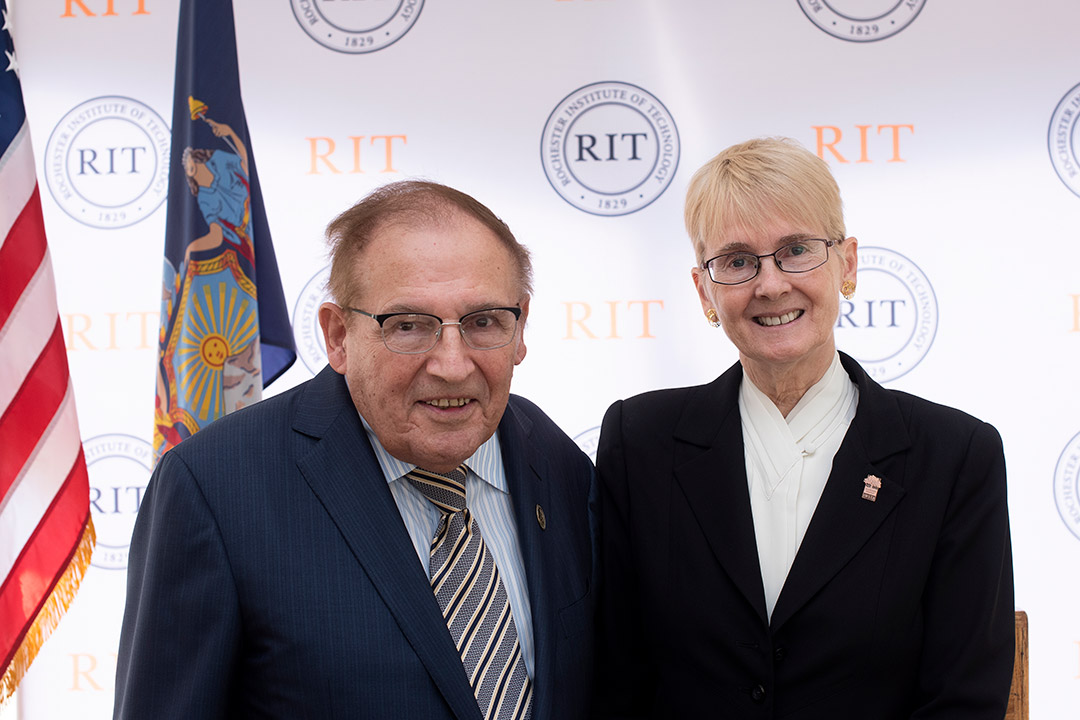 During his six-year tenure as executive director of the New York State Office of Science Technology and Academic Research (NYSTAR), Dr. Russell W. Bessette recalled traveling to virtually every one of the 300 colleges across New York state—oftentimes accompanied by his wife, Melissa.
The couple traveled to the university again on Sept. 14—this time to join RIT officials and other dignitaries to announce a donation of two patents and the creation of the Dr. Russell and Melissa Bessette Award for Doctoral Student Excellence, a $3.05 million bequest from which funding will be awarded annually as part of recruitment or at any point during a doctoral student's enrollment at RIT.
In addition to his decades working in government, academia, and medicine, Bessette established a company, Know Your Colors LLC, in 2012, which designed a patented system of software tools designed to help people with chronic illnesses to understand their medical test results. The system converts and organizes results from routine blood tests and visualizes various types of color-coded graphs to allow patients to see an intuitive, composite picture of their health status.
RIT is interested in pursuing a pilot program with a federal or state health agency to deploy a prototype platform based on Know Your Colors that will form the basis to help develop a system that can be used for broad dissemination.
"We are humbled and thankful for the generous gift from the Bessettes that will provide a long-term benefit to our expanding doctoral programs at the university," said RIT President David Munson. "Furthermore, Dr. Bessette's pioneering work, which RIT researchers can build upon, envisions a transformation in health care via a patient-centric technological platform that provides a visual approach to better health. We are excited to undertake this work."
"RIT has long been a leader in technological research and innovation, and this gift from the Bessettes will ensure that legacy continues for years to come," Congressman Joe Morelle said in a statement. "I join our entire community in thanking Dr. and Mrs. Bessette for their generosity and dedication to supporting students' success. I look forward to the positive impact this award will have on advancing educational opportunities and strengthening healthcare services for all people."
New York State Sen. Patrick M. Gallivan said, "I have known Dr. Bessette for many years and have closely followed his work in the field of health care. On behalf of the RIT community, I thank him and his wife, Melissa, for their generous gift to RIT, which will allow the university to continue to attract top students. Their financial commitment and patent donations will further enhance the research conducted here and allow students to pursue careers that will improve healthcare services for everyone."
Ryne Raffaelle, VP of Research. "The university will continue to build upon the foundation that has been established to develop the platform's tools, with the hope and understanding to make them freely available to all."
Transforming RIT: The Campaign for Greatness, a $1 billion university fundraising effort, the largest in university history. This blended campaign seeks support from a variety of investors, including alumni and friends, government and corporate partners, and research foundations and agencies. The campaign has raised $817 million to date.
"A school like RIT is at the cutting-edge of developing technologies that will be necessary to make giant leaps in a number of diverse fields," Bessette noted. "In order to make that happen, we need to support the brightest minds and support that next giant step for humankind."
Bessette provided a similar message when he was uniquely suited to deliver RIT's 2001 commencement address—a year after then-N.Y. Gov. George Pataki appointed him NYSTAR's executive director. In the role, he was responsible for several state programs aimed at strengthening New York's leadership in high-technology research and economic development.
Just days before his commencement address, Bessette accompanied Pataki on a whirlwind visit to campus to announce NYSTAR's choice of RIT as a STAR (strategically targeted academic research) Center, which today is the Information Technology (IT) Collaboratory. NYSTAR selected RIT, and partners University of Buffalo and Alfred University, from a competitive group of academic proposals, in funding the center with a $14 million award.
Such funding is a key element of NYSTAR's mission to attract and retain the best and brightest scientific talent in the nation and the world to New York's university campuses. After establishing the new state agency, Bessette supported more than $1.3 billion in peer-reviewed research grants, and together with business and other partners throughout the state stimulated $12.8 billion in university R&D investment and economic development.
"Russell is one of those rare individuals that—if you are lucky—you meet and engage with during your lifetime," said RIT President Emeritus Albert J. Simone said. "He is multidimensional, eclectic, and a learned academic and scholar."
"Throughout all of his monumental accomplishments and contributions, Russell has been most humble, respectful, understanding, and supportive in dealing with people and ideas—both new and old," Simone added. "He is an exemplary partner, colleague, and friend. It has been my honor and pleasure to have known, planned, and collaborated with him over the years at RIT and across the state. This gift will have far-reaching impacts on RIT students for many years to come."
Debbie Stendardi, who retired last year after 41 years as RIT's vice president of Government and Community Relations, also developed a close relationship with the Bessettes both during and after Bessette's time at NYSTAR.
"Russ was in a unique position at NYSTAR as a scientist himself to lead the economic development agency," Stendardi said. "He was able to see economic development opportunities through a different lens than most political appointees in that role."
"Russ and Missy choosing to be personal benefactors of the university is beyond anything I could ever have imagined, and I am very grateful and humbled to know that my efforts—along with the role that former RIT President Simone played in the relationship—has led to this extraordinary gift to RIT. Russ and Missy are very special people."
Topics