May 14, 2014
by Ellen Rosen
RIT announces winners of Civic App Challenge
Awards made in two categories, 23 entries competed for $18,000 in prizes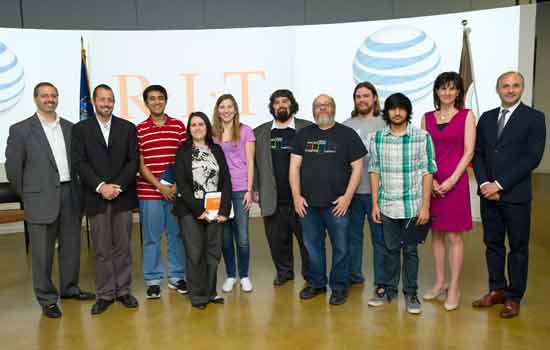 Four Rochester Institute of Technology students, four alumni and one staff member were among the winners of the 2014 AT&T Rochester Civic App Challenge.
AT&T and its challenge partners – RIT, Digital Rochester, High Tech Rochester and Hack Upstate – on May 13 announced the winners of the challenge, a two-month "virtual hackathon" in which developers leveraged open data to build smartphone apps that serve community needs. RIT hosted the challenge.
The winners – chosen from among 23 entries – were announced at a ceremony at RIT Center for Media, Arts, Games, Innovation and Creativity (MAGIC), after which developers demonstrated their winning apps.
"I am truly impressed with the diversity and quality of apps submitted in the Rochester Civic App Challenge," said RIT MAGIC Center Director Andrew Phelps. "I am particularly pleased that so many of the winners have a connection to RIT, as current students, alumni or staff. RIT and the Greater Rochester area should take great pride in their work, which will benefit our community."
First, second and third place, as well as honorable mentions, were given in two categories – apps created specifically for the challenges and those that were already under development before the challenge was launched.
Among the RIT winners were:
Nick Evevsky '87 (electrical engineering), who shared the $5,000 grand prize for new apps with his partner Peter Traeg. They created Public Market Guide – Monroe County edition, which contains social media, event and venue information on farmers markets around the county, including the Rochester Public Market;
Debjit Saha, a computer science graduate student, who shared the $1,000 third place prize with Syracuse University student Ricky Laishram for creating RocReport, a marketplace for area contractors to learn about civic projects;
Eric Harty '10 (computer engineering/software engineering), who won an honorable mention and $500 for Erie Canal App, which provides information on boat launches, locks and other features along the canal;
Nilay Yildram, a senior research analyst at RIT, whose College Locator app, created with partner Gregory Sapio of Syracuse, also received an honorable mention and $500. The app provides information on New York state colleges, including institutional profiles, available scholarships, financial aid and cost details.
Marissa McDowell, a graduate student in information technology, who shared the grand prize in the existing app track with partner Jonathan Markowicz of Rochester. Their app allows the user to create an entertainment itinerary using information on a variety of businesses and attractions;
Timothy Duffy '83 (mechanical engineering), who took second place in the existing app category for Monroe Minutes, an aggregator and indexer for producing meeting minutes;
Lail Brown '01 (graphic design), who with partners Kyle Macey and Nathan Henderson of Greece, took third place among existing apps for NextPlex Mobile, which focuses on public events for entrepreneurs and technologists, providing a directory of civic and small business resources;
Mihir Singh, a first-year student in multidisciplinary studies from Vancouver, British Columbia, and Mike Nolan, a third-year student in new media interactive development from Fairport, N.Y., who received an honorable mention for RHoK the Hood, which provides concise versions of information frequently requested through Freedom of Information law.
Challenge organizers said they were pleased with the participation and look forward to sharing the apps with the greater community.
"The quality of mobile apps created through the AT&T Rochester Civic App Challenge demonstrates the vibrance and talent of Rochester's technology community," said Marissa Shorenstein, New York president, AT&T. "We applaud our partners, RIT, Digital Rochester, High Tech Rochester and Hack Upstate, for collaborating with us on an initiative that demonstrates clear demand for programmers, both amateur and professional, to create mobile apps that help our communities connect, build businesses and streamline our daily lives."
Winners were chosen by a panel of judges, who based their decisions upon the apps' potential impact on Greater Rochester, execution and creativity or novelty.
The judges were:
Ralph Bean, software engineer, RedHat;
Todd Bernhardt, founder and chief technical officer of AllAccessUS;
Remy DeCausemaker, Open Source Research Coordinator & MAGIC FOSS Evangelist RIT MAGIC Center;
Lisa Doerner, executive director, Digital Rochester;
Michael Fisher, editorial director, Pocketnow;
Patrick Gallivan, New York state senator, 59th district;
Stephen Jacobs, professor, associate director of RIT's MAGIC Center;
Anthony Jefferson, senior lecturer, RIT;
Steve Maier, senior technical evangelist, Microsoft and RIT adjunct professor;
Joseph Morelle, New York state Assembly Majority leader;
Mike Riedlinger, program manager of technology commercialization, High Tech Rochester;
Marissa Shorenstein, AT&T New York president;
Paul Solt, iOS developer and RIT instructor;
Jeff Sonstein, associate professor, RIT, chief architect of BlindSpotApp.com; and
Tim Stevens, editor-at-large, CNET.