RIT appoints director of NanoPower Research Labs
Seth Hubbard assumes new role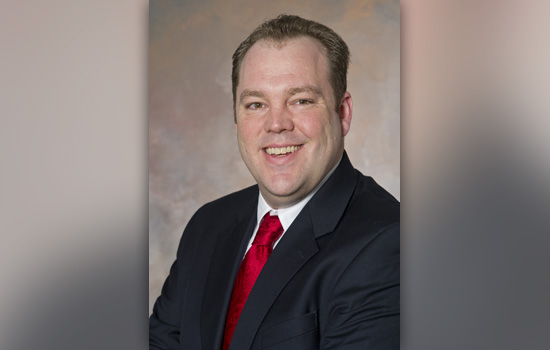 Photo provided
Rochester Institute of Technology Professor Seth Hubbard was named director of the university's NanoPower Research Laboratories (NPRL).
Hubbard is an associate professor with a joint appointment in the College of Science School of Physics and Astronomy and the Kate E. Gleason College of Engineering Department of Microsystems Engineering. He joined RIT in 2006.
In his new role, Hubbard replaces NPRL interim director Paul Stiebitz, who has retired. Hubbard will continue to lead the Photovoltaics and Nanomaterial Technologies Group at the NPRL Labs. The group develops high-efficiency multijunction photovoltaics that use quantum dots and cells optimized for high levels of light concentration.
"I am extremely excited to be taking over this role," Hubbard said. "I am fortunate to be working with a talented, multi-disciplinary team of faculty and staff that make up the heart of this lab. I look forward to continued collaboration with our excellent team and expanding the lab into new research directions."
Nabil Nasr, associate provost and director of the Golisano Institute for Sustainability—which oversees NPRL—said, "It was important to select a senior director who has demonstrated the capabilities to take the NPRL to the next level."
"The team of researchers and staff at NPRL have done amazing work, and we look forward to an even more exciting future under Seth's leadership and direction," Nasr said. "I am very confident that he will do much to expand the reputation and vision of NPRL, further developing its tremendous potential."
Nasr also commended Stiebitz, who took over the NPRL's interim leadership during its transition phase. "Paul did a wonderful job and has worked tirelessly to give NPRL direction during this critical phase. We owe him much gratitude," he said.
The NanoPower Research Labs at RIT, established in 2001, develops new materials and devices for power generation and storage for microelectronic components and micro-electromechanical systems, also called MEMS devices. Research focus areas include carbon nanotube synthesis, advanced batteries and devices based on conductive carbon, led by Brian Landi, associate professor of chemical engineering; nanostructured multijunction photovoltaics and optoelectronic devices, led by Hubbard; and polymer photovoltaics, led by Chris Collison, associate professor of chemistry.